Universal Studios Japan To Celebrate 'Harry Potter' In New Night Parade!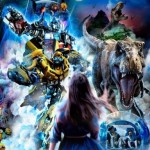 Nov 03, 2017
In 2018, Universal Studios Japan will debut a new night show, Universal Spectacle Night Parade – Best of Hollywood.  True to its name, this 'next generation' parade will celebrate four fan-favourite films, including Harry Potter!
Using projection mapping to envelope sections of the park along the 587-meter parade route as well as floats involved in the parade, the show will completely immerse guests in a dynamic celebration of four of the park's biggest attractions, including original cinematic scores and live performances using "Show Orchestration", a technology developed by Universal Creative.
"J.K. Rowling's Wizarding World and its captivating magic, the Illimination's "Minions" and their mayhem, the enormous robots "Transformers", and the realism of the "Jurassic World" dinosaurs come together to be recreated in a continually changing entertainment spectacle. Park guests will be completely enveloped and fully immersed in this brand new and continually changing entertainment, which far surpasses the traditional theme park parade experience"
The park's Expecto Patronum Night Show had its debut at The Wizarding World of Harry Potter in Universal Japan this year, and this new large-scale project will add to the park's selection of interactive, immersive experiences for guests to enjoy.
We don't have a specific date to give you yet, but we'll let you know as we're updated! Have you visited Universal Japan's Expecto Patronum Night Show? Let us know what you thought!