New Trailer for Harry Potter Wandlore Book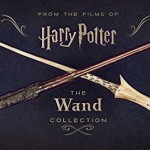 Nov 20, 2017
Wands, being one of the most essential assets for a wizard, are also one of the most intriguing and mystical elements of the wizarding world. It seems as if the greatest wandmakers, even including Ollivander, don't have all the secrets behind them. The mystery and beauty behind these incredible magical items is the sole focus of Insight Editions new book Harry Potter: The Wand Collection.
Entertainment Weekly revealed a exclusive new trailer today for the book:
Insight Editions partnered with Warner Bros. Consumer Products to create a book that will dive deeply into all the information about the wands used for the movies. The book will focus on the history of wands as well as how they were artfully crafted to be a representation of the characters who wield them.
The book includes behind-the-scenes information from the prop makers and concept artists directly involved in the design and physical construction of these magical creations as well as some filmmaking secrets. For each specific wand featured it will provide in-depth facts about the intricate details behind each one, including the designs specifications, statistics and incredible, new, highly detailed photography.
The hardcover book is now available from Amazon. We've included more sneak peek images of the wand profiles from the book below, but to view the images in more detail and to order your book be sure to visit the Amazon page!