More LeakyCon 2018 Tickets Releasing Tomorrow!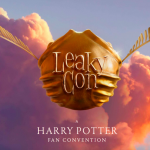 Dec 05, 2017
Remember when LeakyCon 2018 in Dallas sold out in less than 24 hours? If you were utterly heartbroken we're rooting for you, as more tickets will be released TOMORROW!
LeakyCon is moving to make room for more fans, just down the street from original venue Hyatt Regency Dallas (Texas) to the Kay Bailey Hutchinson Convention Center. Transportation will be arranged for attendees staying in the LeakyCon official hotel.
A limited number of tickets will be available tomorrow – December 6th – at 2PM EASTERN. Don't miss it, don't wait, but most importantly, don't panic.
The event takes place from Friday August 10th through Sunday August 12th 2018. The initial ticket release was met with huge demand, and Melissa Anelli – who we all know as The Leaky Cauldron's Webmistress, PotterCast host and CEO at Mischief Management – said on the additional release:
"We were blown away by the community's response to LeakyCon and are thrilled that thousands of people are joining us to celebrate their love of Harry Potter. This moves allows even more fans to experience the magic of this community."
If fan conventions sound like your kind of thing, Mischief Management will also be holding Con of Thrones (celebrating, you guessed it, Game of Thrones / A Song of Ice and Fire) in Dallas at the Hyatt Regency over Memorial Day weekend, May 25th-27th 2018. More info on that at the official Con of Thrones website.
Get more info on getting LeakyCon 2018 tickets tomorrow here, and find our previous coverage of the event here.
Read more from LeakyCon 2017 at the following links:
Day 1  // Day 2 // Day 3 // Day 4
Also listen to the Dumbledore's Army panel via PotterCast here, the live LeakyCon 2017 PotterCast episode here, and read our summary of Dan Fogler's panel here.
More to come, so keep posted!