J.K. Rowling Awarded Companion Of Honour Title At Buckingham Palace!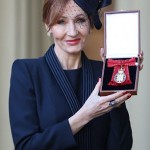 Dec 12, 2017
Two decades after the release of Harry Potter and the Philosopher's Stone, J.K. Rowling has been honoured for her services to literature and philanthropy with the rare title of Companion of Honour, awarded by The Royal Family at Buckingham Palace. That's to go with her OBE from 2001!
Prince William (Duke of Cambridge) handed her the title at the exclusive ceremony:
"To be included in the distinguished and diversely talented company of the other Companions of Honour, especially as a female writer, is a particular privilege."

Congratulations to @jk_rowling who today became a Companion of Honour for her services to literature & philanthropy. pic.twitter.com/d1W35JYTBz

— The Royal Family (@RoyalFamily) December 12, 2017
The (very) exclusive award is summarised by The Royal Family's official website as follows:
"The Companion of Honour is a special award granted to those who have made a major contribution to the arts, science, medicine, or government lasting over a long period of time. The members, of which there are 65 at any one time, currently include actress Dame Maggie Smith, Lord Coe, Stephen Hawking, John Major and Desmond Tutu.
Sometimes regarded as a junior class of the Order of Merit (see here), the Order of the Companions of Honour was founded by George V in 1917 to recognise services of national importance. Non-British nationals, including Commonwealth figures, can be honorary members of the Order, and count as additional to the main 65. 
Very few people receive both the Order of Merit and the Companion of Honour, but these have included Sir Winston Churchill and Sir David Attenborough."
The Order of the Companions of Honour was founded in 1917 by George V & is given to those who have made a major contribution in their field: https://t.co/UTr7RCJnNB

— The Royal Family (@RoyalFamily) December 12, 2017
Support has been given by Lumos (J.K. Rowling's charity supporting institutionalised children) and agent Neil Blair via Twitter:
Huge congratulations to Lumos Founder and Life President @jk_rowling who today became a Companion of Honour at a ceremony at Buckingham Palace, in recognition of her services to literature and philanthropy. https://t.co/4sWTMKgAEw

— Lumos (@lumos) December 12, 2017
You are such an inspirational person & we are all so lucky to have you. So richly reserved @jk_rowling xx https://t.co/kj1wt9jItG

— Neil Blair (@NeilBlairTBP) December 12, 2017
Lumos are currently in the middle of their Holiday campaign, aided by Alison Sudol's Holiday single, Christmas Will Be Waiting.  Learn more about how you can get involved in the campaign (and win some amazing Fantastic Beasts prizes) here.
We've been following J.K. Rowling's journey since the 90's. For me, having recently visited The British Library's History of Magic exhibition, I was particularly moved by how their collection brought together the old and new in a way which highlights just how inspired and inspiring Rowling is as a writer and as a female role model. Old manuscripts, new screenplays are presented amongst interpretations of her work from Jim Kay and cover artists and historic 'magical' items (many of which Rowling was inspired by), giving a sense of just how wide-reaching her work is.
Other creators such as MinaLima, actors who have taken on her characters so well, directors and producers who have given her world presence onscreen, audiobooks and ebooks giving new life to her work, fan fiction, wizard wrock, wizard activists and dedicated charities / nonprofits inspired by the series, fansites, podcasts, premieres, book releases, other best-selling series (who else loves Cormoran Strike?!), companion books, a global play inspired by / continuing the story,  countless parties and years of memories from Harry Potter Book Night. The list of ways J.K. Rowling has helped cast a light on the world is endless. Millions of people have come together to celebrate the power of literature to move people in profound ways, all because J.K. Rowling once had the courage and drive to pursue an idea she had on a train. If that's not enough to earn an award, what is?
In other recent news, the script of an un-produced biopic telling J.K. Rowling's story was recently placed at the top of Hollywood's 'Black List', meaning it's one of this year's most popular screenplays. When Lightning Strikes is written by Anna Klassen, and though there's no confirmation of where it might lead, it's another example of Rowling's power to inspire. Read more over at Digital Spy here.
Join us in sending endless congratulations to Jo Rowling on this special day!