A Hint From J.K. Rowling on Fourth Cormoran Strike Novel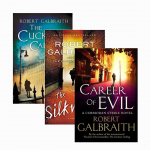 Dec 22, 2017
It's been over two years since the release of Career of Evil, the third detective novel in the Cormoran Strike series by J.K. Rowling, as alter ego Robert Galbraith, and fans have been clamoring for any word on the fourth.
Last spring, as reported by Leaky, Rowling revealed the title to her next book through a guessing game via Twitter and the lucky winner is set to receive an autographed copy:
_ _ _ H _ _ _ H _ _ _ https://t.co/fa0rJRKnCS

— J.K. Rowling (@jk_rowling) March 14, 2017
Ladies and gentlemen, we have a winner. https://t.co/2aOXDYi6qA

— J.K. Rowling (@jk_rowling) March 14, 2017
.@warpathed DM me your address and I'll make sure you get a signed copy when I finally finish it!

— J.K. Rowling (@jk_rowling) March 14, 2017
This week the author dropped another clue to the look of Lethal White and possibly to the plot, in response to a tweet from Strike fan site, strikefans.com. The account posted two fan-designed book covers for installment number four and Rowling decided to weighed in:
Two fan-made Lethal White covers by @PotterCave and @kernelscorner. Who's still dying to read it? pic.twitter.com/AsyOTYaBcR

— Cormoran Strike (@CormoranStrike_) December 21, 2017
One of those would be particularly appropriate… https://t.co/jaOOYrylMd

— J.K. Rowling (@jk_rowling) December 21, 2017
The series, which follows the murder cases of likable private investigator and former Royal Military Police SI, Cormoran Strike and his assistant Robin Ellacott, was adapted for television this year and gave fans in the UK the dose of Strike they were needing until Lethal White is published. The series, which stars English actor Tom Burke in the lead role of Strike and British screen and stage actress Holliday Grainger as Ellacott, will air in the US in 2018. To celebrate the release of The Cuckoo's Calling DVD, Tom Burke sat down recently to answer a few questions:
To celebrate the DVD release of #Strike: #TheCuckoosCalling, Tom Burke answered YOUR questions! @cookiemonzter, @MaggieOfRome & @mersey_88 this one's for you 👇🕵️ pic.twitter.com/f370DnIIoh

— Warner Bros. UK (@WarnerBrosUK) December 19, 2017
Are you a Cormoran Strike fan anxiously awaiting the follow-up to Career of Evil? What do you think it is about one of the cover images that makes it "particularly appropriate" according to J.K. Rowling? Stay tuned to Leaky for the latest Strike news and hopefully a release date for Lethal White soon!