Happy Birthday, Imelda Staunton!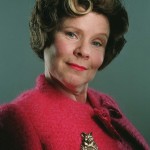 Jan 09, 2018
Few of us would want to wish Dolores Umbridge a Happy Birthday (26 August, in case you're one of the few) but that sentiment should not carry over to the talented British actress who brought the witch we love to hate to life.  Imelda Staunton, whose full name is akin to Dumbledore's lengthy moniker: Imelda Mary Philomena Bernadette Staunton, turns 62 on 9 January.
Like many of her Potter colleagues, Staunton studied at the Royal Academy of Dramatic Art, and has starred in plays, musicals, televisions shows, and films.  She has won numerous awards, and received many nominations, including nominations for her role as Dolores Umbridge (London Film Critics Circle Award for British Actress of the Year and Saturn Award for Best Supporting Actress).
Please join Leaky in wishing this very good actress who played a very bad witch the happiest of birthdays.