HBO Hosts "Hogwarts House Challenges" in Atlanta, Boston, and Denver!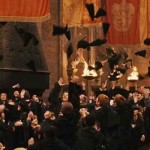 Jan 13, 2018
Prepare yourselves, Potter fans. All the hours of reading dog-eared books, scouring fan sites for details, collecting obscure memorabilia, and intense late-night discussions (you know you've had them) is about to pay off! HBO will host "Hogwarts House Challenges" in Atlanta, Boston, and Denver this month to commemorate the entire unedited, commercial-free Harry Potter series coming to the network.
According to Medium, the official promotional site for HBO, brave fans will be able to compete in Harry Potter trivia and challenges–a feat worthy of a Triwizard Champion! Prizes will be given for Best Costume, Best Team Photo, and other unannounced categories. (We really hope there's a Cup to be had!)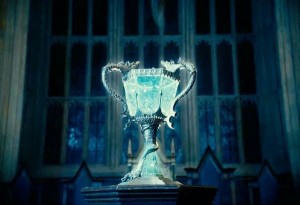 The site also revealed that fans attending the events will have the opportunity to view original props from the films! These include:
Tom Riddle's diary and the Basilisk fang that struck the death blow
Lucius Malfoy's official Ministry of Magic "Caught" poster
Horace Slughorn's enchanted hourglass
Bellatrix Lestrange's dagger (RIP Dobby)
"Magical Drafts and Potions" textbook
Hopeful champions can mark their calendars for the Wink Back, Inc. events, to be held in Atlanta on Jan. 18, Boston on Jan. 25, and Denver on Jan. 31. Only a limited number of participants will be able to attend, so check the HBO Facebook page for ticket information!
HBO also reminded fans that it never hurts to do a little pre-test studying. (Hermione would approve!) And what better way to review than to re-watch the films–you'll be prepped and entertained at the same time! All eight Harry Potter films, as well as the recent Fantastic Beasts and Where to Find Them entry into the backstory of the wizarding world, are available on HBO GO, HBO NOW, HBO On Demand, and affiliates.
So Potter fans, do you plan to attend one (or all!) of the "Hogwarts House Challenges?" If so, how do you plan get ready for the big day? Will you be viewing the films or furiously scanning through your beloved copies of Rowlings' epic series? And what are your favorite treats for a wizarding cram session? We suggest having some Felix Felicis handy–it's bound to be a tough competition!