Will Credence's True Identity Be Revealed in 'Crimes of Grindelwald'?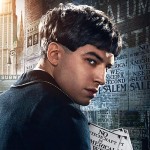 Jan 17, 2018
Recently, Twitter account Fantastic Beasts Fan noticed a new addition to the IMDB cast of Crimes of Grindelwald, Linda Santiago, in the role of Credence's aunt:
Linda Santiago is listed on IMDB in the role of Credence's aunt in #CrimesOfGrindelwald

Will we find out more about who Credence really is in #FBCOG? Does Credence himself already know?
Tell us your thoughts! pic.twitter.com/hG28VtlLtK

— Fantastic Beasts Fan (@FBAWTFTmovie) January 17, 2018
The addition to the cast – whilst not confirmed – is in line with David Yates's assertions that Credence will play a 'pivotal role' in future movies:
"We follow Credence further. He becomes quite pivotal actually, Credence is quite crucial" 
After Credence's chaotic demise at the end of Fantastic Beasts and Where to Find Them, it's safe to assume that whatever is left of Credence will be hurt, lonely and highly confused. If his aunt is appearing in the next movie, perhaps we'll be getting to know his roots a little more! Who do you suppose Credence is? Could he be related to any infamous wizarding families?
Entertainment Weekly also recently confirmed that each Fantastic Beasts film will take place in different cities – the first in New York, the second in Paris, and J.K. Rowling has already decided where the next will take us! Yates described Fantastic Beasts as a  "global story", which we're sure internationally based fans and fansites will be pleased to hear! Could we venture to wizarding schools in Brazil? Antarctic communities of magical creatures? The connections between the giant community and Grindelwald's rise to power?
"Yes," Yates replied when asked if each film is set in a different city. "Jo's already told us where the next one is taking place. It's very exciting. This is a global story, ultimately. And given that there's a global audience for this, it's all the more delightful to take the story to different parts of the world."
More Crimes of Grindelwald photos have recently been released by Warner Bros (here), which give mere inklings of the dramatic tale to come – what are your theories about Credence's background? Where would you like to see the story take us next? Let us know in the comments!