Andrew Lincoln Announced as the Voice of the Next Audiobook–'Quidditch Through the Ages'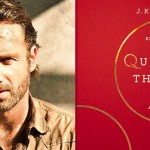 Jan 27, 2018
Last year, Andrew Lincoln, of The Walking Dead fame, lamented during the season premiere of the Talking Dead that he and costar David Morrissey were the only two working actors in England who hadn't had the chance to don wizarding robes. Walking Dead fans are surely thankful he eventually won the role of Rick Grimes, but he did consider where his career might have diverged if he had not.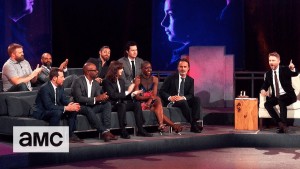 Cinema Blend covered Lincoln's comments during AMCs live session with host Chris Hardwick and cast. He said:
"I may have been a cheesemaker. You know, Dave Morrissey and I, we used to sort of joke that we were the only actors in British equity that hadn't been in the Harry Potter franchise. So maybe I would've been wizarding about Hogwarts. Or hobbiting about Middle Earth. And I've always fancied the idea of getting my hands on a lightsaber."
Though it seems film forays into Middle Earth have ended for the time being, Lincoln can finally fulfill one of those lofty dreams. (The best one in our opinion.) After yesterday's announcement, he can now strike "Harry Potter franchise" from the bucket list!
Pottermore representatives attended the opening ceremony of Universal Orlando Resort's A Celebration of Harry Potter last night to bring fans a special video message from Lincoln in which he revealed the big news: he will narrate the latest Harry Potter series audiobook–Quidditch Through the Ages.
Leaky was in attendance and couldn't wait to share the exciting news about this essential companion book as well.
The Walking Dead and Love Actually star Andrew Lincoln William be narrating an audiobook version of @jk_rowling's Quidditch Through The Ages! Announced at #HPCelebration today @UniversalORL pic.twitter.com/bdugNNI4Op

— The Leaky Cauldron (@leaky) January 27, 2018
Following the incredible record-breaking success of Eddie Redmayne's audio version of Fantastic Beasts and Where to Find Them, it's no surprise another book in the "Hogwarts Library" set was the next selection to be tapped for an audio cover.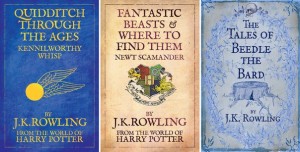 Quidditch Through the Ages was penned by J.K. Rowling under the assumed name "Kennilworthy Whisp."  The book explores the evolution of the sport, from its earliest days on Queerditch Marsh to the competitive global phenomenon it is today.
Speaking of his pleasure at being chosen for this honor, Lincoln told the Telegraph:
"The wizarding world of Harry Potter is one that I always wanted to get the chance to step into…What makes this project so special, is not only that it allowed me the opportunity to create something my kids love and enjoy, but it also supports great causes, like Comic Relief."
The Telegraph reported that the audiobook will feature special sound effects, which create a realistic experience for listeners, as well as the voice work of Imogen Church as Daily Prophet Correspondent and former Quidditch star Ginny Potter and Annette Badland as Rita Skeeter, the infamous reporter with dubious journalistic ethics.
According to BusinessWire, Pottermore's audio editor, Ravina Bajwa, praised Lincoln's interpretation and the stellar work of contributing sound designers, saying:
"Kennilworthy Whisp's Quidditch Through the Ages is the most authoritative work on Quidditch in the wizarding world…Andrew Lincoln has done an astonishing job interpreting Whisp's magical textbook into an enchanting vocal performance. His narration brings out both the charming humor in J.K. Rowling's writing, and the vibrant characters that have inhabited the world of Quidditch throughout time. Using real objects and spatialized sound, Pinewood's award-winning sound designers have created effects that dance through the recording, placing the listener into the frenetic heart of a live Quidditch match."
Audible EVP and Publisher Beth Anderson echoed Bajwa's enthusiastic sentiments, indicating this version is a must-have for fans of Harry Potter and audiobook editions. She said:
"We are thrilled to offer Audible listeners a brilliant performance of yet another essential component of J.K. Rowling's Wizarding World and bring this richly imagined universe to life through Lincoln's narration and the highly detailed sound design…The Harry Potter series remains among the highest rated, most downloaded, and most listened to audiobooks in our store."
This could easily challenge Fantastic Beasts and Where to Find Them for the records but, most importantly, it's sure to delight Harry Potter fans everywhere! The audiobook is currently available for pre-order through Audible in partnership with Pottermore and will be officially released March 15.