Happy Birthday, Warwick Davis!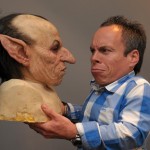 Feb 03, 2018
Today we celebrate Warwick Davis' 48th birthday–and what a splendid 48 years it's been!
Within the Harry Potter fandom Davis is most well-known for playing multiple characters in the wizarding world: a Goblin bank teller at Gringotts, Professor Filius Flitwick and, later, the duplicitous goblin Griphook. He played each with appropriate humor, seriousness and aplomb–as befit the story– and even when suffering under layers of make-up and prosthetics, rendered them believable and engaging.
He's certainly had plenty of practice acting beneath such make-up and costume design magic, beginning his career in 1983 as the Ewok Wicket in Star Wars: Return of the Jedi. Since that time he's assumed many unusual characters and creatures, maintaining a continued presence not only in the Harry Potter series but in the popular Star Wars franchise as well.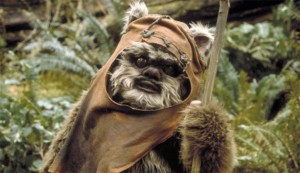 After Return of the Jedi, he returned to a "galaxy far, far away" in Star Wars: The Phantom Menace, Star Wars: The Force Awakens, Rogue One: A Star Wars Story, Star Wars: The Last Jedi and has been confirmed by Imdb.com in an unnamed role in Han Solo: A Star Wars Story, now in post-production. Last year Davis added to his Star Wars legacy by lending his voice to Rukh, a new character in the Star Wars Rebels television series.
In addition to these two enduring series, many fans will remember Davis as Willow in the much beloved film of the same name, Reepicheep in Voyage of the Dawn Treader and Silver Chair television adaptations and the Leprechaun in the popular horror franchise.
He has worked steadily in both film and television since that fateful audition, and he now also runs Willow Personal Management, "the biggest agency for short actors in the world," aiming to help other diminutive actors find just as much success in the industry.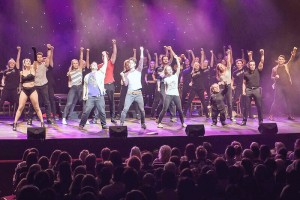 And now through March 3 Davis can be found at The Other Palace in Westminster, London starring in and producing the original musical Eugenius! We were lucky enough to hear from Warwick firsthand at MCM London Comic Con last summer, before the launch of the musical in London, which you can read about here. More recently, Fanthatracks also reported that his former Star Wars costar Mark Hamill has signed on to join the production in a small but exciting role! Hamill said this about the venture:
"I am thrilled to be the voice of a character in this new British Musical, and to be supporting Warwick in his new venture…'Kevin The Robot' is a small but important cameo in this nostalgic show which is currently taking London by storm."
Fanthatracks attended the opening Jan. 22 and revealed that it is a production unlike any other:
"[There are] MANY, 80's pop culture references in the show, which is ultimately a musical about friendship, inner strength and turning dreams into reality. With references to Star Wars, Indiana Jones, Back to the Future, He-Man, Flash Gordon to name but a few, this musical is aimed at a geeks instead of a typical West End audience."
It sounds like the sort of musical that would appeal to fans who embrace every opportunity for cosplay, conventions, and trivia–a fandom we might know a little bit about actually. And as a part of that proud fandom, we'd like to wish Warwick Davis much success in this and other future endeavors, as well as a wonderful celebration, from the larger wizarding community. Have a stein of butterbeer, Warwick, and may the force–a-hem–Happee Birthdae!