Harry Potter's Chris Rankin & Wizard Rock Bands Join LeakyCon 2018 Line-Up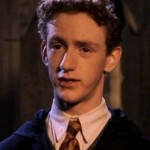 Feb 06, 2018
Following announcements that LeakyCon 2018 will take place in Dallas, Texas (and tickets completely selling out!), it's been revealed that Harry Potter's Chris Rankin (Percy Weasley) is the first to join the LeakyCon 2018 special guest lineup. This isn't his first LeakyCon, and he's excited to be coming back!
Looking forward to coming back to @LeakyCon this year! Who's coming to say hello? https://t.co/zCFWVwD9F0

— Chris Rankin (@chrisrankin) February 5, 2018
The convention also announced the initial band lineup for the Friday night Wizard Rock concert. This year will feature Texas natives The Mudbloods plus crowd favorites Tonks and the Aurors and Draco and the Malfoys. Additional bands and special guests will be announced at a later date.
LeakyCon 2018, now officially the largest-ever fan convention for Harry Potter and J.K. Rowling's Wizarding World, will take place at the Kay Bailey Hutchison Convention Center in Dallas, TX, Friday, August 10th through Sunday, August 12th, 2018.
For more information, visit LeakyCon's official site here, and keep posted for more announcements yet to come!