When the Magic of a Story Becomes Real…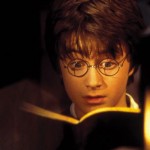 Feb 06, 2018
I write about Harry Potter all the time. I have all the talking points down, the recurring debates covered and the latest theories analyzed. With the constant flood of news, anniversaries and events, it's ongoing. But I'll be honest, I don't often revel in the magic of Harry Potter–not the way I did when it was new. Now I dive into it looking to discover the next clue rather than simply enjoying it for enjoyment's sake. This year, however, I was reminded what that looks like.
You see, I have a number of children. Some are natural, avid readers, while others are not so much. For the ones who find it a chore, it has been difficult to encourage them in it. With the first reluctant reader, I brought out Harry Potter as soon as I thought he was ready. I was taken aback when he trudged through the first couple books and declared they did not hold his interest. How could they not?!
(I have since learned that he is drawn not to fantasy but to historical fiction and nonfiction, and so I am always searching for the supply to his demand, happy to find something that balances those essential scales.) Still, I held the Potter series in reserve, tucked in my back pocket, if you will, for the next child.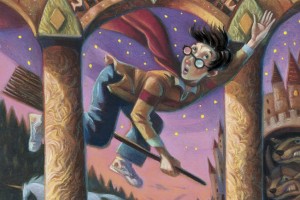 Not until this year, at the age of 9, did I decide to try again with my second struggling reader. I was sure if I could find something that held his attention, he would be more willing to put in the practice that would develop his reading skills and vocabulary. Finally, this past fall, I brought out Harry Potter and the Sorcerer's Stone with the simple request–why don't you try it? He shot me a sideways glance, accompanied by a well-timed eye roll, and begrudgingly took the book with its curling, worn pages from my hand. He eyed it skeptically, as if to say, what will make this one any different from the others?
For added incentive, I promised that when he completed the book–his first full-length novel–we would celebrate with our own private viewing of the film adaptation. We'd stay up late, watching it in its entirety from start to finish, just the two of us. (Never you mind that he'd already seen the film multiple times–the boon of having older siblings–he was intrigued and excited.)
I had him begin aloud so I could better hear the words he stumbled over and offer gentle correction as needed. Little did I know I would find myself so invested in the familiar story–and so surprised by the things I had forgotten.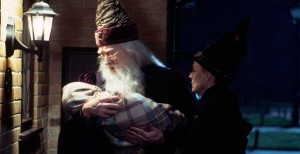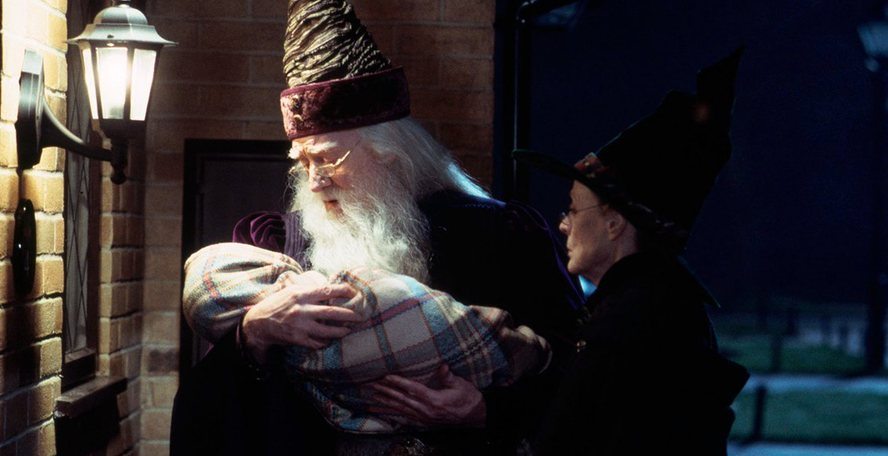 In the first chapter alone, he tumbled through a cluster of sentences that struck me forcefully. I wanted him to stop and reread them, to hear the moving words again, but I didn't want to disrupt his momentum. So I went back later, flipping through the pages of "The Boy Who Lived" to find it:
Dumbledore and Professor McGonagall bend forward over the bundle of blankets. Inside, just visible, was a baby boy, fast asleep. Under a tuft of jet-black hair over his forehead they could see a curiously shaped cut, like a bolt of lightning.

"Is that where–?" whispered Professor McGonagall.

"Yes," said Dumbledore. "He'll have that scar forever."

"Couldn't you do something about it, Dumbledore?"

"Even if I could, I wouldn't. Scars can come in handy. I have one myself above the left knee that is a perfect map of the London Underground. Well–give him here, Hagrid–we'd better get this over with."
Dumbledore almost obscures an incredibly wise statement with a quip, but it's still there, a hidden jewel to be found. "Even if I could, I wouldn't. Scars can come in handy."
How I would love to keep my children scar-free in this life. How I would love to take this thing that is so easy, so wonderful to me, this ability to read, and make it an enthralling delight to my child! How I would love to snap my fingers and, as if by magic, wipe away all of the things that impede and frustrate him, making him less willing or able to express his intelligence and confidence and humor.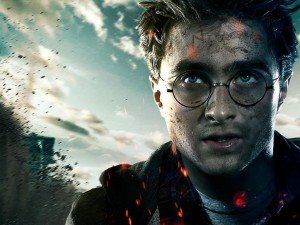 But if I were to do that, I would be removing part of what will make him who he is. I would alter, in ways I could not foresee, the young man he is becoming. In the same way, Dumbledore knew that what the scar both effected and represented would change Harry in irreparable ways, ways that Harry would one day have to face. His choices in how to deal with those realities would be significant, and it was not something to ignore or dismiss lightly.
And while I hate that this is difficult for my child, and I shed tears over his discouragement, what I am proud to see is the glimpses, now and then, of his fortitude and strong will. I am proud that he persevered, slowly but surely, through this book. Though it took him months to accomplish what it took some siblings days to do, he finally finished.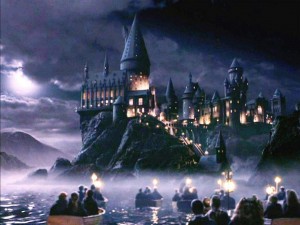 This weekend we sat snuggled on the couch beneath my over-large plush blanket, sharing gummy worms and Coca-Cola bottles as John William's iconic score soared through our living room and the wizarding world came alive once more. I was overwhelmed by the magic of it all, captivated anew as I sat beside a little boy who was enjoying it as if for the first time. I smiled broadly as Harry entered Ollivander's and the golden glow assured us the wand had chosen its wizard. I marveled at the bewildered excitement on the first years faces as they crossed the Black Lake. And I couldn't help joining in when he roared with laughter, again and again.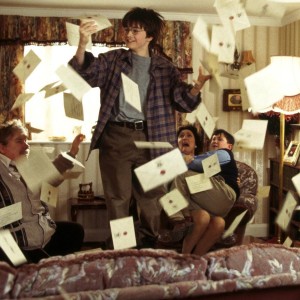 When owls descended on Privet Drive, pelting the Dursleys with undelivered mail and surrounding Harry with a flurry of Hogwarts letters, he shouted out, "Oh, I loved this chapter!" Then, like the Velveteen Rabbit who becomes real when touched by the love of his boy, the magic of the story, and the power of a well told tale, became real.
It may not charm all who peruse its pages, but for those it does, it opens up a whole new world. Now I am far more than a fan–I am also an incredibly grateful mom.