20th Anniversary Chamber of Secrets Bonus Bookmark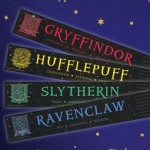 Feb 13, 2018
Last month Leaky shared the news from Bloomsbury Publishing that Hogwarts House editions of Harry Potter and the Chamber of Secrets would be released this summer in honor of its 20th anniversary. The new versions, with covers illustrated by artist Levi Pinfold, will be available on June 28 and can be purchased in Gryffindor red, Slytherin green, Ravenclaw blue, and Hufflepuff yellow hardback or black paperback with house-colored print.
Now Bloomsbury has added a handy magical bonus for those who pre-order their anniversary edition House copy of book two:
What Muggle hasn't wished for a matching bookmark for their Potter reads since "Accio page___" won't quite do the trick for us non-magical folk who lose their place. Unfortunately only fans in the UK/ROI and AU/NZ are eligible for this special offer, but if you have already pre-ordered one of the House edition Chamber of Secrets from Bloomsbury, you will automatically receive the matching bookmark.
Fans outside the UK/ROI should order their House edition here.
Fans in Australia and New Zealand order here.
The special bonus leather mark offer ends June 27, 2018 at midnight (GMT)
Will you be adding a House edition Chamber of Secrets to your Harry Potter collection? If so, order it soon and be the proud owner of this official Harry Potter Hogwarts House place holder!