DNEG Releases 'Fantastic Beasts' Visual Effects Breakdown!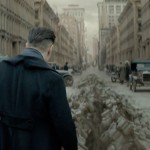 Feb 16, 2018
To celebrate 20 years of amazing visual effects, Double Negative released a breakdown of their work on Fantastic Beasts and Where to Find Them. The behind-the-scenes look features finished clips from the film as well as their stripped down versions for comparison, and the result reveals the incredible contribution of DNEG to the magic of J.K. Rowling's wizarding world.
The video opens with Percival Graves walking warily down a NY city street as he investigates the latest incident. The clip then shows the scene layered with effects as the Obscurus tears through the cobblestones.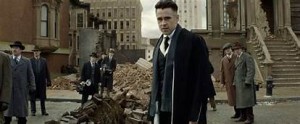 The video cuts to Newt Scamander's enchanted sanctum for magical creatures, showing the actors and the set layered with the effects that created the majestic Thunderbird, Frank, and his rainstorm.
The breakdown moves to a look at Credence releasing his dark obscurial powers, then quickly cuts to a shot of the effects used for Graves and Tina's duel, followed by the MACUSA aurors raising magical defenses around the entrance to the subway.
The feature then shows the effects used to create the Obscurus wreaking devastation throughout the city as frantic passersby flee, buildings crumble and cars fly end over end down the street. It cuts to a view of Ezra Miller as Credence Barebone, desperately trying to control the obscurial power within as Graves now battles Newt and havoc is unleashed in the tunnel.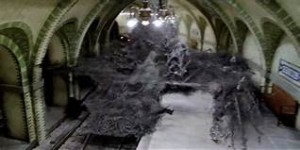 Last, the video shows Frank taking to the sky with Newt's obliviative serum while aurors stream into the streets under heavy rainfall to repair the city.
DNEG did masterful work on Fantastic Beasts and Where to Find Them, and the breakdown shows the intricate work that went into every scene. We can undoubtedly expect the same quality of visual effects in the upcoming films, which makes the wait to re-enter the wizarding world in Fantastic Beasts: The Crimes of Grindelwald all the more arduous. But, in the end, worthwhile. For now, enjoy the video below!
Fantastic Beasts and Where To Find Them | VFX Breakdown | DNEG from dneg on Vimeo.