A Birthday Tribute to Alan Rickman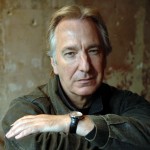 Feb 21, 2018
What can we say about Alan Rickman on the anniversary of the late actor's birthday?
First and foremost, we in the Harry Potter fandom fondly remember him as Severus Snape. The association is inextricable and one we would not try to separate. Rickman was perfectly cast and, famously, the only actor specifically sought out by J.K. Rowling for a part in the adaptation of her book series. Though his age was all for the wrong role, she knew what she was doing–she somehow foresaw, or divined, how he would become Snape in the best possible way so that any discrepancies between book and film would fall away when viewing his performance.
In a 2011 interview with the LA Times Hero Complex, Rickman observed:
"It's completely staggering that she had all of that in her head…Rumor has it that she put the ending in a bank vault when she was writing the beginning. So she held it all in her head, all seven books. It's jaw-dropping, really. When we started she had only written three of the books so it was like trying to walk down two potential roads not at all knowing what the end would be but having some sense of what that man's life was…I knew with Snape I was working as a double agent, as it turns out, and a very good one at that."
And as the years rolled by and the actors returned to film subsequent installments, there was comfort and anticipation in returning to those iconic characters and places. Rickman said:
"It was a punctuation mark in my life every year because I would be doing other things but always come back to that and I was always aware of my place in the story even as others around me were not."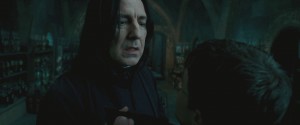 This was indeed a special gift. Having that insight allowed the great actor to be remarkably thoughtful in his portrayal of the pivotal role, bringing nuance to Snape that always kept us guessing about his motivations, darkness and inner turmoil. Rickman was able to be purposeful in his performance, even when it didn't match up with the producers and directors' vision. (And we should give some credit to those individuals for allowing him that creative leeway!)
In fact, producer David Heyman recalled in that 2011 interview:
"It was quite amusing, too, because there were times when a director would tell Alan what to do in a scene and he would say something like, 'No I can't do that – I know what is going to happen and you don't'…He had a real understanding of the character and now looking back, you can see there was always more going on there – a look, an expression, a sentiment — that hint at what is to come … the shadow that he casts in these films is a huge one and the emotion he conveys is immeasurable."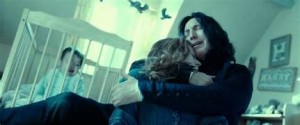 Rickman was clearly the perfect choice for the complex character of Snape, able to bring depth and intensity in front of the camera even though the role was often in direct contradiction to his own personality, which demonstrated his superior mastery of the art. Director David Yates commented:
"My early reaction to Alan was, 'Wow, he's really prickly and quite unpleasant'…But there's a method to his madness. I realized that he has to get in that zone when he's on the set. When I finally met him away from the job, he was a lovely guy. I don't know that he shows that to everyone, though. I think Alan is also shy — painfully shy, in fact — and he believes his craft should have an element of mystery to it. He sees no value in talking about it too much or dissecting it too much."
Whatever the "method to his madness," it was effective, and his body of work speaks for itself. Aside from the Harry Potter series, Rickman also starred in a wide variety of films, from artsy independents to action-packed blockbusters and dramas as well as comedies.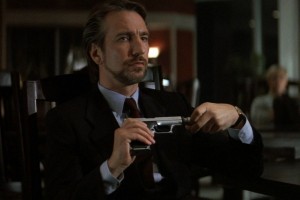 He truly burst onto the scene in 1988 as the villain Hans Gruber in the action classic and Christmas favorite Die Hard. He continued to work steadily and then cemented his iconic status with another villain for the ages as the Sheriff of Nottingham in Robin Hood: Prince of Thieves.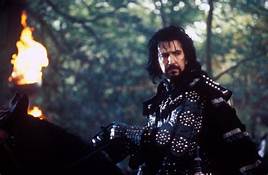 Rickman played the parts so convincingly it's a wonder he ever had the opportunity to screen test for those dramas and comedies–yet, he did. His exceptional talent could not be constrained or type-cast, and he gave us such enduring performances as the reserved but kind-hearted Colonel Brandon in Sense and Sensibility and the suave politician Eamon de Valera in Michael Collins, where his earnestness shone through.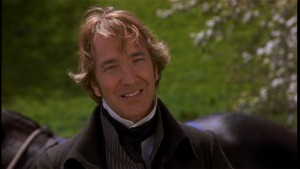 He also starred in Truly, Madly, Deeply, An Awfully Big Adventure, Dogma, Galaxy Quest, Love Actually, Sweeney Todd: The Demon Barber of Fleet Street, Alice in Wonderland, Lee Daniel's The Butler and many, many others in addition to renowned work on the stage.
Rickman's legacy is sure, and revisiting these films reminds us of his brilliance and of how privileged we are to count him as a contributor to the legacy of the wizarding world and the Harry Potter series. But, his genius notwithstanding, we suspect he would rather be known just as much, if not more, for being, as David Heyman put it, "one of the most generous people" than for being "[one of the] most brilliant actors I've ever met."
So raise your wands in birthday tribute, Potter fans, and whisper the words of Albus Dumbeldore into the night: "To the well-organized mind, death is but the next great adventure." For we will always remember who you have been to us, Alan Rickman.
To read the full 2011 LA Times Hero Complex article on Alan Rickman, click here.