GIVEAWAY: BBC One's 'Strike: The Silkworm' DVD & Review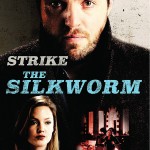 Feb 21, 2018
As reported previously on Leaky, BBC One and Warner Bros Home Entertainment released their adaptation of J.K. Rowling / Robert Galbraith's The Silkworm on DVD in the U.K. this week, which comes with an exclusive behind-the-scenes featurette. See our review of the season below, as well as details of our giveaway at the end of this piece, which gives you the chance to receive a copy of the DVD!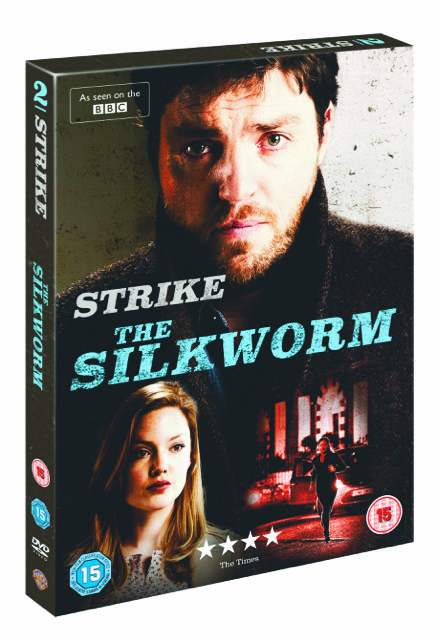 Strike stars Tom Burke as war veteran private detective Cormoran Strike, and Holliday Grainger as his highly talented temp-turned-assistant, Robin Ellacott. The series is executive produced by Neil Blair and J.K. Rowling, as well as Ruth Kenley-Letts and Elizabeth Kilgarriff, and written by Tom Edge and directed by Kieron Hawkes.
This season opens with a scene contrasting drastically with the glamour of The Cuckoo's Calling. A woman is visibly distressed at an piece in a magazine, and commits suicide after attaching the article to her chest. We find out more about the relevance of this scene later in the first episode as the plot jumps around different – but connected – narratives with clarity and ease.
The season continues on a similarly gruesome note, and when you consider that J.K. Rowling wrote the novels that this series was based on, we'd quite like to see dark murder-mysteries set in the wizarding world. Strike sets the perfect balance of comedy and mystery, and The Silkworm spends time developing Robin and Cormoran as multifaceted characters whilst setting up the investigation into the disappearance of a controversial writer.
Tom Burke and Holliday Grainger bring the duo to life brilliantly. In The Cuckoo's Calling we were introduced to Cormoran's difficult background and Robin's natural talent for detective work (specifically taking on false identities to get information) and her sometimes touchy and possessive fiancé, Matthew. As the second season unfolds we see each character being pushed to their limits, as Strike laments his ex-fiancée and Robin tries to balance her aspirations, unexpected losses and Matthew's frustration at the amount of time she spends working with Cormoran as they prepare for their wedding.
On top of this, a complex case unravels itself, and as a perplexed Cormoran and Robin study Owen Quine's horrifically gruesome writing for clues, equally gruesome discoveries are made, leading the case to turn quickly  from missing person to a murder investigation which brings the author's taste for horror to life. The narrative revolves around the literary world, and the intricacies of unique writing styles – which is pretty funny, considering Rowling wrote the novel under a pseudonym.
The behind-the-scenes featurette includes interviews with stars of the show, and J.K. Rowling herself, who appears to talk about the plot, explaining that Quine's wife (who initially comes to Strike about the case),
"Doesn't think anything's happened to him, she just thinks he's gone off in a sulk because nobody liked his book"
.
"It's a novel, about novels, with another novel inside it"
 grins Rowling.
"It's Jo's take on the literary world"
 says director Kieron Hawkes.
Holliday Grainger and Tom Burke appear to talk about their connections to their characters, and Hawkes and Rowling also discussed the 'visual' style of Rowling writing, and how the novel and its adaptation navigate London. It's a great addition to the DVD!
A few favourite moments from the series include Cormoran asking a confused stranger to drive him home in Robin's car, Robin's Cornish-themed birthday gift for Cormoran (speaking of which, I'm sure she's got an Undetectable Extension Charm on her bag), and Matthew's all-too-real struggle to iron a dress. Rowling's sense of humor definitely shines through in the adaptation, as does her ability to weave a detailed mystery – it's no surprise she's found herself in the middle of two (three, including Fantastic Beasts?) best-selling series.
The Silkworm DVD Giveaway (U.K. only):
If you haven't watched or read the series yet, be sure to give it a try! To make things easier we're giving away one copy of The Silkworm on DVD. Unfortunately, this giveaway is only open to the U.K. due to the format of the DVD.
If you're from the U.K. and want to win a copy, we want you to tell us your favourite character – Cormoran, or Robin? Comment your answer on this post, our Facebook post, or tag us on Twitter (@Leaky) along with #LeakyCauldronGiveaway by midnight on Friday February 23rd to be in with a chance of winning!
Watch a trailer for The Silkworm below:
Both Burke and Grainger recently spoke about their role in the series with Digital Spy, commenting on the number of novels Rowling could be planning:
"With Rowling rumoured to be planning up to ten Cormoran Strike novels, Burke said his contract for the TV version "reads like an RPG novel, with different pages with different outcomes".
His co-star Grainger, meanwhile, told us: "I can't remember how many I'm contracted for, but I think there was an idea that there might be seven [books] written. But I don't know if that's a 'definite' or a 'might'.
"So therefore, I might be optioned for six or seven. Five, six or seven. But I think they've always been quite clear that they'd never want to write one without basing it on a book. And they're pretty spread out unless Jo [Rowling] just doesn't sleep ever. She's pretty busy."
Read more here.
Both 
The Cuckoo's Calling 
and 
The Silkworm
are available to watch on BBC iPlayer, and 
Career of Evil
will air on
February 25th at 9pm
. Find 
The Silkworm
on DVD
here
.