1200 Tickets to Cursed Child Broadway's First Performance Released Tonight!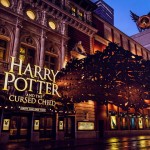 Mar 10, 2018
Would you like to be one of the very first to see Harry Potter and Cursed Child on Broadway? According to the play's social media channels, then this is your lucky day if you can get on your broom, find your portkey, or disapparate as soon as possible to New York's newly renovated Lyric Theatre! The first 600 people in line will have the opportunity to buy 2 tickets each to the first Broadway performance of the award-winning play, which begins previews this Friday, March 16 and Saturday, March 17. Check out this message about the offer from two of Cursed Child's stars, Noma Dumezweni,  who plays Hermione Granger Weasley and Paul Thornley, who plays her beloved husband Ron:
#CursedChildNYC's @MissDumezweni & @paulfthornley have some exciting news! 1200 tickets to the first preview performances of Part One (March 16) & Part Two (March 17) will be available for $20 per Part ($40 total) to buy in person today at the Lyric Theatre box office from 8pm ET pic.twitter.com/fQAD9Bhlpi

— Cursed Child NYC (@HPPlayNYC) March 10, 2018
As the Weasleys mention above, tickets go on sale at 8pm tonight at $20 per part for CASH ONLY!!! Check out the information on the play's website here and head to the theater!! Let us know if your Felix Felicis did the trick today and helped you be the first to #KeeptheSecrets on this side of the pond! It looks like a few Muggles have already made it–let's hope they brought a stash of chocolate frogs to tide them over until 8pm!
First people in line! Come to the Lyric Theatre today for your chance to be at the first preview performances of #CursedChildNYC on March 16 & 17. Tickets are released at 8pm, cost just $20 per Part ($40 total) and can be bought with cash only. See you when you get here! pic.twitter.com/MqKrv1HtFq

— Cursed Child NYC (@HPPlayNYC) March 10, 2018