New 'Cursed Child' Broadway Cast Photos Inside Latest Vogue Magazine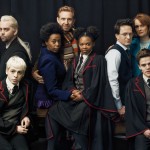 Mar 20, 2018
Brand new photos of the core cast of Harry Potter and the Cursed Child at Broadway's Lyric Theatre released in the latest Vogue magazine, bringing together the Potters, Granger-Weasleys and Malfoys in one nostalgia-packed photo: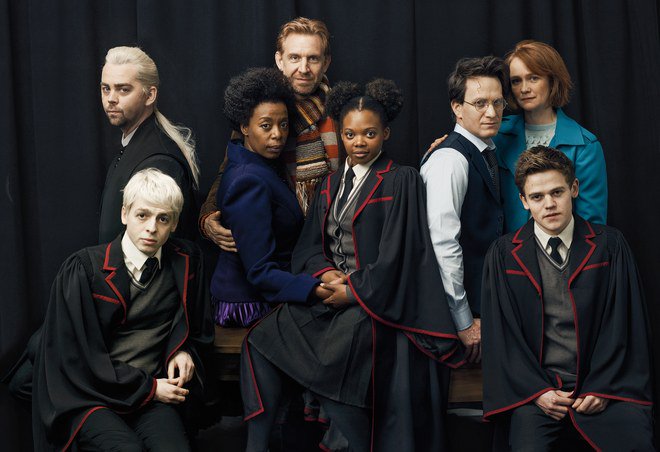 All eight actors potrayed their respective characters in the original West End version of the show, all except Susan Hayward (Rose Granger-Weasley). Writer Jack Thorne says on the aim of Cursed Child, which focuses on Harry's struggles as a parent and Albus Severus Potter's frustrations at being the son of The Boy Who Lived (and also defeated Voldemort):
"We wanted to tell a story about kids who, unlike Harry and his friends, weren't comfortable at Hogwarts […] Harry is at that age where he has to come to terms with things that he has never sorted out."
Jamie Parker portrays Harry in the show, and says on his personal connection to Harry's story:
"When I was eleven, I got on a train and went up to a boarding school in the middle of Scotland, and I wore little round glasses," Parker recalls. "It didn't have anything to do with wands and spells, but it's familiar. I know this guy."
Noma Dumezweni, who portrays Hermione Granger in the show, also shared her thoughts on Hermione "finding her tribe", and what it means to her to portray such a character as an immigrant from Africa:
"Hermione is a little outside of the box, not quite fitting in, but then she finds these other members of her tribe," Dumezweni explains. "I was this immigrant girl who arrived in this country from Africa when I was eight, and my world changed overnight." Suddenly, she says, "you're the other, the different one. You're good at what you do, but you've got to find your way, your tribe. My tribe was youth theater."
With the feverishly anticipated Harry Potter and the Cursed Child, the latest—and perhaps final—chapter of the story comes to Broadway. https://t.co/kVU9s2as3w pic.twitter.com/HpogXjT8Gt

— Vogue Magazine (@voguemagazine) March 20, 2018
The interview and review goes on to unpack the pure magic of Cursed Child, as it brings to life a brand new story onstage, highlighting the capabilities of theater to transport you to new worlds (or old ones, in this case!). Read the full piece here, and be sure to pick up the latest issue of Vogue to see more!