Reading is Magic: Support the Accio Books campaign during National Library Week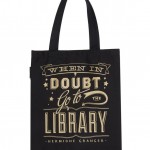 Apr 12, 2018
It's National Library Week in the U.S. — April 8-14.  If you are bookish like Hermione, you probably spend a lot of time in libraries year round.  Even if you are a more casual reader, you might make use of your local library occasionally, not only for books but for myriad other resources like DVDs, CDs, computers, classes and events, periodicals, and—a personal favourite of mine for long car trips—audiobooks.  Whatever your personal level of library usage, National Library Week is an opportunity to appreciate the critical role that libraries play in our communities.  Libraries are a great equaliser because they are free.  Everyone in the community has equal access to their myriad resources.  Literacy is critical and libraries facilitate it for everyone from children just learning their ABCs to immigrants learning a new language to the elderly.  Ensuring continued access to library resources for everyone requires funding.  By calling attention to the crucial services provided by libraries, National Library Week raises awareness and support for library funding.  It's also a great time to appreciate the work librarians do in helping facilitate research, spread knowledge, and protect speech rights.  So, pop into a library this week and tell your local version of Madame Pince that you appreciate him or her.
Since its first Accio Books campaign in 2009, the Harry Potter Alliance has donated over 350,000 books to literacy programs around the globe.  This year's campaign will send books to the Boys & Girls Club of Puerto Rico to provide books for poor children affected by Hurricane Maria.  You can donate by following this link.  Every $10 donated qualified you for an entry into a contest to win a copy of Harry Potter and the Order of the Phoenix signed by Luna Lovegood (Evanna Lynch).  A complete list of this year's perks and prizes for different donation levels can be found here.
Literary-themed merchandise brand Out of Print is donating 10% of all sales during National Library Week to Accio Books.  They have an extensive Harry Potter collection, including t-shirts, tote bags, socks, pins, and a new Fantastic Beasts-themed shirt.