Scholastic to Publish 'Beedle the Bard' Illustrated Edition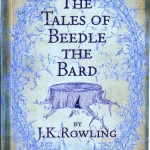 Apr 22, 2018
As we know, Harry Potter U.K. publishers Bloomsbury will be publishing an illustrated edition of The Tales of Beedle the Bard, to be illustrated by Chris Riddell (see a sneak preview here!). U.S. publisher Scholastic also appear to be publishing their own version of the classic wizarding stories, to be fully illustrated by artist Lisbeth Zwerger.
The update comes from Amazon, where the U.S. edition is listed as publishing on October 9, 2018. Here's the description:
"The Tales of Beedle the Bard contains five richly imaginative stories of adventure, cunning, heartache, and, of course, magic. They are to the wizarding community what the tales of the Brothers Grimm are to Muggle families.
This lush new illustrated edition has been translated from the ancient runes by Hermione Granger and is presented here with extensive commentary by Albus Dumbledore. And now Hans Christian Andersen Medalist Lisbeth Zwerger interprets these classic tales with beauty and tenderness (and wit), illuminating them for modern readers. With an introduction and notes by J.K. Rowling, this collection will thrill and delight Muggles and wizards alike.
For every sale of this book, Scholastic will donate 15% of the suggested retail price to Lumos, an international nonprofit organization founded by J.K. Rowling that works globally to end the institutionalization of children. wearelumos.org"
To get a sense of Lisbeth Zwerger's style, here are some of her previous works of art:
You can pre-order your copy through Amazon here. We'll bring you any updates from Scholastic's official channels as they're posted!