'Fantastic Beasts' Cast Teases New Footage at CinemaCon!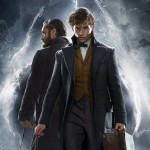 Apr 25, 2018
The Fantastic Beasts cast appeared at CinemaCon yesterday as part of the Warner Bros. presentation, answering questions from MC Will Arnett and, to the surprise and delight of the audience, unveiling new footage from the upcoming Fantastic Beasts: The Crimes of Grindelwald film!
ComicBook recapped the exciting presentations, which included Aquaman footage, a trailer from Life of the Party, the cast of Ocean's 8 with Helena Bonham Carter (Bellatrix Lestrange) introducing a new clip and much more–all leading up to Fantastic Beasts.
From the Wizarding World to #CinemaCon2018. The cast of #FantasticBeasts: The Crimes of Grindelwald has arrived! pic.twitter.com/BVJgN7D79Q — Warner Bros Pictures (@wbpictures) April 25, 2018
NEW: Katherine Waterston, Eddie Redmayne and Dan Fogler attend #CinemaCon to promote #FantasticBeasts pic.twitter.com/PVLpWAVYep — ????????? ????? (@kwaterstonfan) April 24, 2018
#EddieRedmayne + the #CrimesOfGrindelwald cast (+ a snake on his sleeve!) at @CinemaCon in Las Vegas Tuesday. #KatherineWaterston#AlisonSudol#NewtScamander#Newtinapic.twitter.com/0OFRuk9PWq — BespokeRedmayne (@bespokeredmayne) April 25, 2018
More #EddieRedmayne + the #CrimesOfGrindelwald cast at @CinemaCon in Las Vegas Tuesday. (Host #WillArnett) #KatherineWaterston #AlisonSudol #NewtScamander #Newtina pic.twitter.com/14ML4J7fz4

— BespokeRedmayne (@bespokeredmayne) April 25, 2018
Ready to return to their magical roles in the 2nd of 5 installments of @FantasticBeasts, the cast takes the stage – Eddie Redmayne, Katherine Waterson, Dan Fogler, Ezra Miller, @AlisonSudol, and @CallumRTurner — CinemaCon (@CinemaCon) April 25, 2018
According to Variety, Ezra Miller, who plays the conflicted and mysterious obscurial Credence Barebone, fielded challenging trivia like a pro, impressing the crowd. One question probed his knowledge of the backstory, asking him about Nicolas Flamel. Little did they know at the time–they would be treated to a brief glimpse of the alchemist himself in the film clips shown later!
#EzraMiller at the showing of new footage for #FantasticBeasts #WB #CinemaCon pic.twitter.com/3DqoN7pmf9 — Brendon Wagner (@succeededmight) April 25, 2018
EW reported that before introducing the teaser trailer, which may be part of the larger full-length trailer yet to be released, Eddie Redmayne, who plays the loveably-awkward but immensely-talent Magizoologist Newt Scamander, told the audience waiting with bated breath:
"As someone who has grown up watching all of J.K. Rowling's films, I had always dreamt of going to Hogwarts and I felt a little short-changed that I didn't get to go to Hogwarts [in the first Fantastic Beasts film], so in this film I get to go to Hogwarts…We all get to meet Dumbledore, who Jude Law plays, and he has this amazing, quixotic, eccentric joy to him." 
A new #FantasticBeasts trailer started with Newt playing "ridiculous" for his fear of having an office job, and featured more of Jude Law's Dumbledore. pic.twitter.com/X7tzhkOCI9 — Fandango (@Fandango) April 25, 2018
And then–the scene opened on professor Albus Dumbledore before a young Newt Scamander, back in the classrooms of Hogwarts as Redmayne had longed for.
Dumbledore says, "Everyone is scared of something," as he turns Newt to face a Boggart, much as Remus Lupin would later do with his Defense Against the Dark Arts students in Harry's third year. (Perhap's he learned a thing or two about teaching methods from the great headmaster himself?)
We find it odd that Dumbledore, the Transfiguration professor, would be instructing students in Dark Arts, however. So perhaps this is a further foreshadowing of the mentor relationship Rowling later strikes up between Harry and Lupin–and between Dumbledore and Harry. Dumbledore might, as a teacher with a keen eye for talent, take under his wing the socially-inept but innately-gifted Newt for private lessons, helping him to face his struggles both in life and in the classroom, explaining why, in the befuddled words of Percival Graves/Gellert Grindelwald, "Now what makes Albus Dumbledore so fond of you?"
And, here, we are told, Newt faces his fear of being forced to assume an office job, as his Boggart unceremoniously turns into a desk. With that revelation giving us a sneak peek of Newt's mindset toward his schooling and future career track, the trailer whisks us back to New York and Gellert Grindelwald's growing foothold in the wizarding community as the one who will finally lead them in resisting muggle oppression–no matter the cost.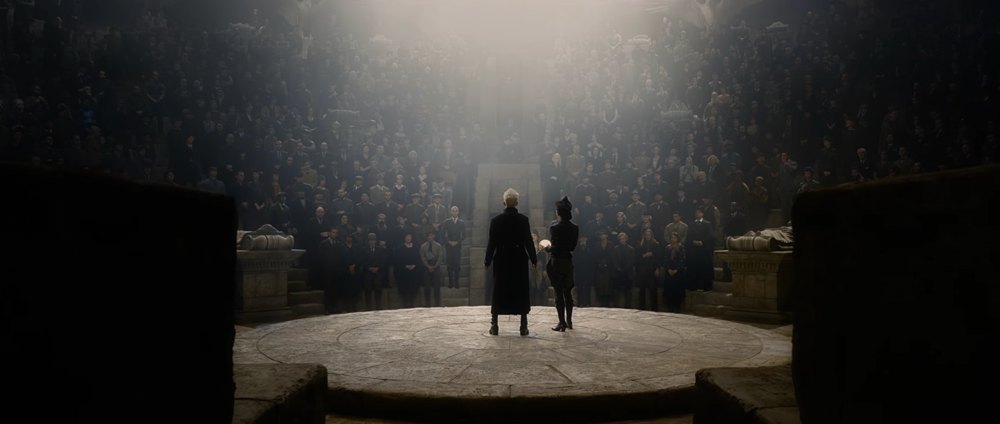 The trailer then returns to Newt and Dumbledore, in the present, and reveals what looks to be an extended version of the conversation teased in the first official trailer.
"You've heard rumors Grindelwald will rise to dominate the wizarding world," Dumbledore says.
"You're asking me to help?" Newt replies.
"And to learn," says Dumbledore. "I can't move against Grindelwald. It has to be you."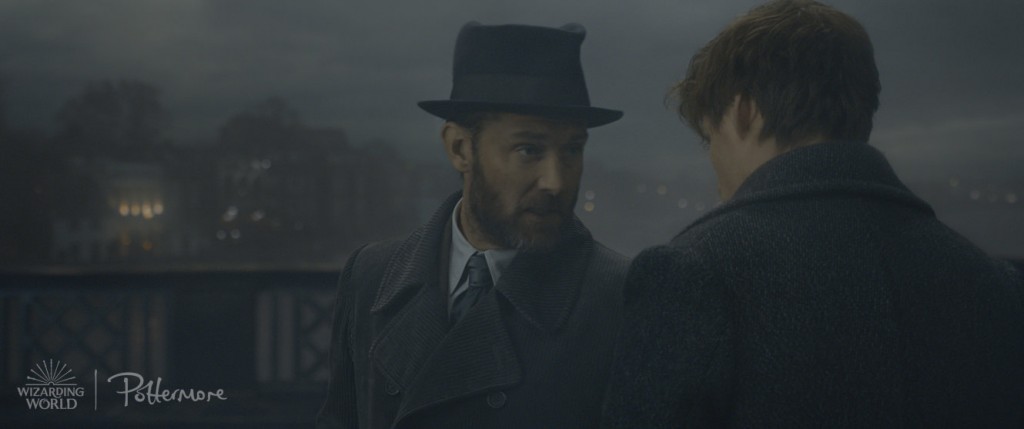 The clip flashes on, and EW suggested we may even glimpse Dumbledore staring into the Mirror of Erised–seeing his family restored or a restored relationship with his one-time friend?
Finally, the dark footage ends on a lighter note as Jacob Kowalski meets the aforementioned Nicolas Flamel. He asks, "Are you a ghost?"
To which the man replies, "No, I'm alive, but I'm an alchemist, and therefore immortal."
Variety reported that Kowalski then injected his trademark comic relief with the quip, "You don't look a day over 375."
And that's a wrap! @FantasticBeasts: The Crimes of Grindelwald give an exclusive look to end the show. Out Nov 16 — CinemaCon (@CinemaCon) April 25, 2018
Though that wrapped the official presentation, the buzz continued long afterwards, with excited fans tweeting their reactions to the exclusive film content!
Saw a new trailer for #FantasticBeasts that showed a flashback to Newt at Hogwarts using the ridiculous charm and got a look at an immortal Nicholas Flammel. Definitely looks a bit darker and more-in depth to the Wizarding World #CinemaCon — JoBlo.com (@joblocom) April 25, 2018
JUST SAW NEW #FANTASTICBEASTS footage at #CinemaCon! The stakes are high and we see Dumbledore teaching a class the ridikulus spell just like Remus taught it in Potter. — Piya Sinha-Roy (@PiyaSRoy) April 25, 2018
Lol i'm refreshing the #CinemaCon & #CrimesOfGrindelwald tag like crazy hoping someone posts the unseen footage of #FantasticBeasts — suzie (@Bibliowitch) April 25, 2018
LET ME SEE THE NEW UNSEEN FOOTAGE OF #FantasticBeasts ??

— Francisco Quiloquilo (@RJeebang) April 25, 2018
We feel your pain completely and will keep you informed on all new developments, including our theories on what each revelation means for our favorite wizarding characters. In the meantime, revisit our analysis of the beastly questions raised by the first official trailer, here.