'Lethal White' Releasing This Year, Says J.K. Rowling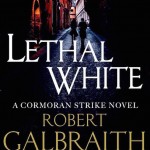 Apr 27, 2018
We've long awaited the release date of the fourth book in the Cormoran Strike series, and when (just following the hype surrounding the release of the Fantastic Beasts trailer) J.K. Rowling announced she'd finished Lethal White, we knew it'd only be a matter of time until we received another update!
Rowling posted to Twitter yesterday, announcing that the fourth instalment will hit shelves this year!
Thank you! I'm editing #LethalWhite (Strike no. 4) right now and it'll be out later in the year. https://t.co/YsXu9DZMTF

— J.K. Rowling (@jk_rowling) April 26, 2018
That hopefully means we'll also be getting the next series in Strike before long, and Rowling also updated U.S. fans on the release of C.B. Strike this June:
For those asking 👇 https://t.co/lW7dwnsZMa

— J.K. Rowling (@jk_rowling) April 26, 2018
America will also get new editions of the book series to accompany the TV series release:
The new American TV tie-in editions of the Cormoran Strike books. (Thanks to @rowlinglibrary for posting this photo) C.B. Strike will air on Cinemax starting June 1 🔎 pic.twitter.com/3VEryKjYhh

— Cormoran Strike (@CormoranStrike_) April 24, 2018
As for the U.K. series on BBC One, the DVD boxset of the series so far released this month, which includes exclusive featurettes and interviews with the cast and crew, and J.K. Rowling herself. Find more information here.
Jo also responded to a question from a fan, enquiring about a 'door to Hogwarts' in Chicago:
@jk_rowling can you tell me more about this door to Hogwarts at the Damen Blue Line stop in Chicago? pic.twitter.com/9O5IcAopU0

— Michał Wilczewski (@mehow87) April 25, 2018
It's for exchange students from Ilvermorny. Duh. https://t.co/pcZdtZAmtp

— J.K. Rowling (@jk_rowling) April 25, 2018
Interesting – Hogwarts appears to have an exchange student program now (and portals between schools?) – that sure would've been interesting to see in Harry Potter series! We realise this is all probably in jest, but Chicago's version of Platform Nine and Three Quarters is bound to see a lot more attention from muggles now that Rowling's acknowledged it!
Jessica Williams was recently announced as featuring briefly in Fantastic Beasts: The Crimes of Grindelwald as Ilvermorny's Professor Eulalie (Lally) Hicks, who we won't see in full glory until the third film. Perhaps we'll be seeing the American wizarding school, and Dumbledore might even choose to use this secret portal between Chicago and Hogwarts – who knows!
Please note: Featured image of 'Lethal White' cover is unofficial, see here for more info. We'll update you when the official cover is revealed!