Jamie Parker Casts a Spell on The Tonight Show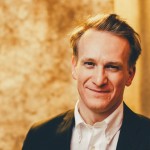 May 11, 2018
Cursed Child's Jamie Parker made his first appearance on late night TV when he dropped by The Tonight Show with Jimmy Fallon yesterday. Parker, who was recently nominated for a Tony for his role as the grown up Harry Potter, spent a few minutes catching up his host on the amazing transfiguration of the Lyric Theatre, filling the shoes of his iconic character, and even sharing a bit of his own magic.
Fallon started the interview holding up playbills for each of the play's two parts to which Parker responded, "It's not eight hours," confirming for anyone a little apprehensive about the show's length, that it runs just over five with a break every hour or so. Parker also gushed about the magnificent renovation of Cursed Child's Broadway home, the Lyric Theatre and thanks in part to award-winning set designer Christine Jones, and the experience of the play beginning when visitors walk through the door,
"The whole world of the play comes out into the house."

In the interview Fallon asked Parker if he felt pressure playing this incredibly iconic role to which he said,
"You can go a bit mad with the 'iconic' thing pretty quickly. If you want to do good material and you're lucky enough to get a chance to do it, then chances are probably somebody pretty nifty will have been there before you. When I got the job on Cursed Child, I was doing another show in the West End and I was playing a part that Marlon Brando had played."
When Fallon asked if Daniel Radcliffe had been to see the play yet Parker responded with a tidbit that made for a collective "Awwwwww" heard across the fandom,
"No, he hasn't been in yet. We've been trading bunches of flowers at the moment. Whenever he opens a play or I'm opening something, we're sort of outdoing each other with goodwill[…]about the most English thing you've ever heard."

"But I understand why he might be a bit circumspect about sitting in a confined space with 1,600 Potterheads,"
to which Fallon suggested Radcliffe wear an invisibility cloak.
Parker mentioned playing pitcher in the Broadway Softball League with Cursed Child team, the Fizzing Whizbees on their days off and revealed this about his teammates and his own knowledge of the sport,
"Half of which are British and don't know the rules of softball."
I'm about to play something called softball.

They only sold me one glove.

My right hand feels marginalised, exposed and self-conscious.

Just realised why I never went into sports.

— Jamie Parker (@DickLeFenwick) May 3, 2018
Parker was gifted a new autographed bat by fellow late night guest, former MLB star A-Rod, Alex Rodriguez, so maybe the actor will up his game!
The late night newbie also brought some of his own witchcraft and wizardry to The Tonight Show. Take a look at the magic below:
The trick may have cost him his freedom, however, as playwright Jack Thorne and J.K. Rowling herself weighed in on the implications of his actions, and the technicalities of the statute of secrecy. It's an amazing thread on Twitter involving the writers and the cast of Cursed Child, so be sure to read the whole thing below:
The truth is out, @DickLeFenwick is actually a wizard. But he's abused his skills, and used them for entertainment, rather than focusing on saving the world. Sad. https://t.co/4PGDkH4TFN

— Jack Thorne (@jackthorne) May 11, 2018
I mean, the guy is a liability, to do it on a TV chat show – where's the respect?

— Jack Thorne (@jackthorne) May 11, 2018
warlocks famously described as 'the obvliate of the masses', then 'improper use' restrictions, especially pertaining to muggle artifacts (to whit: balloon / beer bottle / pen) need not apply. (btw thanks @MissDumezweni for letting me copy your homework on this one…) 2/2

— Jamie Parker (@DickLeFenwick) May 11, 2018
'The obliviate of the masses' is possibly my favourite phrase ever written, but you're still going to azkaban and you know it. Ready yourself, we're coming for you. MACUSA.

— Jack Thorne (@jackthorne) May 11, 2018
Not epilogue. Much more post-structural than that. Curtain call, March/April/May 2019. Expect a visitor. Expect several.

— Jack Thorne (@jackthorne) May 11, 2018
Poppy Miller (Ginny Weasley) also weighed in:
Quite seriously, I think that's a quaint muggle trick, not wizard magic. Sort of thing that would have fascinated Weasley Snr. Same might be said for stolen noses… I think about this quite a lot. Very good trick btw…

— Poppy Miller (@Popski_emski) May 11, 2018
But nothing compares to a threat of incarceration from J.K. Rowling herself!
Turn towards the light, Jack. There's still time.

— J.K. Rowling (@jk_rowling) May 11, 2018
Enchanted Muggle artefacts are specifically prohibited by Ministry Statute 187(c), so I agree, that is concerning. I think a fairly terrifying visit from the Ministry might be in order.

— J.K. Rowling (@jk_rowling) May 11, 2018
I can't help feeling you're not showing the proper degree of contrition here, Mr Parker.

— J.K. Rowling (@jk_rowling) May 11, 2018
'Mistrust those in whom the impulse to punish is strong.' Nietzsche

— J.K. Rowling (@jk_rowling) May 11, 2018
"Strong punishment is fun" Norbert the Snorbert.

— Jack Thorne (@jackthorne) May 11, 2018
Shocked, frankly. @DickLeFenwick, stop making up the rules as you go along.

— J.K. Rowling (@jk_rowling) May 11, 2018
Congratulation to Jamie Parker on his first late night talk show appearance. We'll be rooting for him on the softball field and at the Tony Awards, June 10 at 8p ET live on CBS!