Alan Rickman's Archives for Sale, Including Letters from J.K. Rowling & his 'Frustrations' About Snape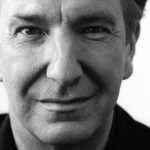 May 27, 2018
A newly available collection of documents from the late Alan Rickman's personal archives reveals Rickman's thoughts and frustrations about portraying Snape, letters from J.K. Rowling, old scripts and correspondences – even fan mail from a young Daniel Radcliffe!
The actor had kept correspondences, fan mail, interview excerpts and his own personal diaries in a collection that filled over 30 boxes, which will soon be on sale for about £950,000. Some of these include personal letters from celebrities including Prince Charles, Tony Blair and Bill Clinton. The collection also includes a huge number of Harry Potter scripts, correspondences and more, as well as premiere tickets and invitations, stationary signed by leading Chamber of Secret cast members, a Christmas card from J.K. Rowling (reading, 'Just completed *the* Snape chapter. It is so very strange, finishing…'), action figure prototypes, notes and much more. Harry Potter's Emma Thompson (Professor Trelawney) also wrote to Rickman to praise his work on stage.
In one letter, it appears the Late Alan Rickman wasn't always quite as fond of Snape as the rest of us – or so reveals a note written by him while working on 2009's Harry Potter and the Half-Blood Prince! It suggests that  he was not entirely pleased about the lack of attention given to Snape's character and the development thereof. In a note entitled "Inside Snape's Head", Rickman wrote: "It's as if David Yates has decided that this is not important in the scheme of things i.e. teen audience appeal." Another postcard from David Heyman thanks Rickman for "…making HP2 a success. I know, at times, you are frustrated, but please know that you are an integral part of the films. And you are brilliant.'. The collection will give access to various letters between Rickman and Jo Rowling, in which Snape's 'character and development' is explained in detail to the actor – who wouldn't want to read that exchange!
See also his offer to portray Snape, from David Heyman, below: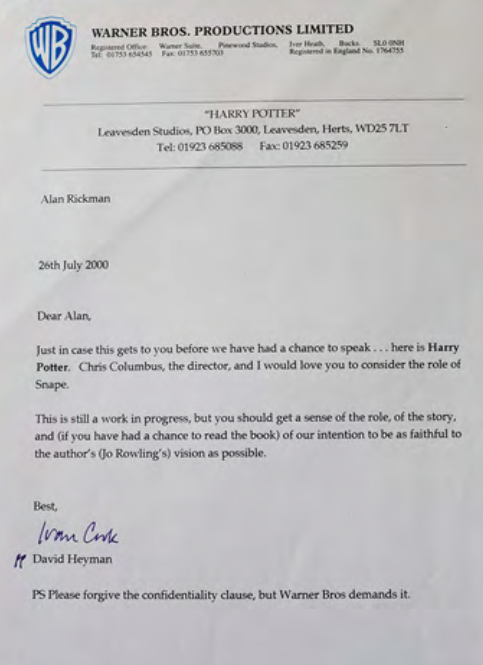 As previously reported by Leaky, a few letters from Daniel Radcliffe were also found in the archives, one of which happened to be a piece of fan mail from the young actor:
Alan Rickman's fan mail.https://t.co/piFuSXLIoI pic.twitter.com/zSshhR0yJY

— Neil Pearson (@RareNeilPearson) April 17, 2018
This collection also includes heavily annotated scripts of Robin Hood: Prince of Thieves; Truly, Madly, Deeply; and his film debut, Die Hard. In a dialog with The Mirror , the collector and Waterloo Road and Bridget Jones star Neil Pearson says:
"It's a fabulous collection. There are 35 boxes of it – there is the Truly Madly Deeply script in there and Robin Hood Prince Of Thieves is in there. Every single script of a play or film, all of his diaries and a massive amount of correspondence from pretty much every one you've ever heard of."
UPDATE: @RareNeilPearson on Twitter responded to a question on our tweet, explaining that the ideal home for this collection is a national archive, for those worried about where these treasures might end up! 
A national archive is exactly the home we're looking for, @redsquirrelno1, and discussions are ongoing.

— Neil Pearson (@RareNeilPearson) May 28, 2018
The collection was presented at the ABA Rare Book Fair (MUST). An entire catalogue of this collection can be found at  Neil Pearson.