Crimes of Grindelwald Wins at the Golden Trailer Awards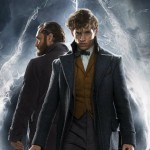 Jun 05, 2018
The spellbinding first trailer of the upcoming Fantastic Beasts: The Crimes of Grindelwald, "Expelliarmus" took home a win last week from the 19th Annual Golden Trailer Awards. Warner Bros and film editing and marketing collective JAX Studios were awarded the prize for Best Fantasy/Adventure movie preview, at the ceremony, which honors excellence in motion picture marketing.
Lea DeLaria of Orange is the New Black fame presented the award at the May 31 ceremony delivering the news that Fantastic Beasts beat out three other film previews in the category; Jumanji: Welcome to the Jungle, Solo: A Star Wars Story, and Thor Ragnarok.
.@realleadelaria reveals the winner for Best #Fantasy #Adventure trailer: @FantasticBeasts: The Crimes of Grindelwald #WandsReady #FantasticBeasts. Watch now for my more laughs and surprises on https://t.co/9710wbUL8t #GTA19 #GoldenTrailer pic.twitter.com/AACrWhfl9P

— GoldenTrailerAwards (@goldentrailer) June 1, 2018
That long-awaited first look at the Fantastic Beasts sequel, which was released late last winter, definitely had the fandom spellbound. Leaky broke down those 2 ½ minutes of magic discussing everything from the Ministry's interest in Newt to Grindelwald's possible possession of a prophecy. We looked at Credence's connection to the Lestrange family, the return of the Deathly Hallows and of course, that controversial apparition into Hogwarts. We even posted video from our staff who were more than willing to record their reactions to watching the trailer for the first time.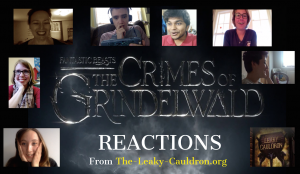 Are you ready for trailer number two? While we're (not so patiently) waiting, have you found all the Easter eggs on the cover of the Crimes of Grindelwald screenplay due out November 16 to correspond with the release date of the film? Check out our take on it here.