Daniel Radcliffe Returns to Broadway in 'The Lifespan of a Fact'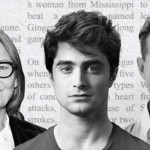 Jun 06, 2018
Though we will forever love Daniel Radcliffe for portraying The Boy Who Lived (a.k.a. The Chosen One) in the eight films adapting J.K. Rowling's Harry Potter series and have closely followed his subsequent film career filled with eclectic choices, it seems the stage holds a special draw–and challenge–for him.
He first tested his theater chops with a surprising turn in Equus (2008), controversial for its nudity but a turning point in terms of demonstrating his acting ability and commitment to the craft. Radcliffe followed that performance with the musical comedy How to Succeed in Business Without Really Trying (2011), honing his singing and dancing skills for the role. Most recently, he took the lead in The Cripple of Inishmaan (2014).
Now, according to the Hollywood Reporter, Radcliffe is set make his Broadway return this fall, starring in The Lifespan of a Fact alongside stage veterans Cherry Jones (The Heiress, Doubt, The Glass Menagerie) and Bobby Cannavale (The Motherfucker with the Hat, Mauritius, Glengarry Glen Ross).
Daniel Radcliffe, Cherry Jones and Bobby Cannavale to star on Broadway in new play about the blurred lines of truth in literary nonfiction, 'The Lifespan of a Fact' https://t.co/IQvWFE0BrXpic.twitter.com/WApyr0cLLF

— Hollywood Reporter (@THR) June 6, 2018
The play from Jeremy Kareken, David Murrell and Gordon Farrell is based on the 2012 book of the same name, which tells the story of an essay seven years in the making. The original essay examining the suicide rates in Las Vegas was published in 2003 but was later pulled over questions of fact. From that point on, a collaboration began between researcher and writer John D'Agata and fact-checker Jim Fingal, which eventually led to the publication of the revised essay in 2010.
The Hollywood Reporter described the play as follows:
"Spanning the years between the writing and publication of the Vegas article, the drama explores the blurred lines of what passes for truth in literary nonfiction. Radcliffe will play Fingal in the production, with Jones as his magazine editor boss and Cannavale as D'Agata."
Leigh Silverman is set to direct the play officially opening at Studio 54 on Oct. 18 for a limited 16-week run. Preview performances begin Sept. 20.
Read the full Hollywood Reporter coverage here.