EXCLUSIVE: New Cinematic Nighttime Show at Universal Orlando Will Celebrate 'Harry Potter' & More!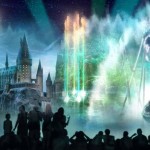 Jun 14, 2018
This Summer, Universal Orlando will debut a brand new nighttime lagoon show in Universal Orlando's Cinematic Celebration. By using state-of-the-art technology Universal Orlando's lagoon will be enveloped in an immersive cinema experience, including moments and characters from the Harry Potter series. We spoke to Mike Aiello, Universal's Senior Director for Entertainment Creative Development,  who explained to us exactly what we can expect from this new experience. We heard some great details on the Potter section of the show (our goosebumps are officially here to stay), so keep reading to find out more!
UPDATE (07/18/18): Watch the full show at the bottom of this piece!
The show was announced late last year, but new details revealed by Universal in an exclusive press release are making us suspect that there might be a few charm-savvy wizards working in Universal's creative department. Combining the effects of 120 dancing fountains with special effects and technologies, the show will make use of"full panoramic water screens accented by additional multi-layer water screens", as well as pyrotechnics off of buildings and projection mapping, all complementing the media shown across the lagoon. The lagoon and surrounding buildings will be transformed to showcase Universal's titles, including moments from Harry Potter, Jurassic World, The Fast & the Furious and Despicable Me. 
The show sounds mega-futuristic, but we're not sure how all this amazing muggle technology will cope, what with the show being held just outside the entrance to the Wizarding World!

Image credit: Universal Orlando Resort
Universal Orlando premiered their Wizarding World of Harry Potter evening spectacular, The Nighttime Lights at Hogwarts Castle at A Celebration of Harry Potter this year in Universal's Islands of Adventure, and guests will be able to access a variety of special offers to see both new shows, including a 2nd Day FREE offer exclusive to Florida residents (more information at Universal's website, here).
What can we expect from this show? Mike Aiello – Senior Director for Entertainment Creative Development at Universal Orlando – shared his vision with us in an exclusive interview, conducted by Leaky editor, Kim McChesney.
First up, Mike explained a bit more about what this new nighttime Celebration spectacular, which will replace the old, smaller nighttime lagoon show, will include:
"This new show really is a culmination of a guest's day at Universal Orlando. It will feature various brands and characters and music and moments  – all the things our guests experience while they're here, as well as some things that exist within Universal's [movie] catalogue. As guests watch the show, they're going to see about 2 minute sections of a lot of the characters and brands they've seen while they've been here.
"We've got a section devoted to Jurassic World, where we're going to display all the awe, and wonder and danger of Jurassic World. There's a section devoted to our Dreamworks titles, so you're going to see montages, clips, moments and music from films like How to Train Your Dragon, Kung Fu Panda and Trolls."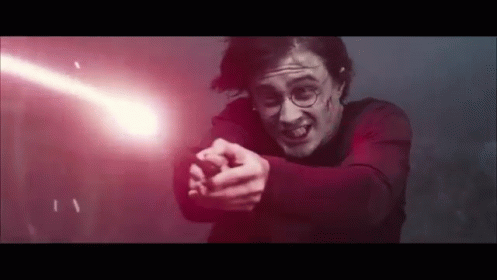 Mike emphasised how Cinematic Celebration highlights the Harry Potter magic we all love so much. The Potter section will allow audiences to cast spells and see them brought to life, letting them experience the magic of the wizarding world:
"This is also actually the first time that we're going to feature the Wizarding World outside of the land. There will be a two minute section devoted to the brand that is Harry Potter. That section itself is primarily driven by spell casting, because when the guests are at the park, the one thing that they're able to do to connect them directly to the brand is purchase a wand and use that [within the Wizarding World sections of the park].
So we thought an interesting way of telling the story of Harry Potter is using the spells to drive the visual images. During the moment you hear 'Wingardium Leviosa' the entire lagoon – all media – will fill with feathers, just like Hermione did in the film.  You're going to hear 'Incendio', and the entire lagoon will erupt into media-based flame and pyrotechnics."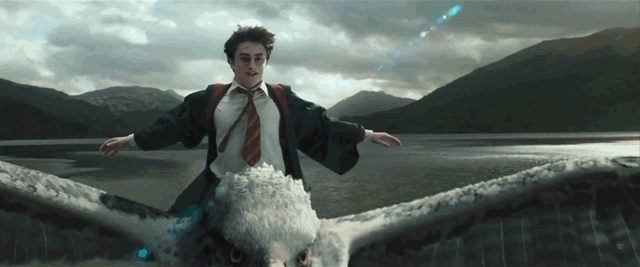 He detailed a moment during the Potter section where Harry's triumphant journey over the Black Lake with Buckbeak will be brought to life over the lagoon. If our imaginations serve us correctly, that's definitely going to give the audience goosebumps for life:
"These films have amazing visuals. To be able to show Harry flying through the air on the Hippogriff, but on a water media platform that is extremely wide, we show that image in an epic way – different to when you see it in the movie theaters or at home on your TV, and with the aid and support of John Williams' music theme, accentuated by fountain programming and pyro[technics] in the background.
There's a moment in the Potter section where we will literally turn the entire New York facade [which acts as a backdrop to the lagoon show] into textures reminiscent of Hogwarts Castle, becoming an aid to all the film moments that everyone has grown up to love and admire. We're now showing all of these moments in a very unique way."
We asked Mike what sets the Harry Potter section of the show apart from The Nighttime Lights at Hogwarts Castle. He told us that whilst Nighttime Lights is celebratory, and encompasses the lighter and heroic moments of the stories, Universal Orlando's Cinematic Celebration will get "very dark". He shared his personal 'goosebumps moment' with us, and it's safe to say there's no way a Potter fan will see this show and get through the Harry Potter segment without tearing up a little:
"It's something we haven't been able to do outside of the ride attractions. There's a moment where you see the New York facades start to freeze, and we know what happens when things are freezing! It means Dementors are near. There's a Dementor moment that will happen over the water, and of course the culmination of that is Harry appearing in the end, and casting 'Expecto Patronum'!
"In that victory moment light will literally pour from the lagoon – the fountains will raise, John Williams' score will culminate, and we'll eliminate those Dementors in a celebratory moment. We'll have banners falling (in media) on our New York facades, showing the four Houses of Hogwarts."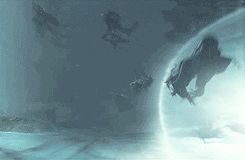 The soundtrack is a huge component of the Harry Potter films, and it's safe to say we can expect to hear Hedwig's Theme, but Mike shared a few other segments of the show with us, where guests hear some iconic tracks and even pop music:
"This show is primarily driven by visual imagery from films, but also music – that's the thing that we really are excited about. A lot of our nighttime shows in the past have been very score-based, which is great; they're epic. This show has that, as well as a little bit of pop music. Our Fast & Furious section really tells the story of the speed in that brand, as well as the music featured within those films. Trolls is just a big ol' colorful party – you'll see the main characters of Trolls all throughout our media, you're gonna hear 'Can't Stop The Feeling'  sung by Justin Timberlake. It's a really different texture to any we've had in our previous nighttime shows."
Mike also explained in detail how Universal Orlando are prioritising the experience of every viewer for this new nighttime show, and how that differs from their previous lagoon shows. The entire South portion of the lagoon has been showered with fountains, lasers, pyrotechnics and projectors, ensuring the show will be an unforgettable experience:
"Traditionally our nighttime shows have been across the entire lagoon, and our guests have surrounded the entire lagoon, so their engagement with the show really depended on where they were standing. We've changed that with this one, and completely reconfigured our central park area, which will now be tiered viewing to occupy about 6500 people at a time.
"Guests will now be able to watch our nighttime show from a single perspective. They'll look out at the lagoon and face our New York facades [where projection mapping will take place to add to the media displayed on the lagoon]. We'll ensure that every guest in that area is going to see the exact same show, which is very different to what we've done in the past!"
Thanks to Universal Orlando and Mike Aiello for sharing these exciting details!  Universal Orlando's Cinematic Celebration show is in its final stages of tech production, and will debut this Summer, so stay posted for an exact date.
Will you be first in line to see this new show? Let us know in the comments, or via our Facebook, Twitter or Instagram!
UPDATE: 
According to Matt Dobrovolsky, this might just be the best show at any of the theme parks in Florida! Check out his video below (Harry Potter segment begins at around 14:04), and see more stills in his piece here.