Hold onto your wands: Moving wizard photos are now a thing!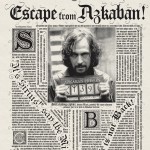 Jun 23, 2018
It's true. We are not pulling a Weasley-esque prank on you, we promise.
Recall that in the wizarding world photographs taken with an ordinary Muggle camera but developed in a special potion, rather than the usual Muggle photo processing chemicals, move like a short looping video. Colin Creevey learned this trick, to his delight, when he brought his Muggle camera to Hogwarts. And Harry saw his parents waving from photos in an album Hagrid made after sending owls to Harry's parents' friends requesting them. Despite living check-by-jowl with Muggles, some wizards seemed to be unaware that Muggle photos don't move. Harry observed Ron prodding Dean Thomas's West Ham football team poster trying to get the players to move. As a wizard kid, Ron was used to the players zooming in and out of posters of his favourite Quidditch team, the Chudley Cannons.
How many times have you wished that magic really existed? Yeah, we've lost count, too; it's pretty much a continuous wish. At its highest levels, technology is almost indistinguishable from magic. We're still working on apparition but, thanks to Lifeprint, we've finally nailed those wizard photos. The magic, erm, technology, works like this:
1) You download the free app from Lifeprint on your phone.
2) You shoot a video via the app.
3) You print a photo (it looks like a still from your video) on the magic printer.
4) You look at your photo through the app on your phone.
5) The phone plays the video so it looks like the picture is moving.
And it totally does!  You can view a sample here: Hogwarts Express.
Lifeprint has actually gone one step beyond wizarding photos: Not only do they move, they have sound.
The printers will be available on October 1 — that's 100 days from today, for those excitedly counting down with us at Leaky. The MSRP will be $149.99. The photos print on photo paper, kinda like an old Polaroid (no, that doesn't date us at all), but with a peel-off sticky back so it can be used as a sticker even without a sticking charm. These printers, which are about the size and shape of an external hard drive, will feature the Hogwarts crest and come with 5 medallions, one for each house plus a general Hogwarts symbol, so you can choose to use your house's medallion or switch them out at whim. We can't show you photos of the printers yet but we'll post them as soon as they are available, and provide links to order them.
In the meantime, you can download the free Lifeprint app, sign up for an account, and follow your friends. You can link to your social media accounts on Twitter, Facebook, and Instagram, to share your photos. When the Harry Potter-themed version of the app launches, you'll be able to choose your Hogwarts house and share photos with each other via the app.
Sign up here with your email address to get notifications from Lifeprint in the run-up to launch day.  You can also follow Lifeprint on Instagram, Twitter, Facebook, and YouTube.