Which castle would you most like to visit?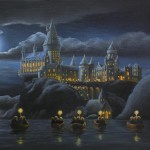 Jul 05, 2018
Easy question, right?  Bet you didn't hesitate a second before answering.  Neither did the 1,000 kids aged 6-16 who answered this question in a recent survey conducted by English Heritage.  Hogwarts easily topped the list, followed by Cinderella's Castle and Elsa's Ice Palace from Frozen.  See the top ten castles from the survey results below:
Hogwarts, Harry Potter
Cinderella's Castle
Elsa's Ice Palace, Frozen
Beast's Castle, Beauty and the Beast
Edinburgh Castle, Edinburgh
Castle Doom, Marvel Comics
Far Far Away Castle, Shrek
Windsor Castle, Berkshire
Dover Castle, Kent
Sleeping Beauty's Castle
English Heritage commissioned this survey in the run-up to its #LoveCastles season.  They hope to encourage tourists of all ages to visit the 66 English castles that they maintain, so they were a bit distressed that seven of the kids' top 10 castle picks were fictional castles.  In fact, you have to go nearly halfway down the list before you get to the first real-life castle, Edinburgh Castle, in that-city-we-know-as-the-place-where-J.K.-Rowling-created-Harry-Potter.
Never fear, English Heritage, as interest in Hogwarts Castle is sparking interest in visiting real life castles, both because of their association with the Harry Potter films, and because castles are just perpetually cool.
Alnwick Castle in Northumberland was used to provide exterior shots of Hogwarts Castle in the first two Harry Potter films.  Remember Harry's first flying lesson?  That took place in the grounds of Alnwick Castle.  This castle has shrewdly capitalised on its association with Harry Potter and offers an annual unofficial Wizarding Week, taking place this year from August 28-September 1, where you can take a flying lesson in that very same courtyard, cast spells, and meet some magical beasts.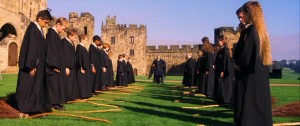 The interior spaces in Hogwarts were either filmed in English cathedrals or on purpose-built sets, not in real-life castles.  But the romance of going to school in a castle is unmatched.  One of the most exciting, emotional, and awe-inspiring moments in the first film was Harry and his fellow students' first sight of Hogwarts Castle.
Boarding school, let alone a magical boarding school, is exotic enough, but imagine having a dormitory high in a castle tower, like members of Gryffindor and Ravenclaw houses, looking out over wild Scottish countryside, in a cosy plant-filled den with ground-level windows to let in the sun like Hufflepuffs, or deep in the castle dungeons, underneath a lake filled with magical creatures, like the students in Slytherin.
The moving and talking portraits, shifting staircases, creaking suits of armour, and seemingly endless hallways with mysterious locked doors, not to mention a variety of ghosts, Peeves the poltergeist, and, uh, apparently rather a lot of spiders, would never get old, not even in seven years of study there.
Meals in the Great Hall would always be exciting, with its enchanted ceiling that mimics the weather outside, owls swooping in daily with the post, and food that magically appears and disappears on the tables.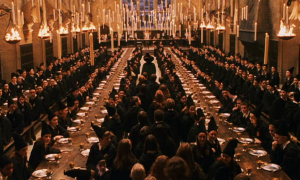 What's your favourite spot in Hogwarts Castle?  Which real-life castle would you most like to visit (or have you visited already)?  Tell us about it in the comments.
---
JOIN OUR TEAM! We're hiring volunteer writers, reporters, editors, designers and social media wizards – click here for details, and be sure to apply!