Syfy and USA Network to Hold Special Wizarding Weekend 'Harry Potter' Marathons!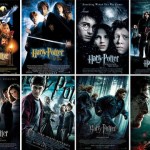 Jul 10, 2018
As previously reported by Leaky, Harry Potter will make the move to Syfy and USA Network this weekend! The channels are celebrating the arrival of the series at its new homes with special Wizarding Weekend movie marathons featuring exclusive content and promotions – the first of which will be held this weekend!
From July 13–15, ALL eight Harry Potter films will air – and if you hate ads like Ron hates spiders, not to fear – both networks have promised limited commercial interruption! We'll also be blessed with extended director's cut versions of the first six movies, as well as exclusive interviews and special features. We're not leaving our homes for anything.
Interviews and behind the scenes features will include footage from Warner Bros Studio Tour London, San Diego Comic Con, A Celebration of Harry Potter and The Wizarding World of Harry Potter theme parks, as well as appearances from:
· Eddie Redmayne (as Newt Scamander from Fantastic Beasts)
· James and Oliver Phelps (as Fred and George Weasley)
· Stanislav Ianevski (as Viktor Krum)
· Jany Temime, Costume Designer
· John Richardson, Special Events Supervisor
· Paul Harris, Wand Choreographer
· Miraphora Mina and Eduardo Lima, Graphic Designers
USA Network and Syfy will also host special marathons accompanied by promotions, including a 'Back to Hogwarts' Marathon, 'Dark Arts' Marathon, 'Wizarding World Week', and special 'Christmas Marathon'.
Alexandra Shapiro, Executive Vice President, Marketing & Digital, USA Network & SYFY said in the official press release for the launch:
"Both networks will have a unique but complementary Wizarding World look and feel for the fans as we create moments and events throughout the year – on-air, online, off-the-screen, on social or at SYFY WIRE – that infuse a wonderful wizarding ethos into our collective creative brand – and the biggest moments will always make sure fans are front and center."
For those wondering when Fantastic Beasts will join the networks, the rights for the first film will arrive in 2019, so not too far off now, and we've got Crimes of Grindelwald arriving in November to keep our patience at bay…
Will you be celebrating this Wizarding Weekend? We can hardly wait!