Pack your trunk and cage your owl: A new unofficial Potter-themed tour is boarding in York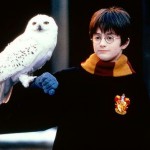 Jul 14, 2018
It's not quite a ride on the Knight Bus or the Hogwarts Express, but a new Harry Potter-themed bus-and-train tour coming to York later this summer sounds like magical fun to us.
Two York businessmen, Phil Pinder and Ben Fry, put their wizard hats on and conjured up this unofficial Wizard Bus Tour.
The full-day tour departs at 9am sharp from York Memorial Gardens.  The first stop is Durham Cathedral where, according to the itinerary:
"Here you'll see a part of the cathedral not open to the public – the Chapter House, which was Professor McGonagall's classroom. Also the quadrangle where Harry let his owl Hedwig take flight."
After lunch, you'll change from the bus onto a steam train at Grosmont Station.  From there your journey will take you along the North Yorkshire Moors Railway (featuring some familiar Hogwarts Express vistas) to Goathland Station, which played Hogsmeade Station in the Harry Potter films.  After you step off the Hogwarts Express, Hagrid will escort you to…erm, actually, you'll be heading to the Hole of Horcum, which is, despite its alarming name, a picturesque valley, where you can take photos using costumes and props.
The final stop on the tour is Shambles, a well-preserved medieval street that you will immediately recognise as the stand-in for Diagon Alley.  Several Harry Potter-themed shops have opened in Shambles to capitalise on its wizarding world notoriety, including The Shop That Must Not Be Named, which you'll find stuffed full of official merchandise.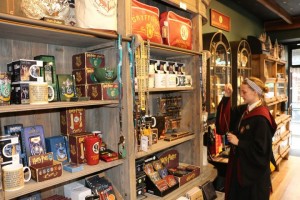 The cost for the tour will be £59 for adults and £49 for children.  Tickets can be booked here.
Best plan your trip soon as tours only run Thursdays, Fridays, and Saturdays from July 26—September 1.  The Knight Bus, erm, Pullman bus used for the tour holds 53 passengers plus your guide and the driver.  No word yet on his curb-hopping, letter box-avoiding skills.
Are you going on the tour?  Tell us about your experience in the comments and share photos on social media with hashtag #WizardBusTour.