See all 9 Harry Potter films on the big screen again at Cinemark theatres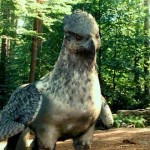 Aug 02, 2018
It's just not the same watching Harry ride Buckbeak for the first time or taking in the scale of the Ministry of Magic atrium when you're seeing it on a tiny computer or television screen.  But once movies have had their run in cinemas, it's rare to have the opportunity to see them on the big screen again.
Luckily, Harry Potter fans will have this chance as Cinemark is showing all 9 films—the 8 Harry Potter films based on the 7-book series plus Fantastic Beasts and Where to Find Them—the week of August 31-September 6 at all of its 141 locations.
Tickets for Wizarding World XD Week go on sale TODAY AUGUST 3 online.  The cost is $5 per film or $25 for a 9-film pass that also includes a keychain, commemorative badge, and refillable cup that you can use again when Fantastic Beasts: Crimes of Grindelwald opens in November.  Wizarding World merchandise will also be on sale in the theatres during the festival.
"The magic of the Wizarding World truly comes to life through the 35 trillion colors and custom engineered surround sound our Cinemark XD auditoriums offer, and we are proud to give fans such a remarkable movie-watching environment for one of the most notable franchises in the world," said Cinemark CEO Mark Zoradi. "The Wizarding World holds a special place in everyone's hearts, and we know many moviegoers experienced the magic of Hogwarts for the first time in a Cinemark auditorium. We are thrilled to welcome them back to our theatres for this exclusive opportunity to relive the magic in Cinemark XD."
Check Leaky social media for Twitter chats, film trivia quizzes, and other tie-ins with the screenings.  If you are attending a film, tweet to @Leaky about your experience using the hashtags #HPBigScreen and #HPCinemarkXD.
On September 1, don't forget to use the #BackToHogwarts hashtag as we return "home" for another fantastic, magical year.