Warner Bros. Studio Tour London to Undergo Dark Makeover This Fall and Host New 'Celebration of Costume' Weekend!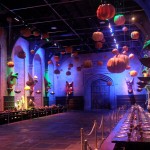 Aug 07, 2018
Warner Bros. Studio Tour London announced exciting new details about the next magical exhibit to take over the tour. Beginning Sept. 28, and perfectly coinciding with the Halloween season, the tour will explore the influence of the Dark Arts in the Wizarding World–an influence which will spread to the tour itself as it undergoes a fittingly-dark makeover to set the proper atmosphere!
According to the official WB Studio Tour description, lights in Diagon Alley will be set ominously low while the music strikes sinister notes in the background.
Beginning 28th September, join us for the most ominous time of the year as the #DarkArts return to the Studio Tour, including an all-new Celebration of Costume on 6th and 7th October! https://t.co/mf7BwjDaRo pic.twitter.com/cy2D2fLpzQ

— WB Tour London (@wbtourlondon) August 7, 2018
The exhibit will feature a display of Death Eater masks and robes, allowing visitors to appreciate the menacing detail of the costumes, as well as "vats of slimy Troll snot, buckets of dribbling drool (of the three-headed dog variety) and pools of silvery unicorn blood."
The Great Hall, however, will reflect more of the festive fun of the spooky season, complete with over 100 "enchanted" levitating pumpkins. And though visitors may not be able to see it from their grounded point of view, each glowing hand-carved pumpkin is unique! The ceiling will no doubt be awe-inspiring, but visitors should also make sure to appreciate the tables set for a veritable Halloween feast, adorned with apples, pumpkins and lollipops.
Additionally, those who want to indulge in a more hands-on experience with the Dark Arts will have the opportunity to learn wand combat skills from Wand Choreographer Paul Harris. And, when amply prepared, brave combatants will engage Death Eaters in a live duel on the Studio's back lot, recreating the epic Battle of the Hogwarts Bridge from the Battle of Hogwarts.
Finally, visitors over the weekend of Oct. 6-7 will have the opportunity to participate in the all-new Celebration of Costume. Fans are invited to dress as their favorite Harry Potter character and take advantage of an exclusive photo op at the Great Hall table, getting a free digital download of their one-of-a-kind image!
Tickets for the Celebration of Costume event go on sale at the Studio Tour London at 10 a.m. on Tuesday, Aug. 14. The Dark Arts exhibit will run through Nov. 10. Visit the Warner Bros. Studio Tour London website here for more details and to book your tickets!