'Harry Potter' actors attend Acting As a Young Wizard and Antagonists panels at LeakyCon 2018! (Full coverage)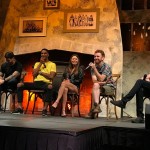 Aug 15, 2018
Harry Potter actor panels at LeakyCon offered insights into the characters they portrayed, where the actors are now, and also their favorite memories from filming. LeakyCon brought together a few of Hogwarts' finest for the 'Acting As a Young Wizard' panel, and some of the less likable characters for the Antagonists panel, and our correspondent, Kathy Paz, captured the panels live to make sure Leaky readers wouldn't miss a thing. Audiences learned more about deleted scenes with Peeves, filming the Yule Ball in Goblet of Fire and some of the deleted scenes in Deathly Hallows Part Two, why Percy is the way he is, and much more!
Catch our previous coverage here: Devon Murray Panel + Exclusive Interview    |    Alison Sudol Panel 
Acting as a Young Wizard
The Young Wizard panel at LeakyCon saw Devon Murray (Seamus Finnigan), Luke Youngblood (Lee Jordan) and Ellie Darcy-Alden (Young Lily Potter) discuss some of their memories on set, as well as their current projects, advice on acting for younger fans, and their memories of working with some iconic British actors:
Each panelist said they were surprised they got the part in Harry Potter, Luke didn't realize Potter would grow to be as big as it became, and was fourteen years old and working on the Lion King on the West End when he got the part. His friend was reading book, and he got round to reading it when his agent told him about the audition: "OBVIOUSLY I was hooked because it's AMAZING." He was so happy he jumped across the room when he got the part, but he thought it was going to be a TV show!
Devon says he thinks he got into Harry Potter by "sheer dumb luck" that they were looking for an Irish not English actor, and after two auditions, Ellie said she had no idea she had got the part until she met dan and he said "I guess I'll call you mum." When she got in the car to leave, she said she screamed, "I'm never washing this hand again!"
"Acting as a Young Wizard" has begun!! ⚡️ pic.twitter.com/aRR5BCCXow

— LeakyCon (@LeakyCon) August 10, 2018
My first year for #LeakyCon and this "Young Wizards" panel was a hoot! #leakycon2018 pic.twitter.com/DKCpdUgUKo

— ChinLin Pan (@chinlinpan) August 10, 2018
Devon had to wear false teeth on set of first movie because he hadn't lost his baby teeth yet when he joined the film, and they kept falling out! As we also know from his panel, Devon enjoyed filming Goblet of Fire, and says they had to learn the waltz and tango, and that he was pretty good… others, not so much:
"There were two people who were really bad at dance. I'm not gonna tell you who. I'll give you a hint. They're twins. With ginger hair."
Luke actually became best friends with James and Oliver Phelps (the Weasley twins) the very first time he stepped into set, which happened to be for a great hall scene. Everybody fell silent as he walked in, and he sat down and got talking to the twins:
"We got on so well. It was like it was written or something that we were best friends …We were the group that got told to be quiet the most. We were having fun."
They were apparently the 'worst behaved' group on set, and Devon agreed that they 'got away with so much stuff' on set – at least they were in character!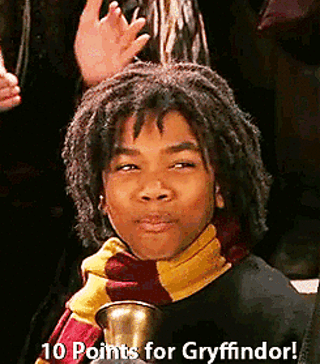 He said that sometimes people wouldn't recognize him when he wasn't wearing his Lee Jordan wig, and then he also tried to convince the LeakyCon audience that "Everything in the movie is real. Even the Quidditch", and when he was met with laughter, Devon backed him up: "Why is everyone laughing? We're wizards!"
On working with some iconic adult actors, Ellie said that on first day on set for their Sorting scene, everybody was told not to talk to Maggie Smith, and to give her her space. Whilst Ellie's sitting on the stall and 'freaking out', Maggie Smith came up and said to her: "Your hair is beautiful!" and got talking to her, making Ellie feel right at home. Devon agreed, and even said that his mom and Maggie got on really well: "We were all told as well, keep your distance from Maggie Smith. But when we met her, she was the nicest person."
Luke, on the other hand, was not given that memo: "No one told me don't talk to Maggie Smith. We were chatting up a storm!"
Some of the adult actors, were just as mischievous as the twins and Luke (and some even moreso!) – Devon told a brilliant story about a prank Robbie Coltrane played on him during his panel (read more here), and also said that Ralph Fiennes (Voldemort) and Jason Isaacs (Lucius Malfoy) "were like the two biggest kids I've ever met in my life".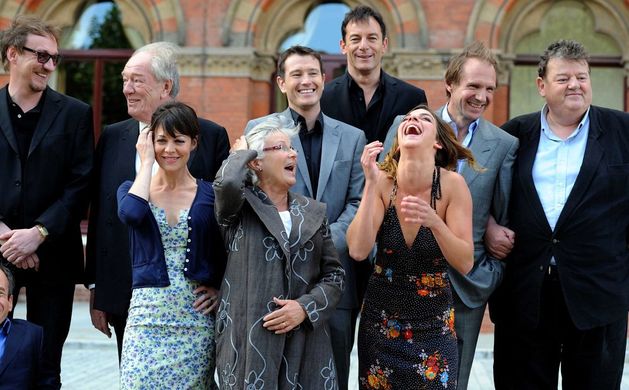 On advice they had for kids who want to get into acting, Devon joked, "Don't do it. We need jobs!"
Ellie said that becoming an actor is a 'magic' journey: "You just have to go for it. You have to put your heart and soul into it to get there. You have to nag your parents. Just follow your dreams. But be a kid as well… make sure that you have that experience as well and make sure you have a support system around you. I wouldn't be where I am today without my parents… you have to have the people around you who love you…. immerse yourself in it. The industry is ruthless but it's magical as well. Just got for it."
Luke gave a reminder not to lose what's most important to you: "Surround yourself with people you enjoy being around… You can be in every single acting class in the world, but there's nothing that's gonna teach you what real life is like."
The panel also shared what they're up to at the moment. Ellie said that she's just graduated high school, and now lives in L.A. and is pursuing acting after focusing on her education: "I have my whole life ahead of me to act. I wanted to focus the last for years on education."
She'll be appearing in action series Remnants, currently in pre-production. Read more about the show in our latest round-up here.
I made it! #ClassOf2018 👩‍🎓 pic.twitter.com/C5JwbKf6fm

— Ellie Darcey-Alden (@Elliedalden) June 9, 2018
Luke is currently working on two animated series, one is for Nickleodeon – a new cartoon that hasn't come out yet, but should start airing this year or early next year. The other project is for Dreamworls, will be on Netflix, and is part of an existing thing but he can't say more than that! We'll keep you posted as soon as details of these mysterious projects officially emerge…
On what genre of film or TV they'd like to work on in future, Luke and Devon both said Sci-Fi, but Ellie said she's interested in the Horror genre, and has actually had idea to write a horror book and turn it into a movie for years!
---
Antagonists
Louis Cordice (Blaise Zabini), Stan Yanevski (Viktor Krum), Scarlett Byrne (Pansy Parkinson) and, much to our amusement, Chris Rankin (Percy Weasley) appeared on this panel to discuss their roles in various capacities as antagonists  in the series, whether through their character's connections to dark wizards and those prejudiced and disrespectful toward muggle-borns, whether they were just an antagonist to a jealous Ron, or whether they were just too arrogant to accept that their family were right!
Louis kicks off the panel by saying that he had taken the Pottermore quiz, and that he was sorted into Gryffindor. Scarlett said she was 'really willing' herself to get Slytherin, so was happy when she got that as a result – we all know Pottermore takes your choices into account! Chris Rankin is a Ravenclaw, which he says makes him 'the person you want on your team in a pub quiz'. Stan is also a Slytherin. Do you think Krum would have been in the same house if he had attended Hogwarts?
Ever the comedian, Stan said that at his audition, "The thing was, they were expecting me to know who Krum was… *audience laughs* The truth is, I had no idea. I hadn't even read the books – I was at school, alright!"
After being body cast for the second Triwizard Challenge, Stan said that's when he became more familiar with his character, and read Goblet of Fire: "I read it and was like, damn, this is serious!"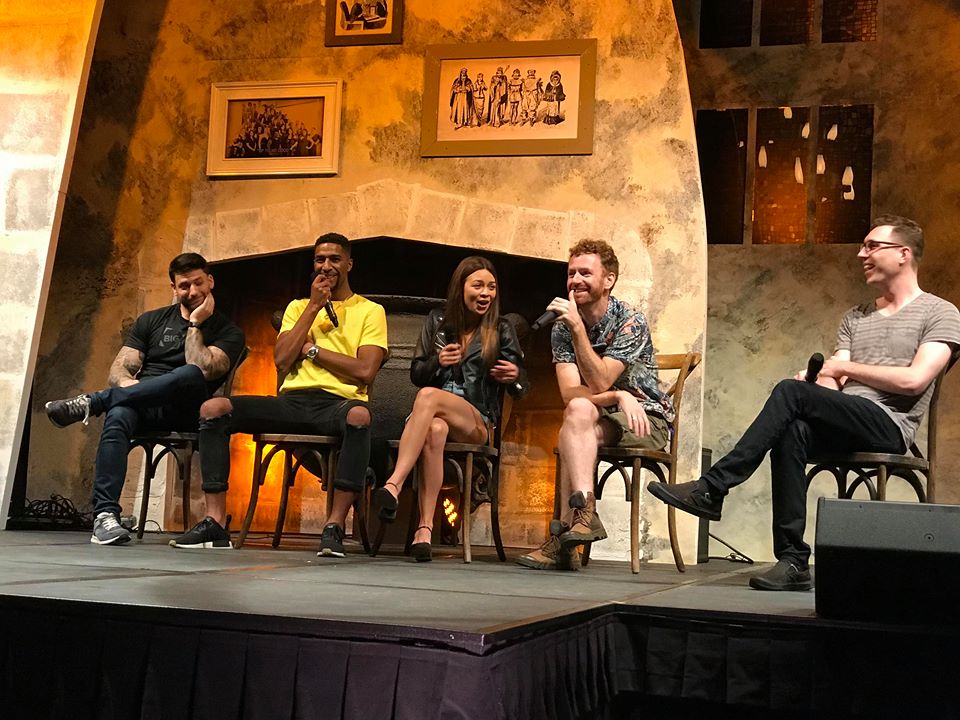 On whether they see their characters as antagonists, Chris jumped in to defend Percy, saying his ambition and pride blinds him:
"Percy… Well, he's not a bad guy, right? He just gets it a bit wrong! I could talk about this for days, but the short version is that I don't think Percy is anywhere near as intelligent as everyone assumes he is because he's always got his head in a book and he's always doing his homework. I think that's actually because he's not as clever as Bill and Charlie, who are the ones he would've always been compared to as a kid. So he's always had to work that extra bit harder to be as good as his brothers, and Ginny, his sister. 
"So I don't think he's bad, he's just very keen to do as well as he can, and kind of goes about that the wrong way … He gets the wrong idea about what right and good is."
Chris also said he believes Percy should be a Slytherin, because he's "more ambitious than he is brave" (do you agree – or is it steadfast Gryffindor determination that gives him his traits?). However, he admits that it takes bravery to put your hands up – as Percy did – and admit that you're wrong.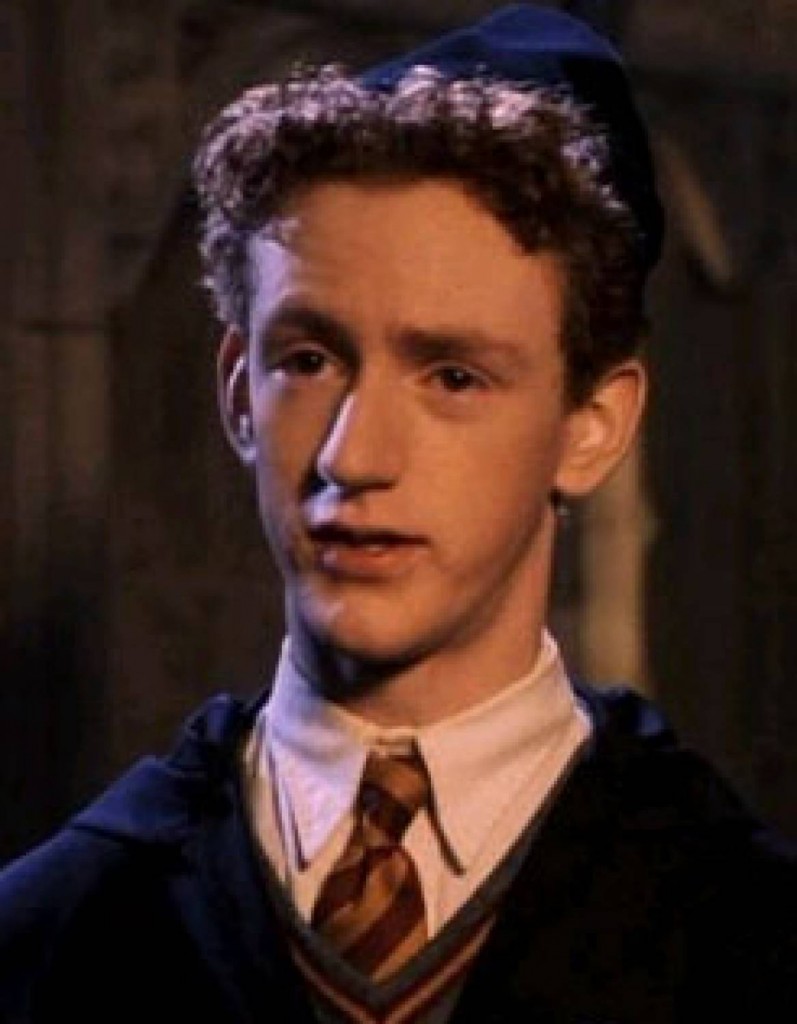 Scarlett Byrne has no doubt that Pansy is an antagonist, but says she was a lot of fun to play. Scarlett tried saying that she feels Pansy is misunderstood at times:
"I really believe that her and Draco were true friends, so she is capable of having friendship." 
She also believes that Pansy acted more out of fear at times, but can't argue that she's an antagonist! Louis says tapping into Zabini's prejudice was interesting, and that he's also clearly an antagonist.
Stan looked confused when it's his turn to discuss: "How is Krum a bad guy?!" When told that he's associated with a school that's known for its connections to the Dark Arts, he continues, "How is that a bad thing?! He's the world's best Quidditch Player-"
Chris interjects, "He takes Hermione away from my little brother…"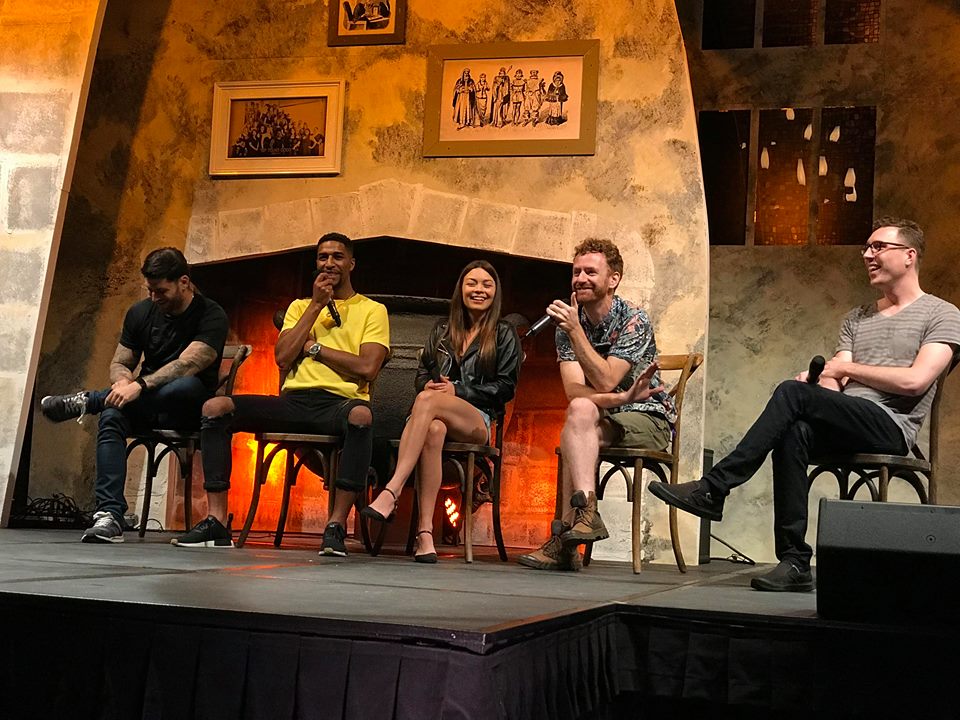 Chris says on being a 'bad guy':
"There's always a reason bad guys are bad, but there's never a reason good guys are good … How they got to the bad is always way more interesting that why somebody is good."
Louis said one of the benefits of playing an antagonist is that he could walk around set being 'a bit moody' and nobody would say anything!
Krum was not a hugely difficult character to act, according to Stan:
"It's not very difficult playing a character who doesn't really speak." He said.
As for rivalry on set, Louis explains that in Goblet of Fire, when the 'new guys' from Durmstrang and Beauxbatons came in, there was some rivalry as everybody knew one another. Chris also said that Houses were 'naturally segregated', even when not sitting at their tables.
When Scarlett got the role, she was only 16 or 17, and said coming to set was exciting because it felt like coming to a new school. When she found out she got the role, she was worried about her mum telling everyone as she's apparently a 'massive gossip', and there was another girl at her school who had also got a role in the films, and would travel to set and back to school with her.
Back in 2000, Chris said he joined a Harry Potter forum (under the name Percy Weasley) because he loved the books so much, and that the secret of his role in Harry Potter was much easier to keep than it would be now.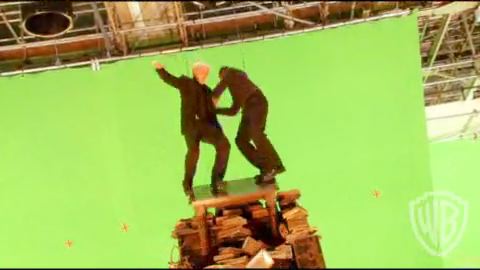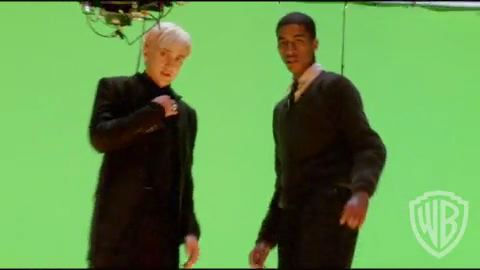 On their absolute favorite memory from filming, Louis said his was the Room of Requirement, regardless of how terrifying it was for him:
"It was absolutely unreal. We had to do some stunt training before. Tom [Felton] and I were on top of a table pretending to have to be rescued, and it was the scariest thing I've ever felt, but also the most exciting scene. The table was probably as high as this ceiling, and we were strapped in, and they said to us – I'll never forget – "Right, Louis, Tom, we need you to look scared," and I just thought, "I don't even have to act this scene!"" 
Stan had a Krum-esque memory from the premiere:
"I remember getting out of the car, and everything was really well organised and rehearsed, and the moment I came out of the car, I saw this thing fall out of the sky at me… and it was a bra. 
"I was only twenty, and I have a note saying marry me, and I remember catching it and saying, 'Oh, wonder who that belongs to.""
Scarlett's favorite memory is the Battle of Hogwarts, because it was the last scene the majority of the actors shot together, and they worked on it for around two to three weeks. There was an interruption in filming at one point, as Rupert [Grint] apparently got stung by a bee!
When portraying an antagonist, Scarlett says it's best to just be confident, 'go for it' and 'own that you're a bad guy' and to own the choices you make on set, and also said she'd "love the opportunity to play somebody normal and nice", because she always gets cast as people with powers. On what preparing for his role involved, Chris said playing Percy made him "the anticlimax to everything [the characters] were trying to do", and he worked to embody smugness and disapproval. He described Percy as looking like "he's always chewing a wasp".
Devon Murray said in his panel that his biggest complaint about the Potter films is that Peeves was cut from the series, and Chris said the scene he wished had made the cut was a scene involving Percy and Peeves:
"Percy and the first years bump into Peeves on their way up to the Common Room for the first time, and it was such a fun thing to shoot! Rik Mayall, who was playing Peeves, and is sadly no longer with us, was honestly the funniest guy I've ever had the fortune to work with. I was sixteen and Rik appears over here in the U.S. a bit, but if you're into weird British comedy you'll know who he is, but he's very odd, and very funny. As a sixteen year old I was in awe of him – he taught me all sorts of things about how to keep a straight face."
Scarlett said she shot a scene with David Bradley (Filch) in the final film when the Slytherins were taken to the Dungeons (Louis was also in this scene, and thankfully it made it onto the DVD!):
"It was so much fun to shoot because I started shouting at him and he said something back, then he locked us in and were were all told there was going to be an explosion, and when we actually came round to shooting it, they said, "Do you want earplugs?", and I said, "No, I'll be fine!", and they said, "I really think you should have them.", so I put them in and we didn't think it was going to be that big, and when it went off I was so scared. It was huge. I don't think it was meant to be that big – we freaked out. I almost laughed on set out of nervousness."
Louis added:
"I remember filming it and you were at the front, and Josh [Herdman] and I were at the back on each side of you. The first time that went off…. I think they realised how big it was – it was like an actual bomb. You could hear your ears ringing afterwards. When we got to the premiere and it wasn't there, we were like, "But it was such a cool scene!"" 
Watch the scene below:
Stan wishes there'd been more Quidditch in the films, and more of Krum's tricks, as well as a scene from the first Deathly Hallows movie:
"In Deathly Hallows Part One I came back, and I took Hermione back from Ron. David Yates really enjoyed the chemistry we had going on, so he created this love triangle with drunk Ron and Hermione, and we made Ron really jealous. We had them dance, there was a lot of stuff going on, but I was sitting in the cinema waiting for that to come, and it never did."
To close the panel, Chris discusses Fred's death scene, which was originally meant to make it into the films, but after many changes and explained to Chris why they chose to remove the scene:
"Essentially, it's Harry's story, and there are things that happen along the way – especially in the books – that don't change what happens to Harry in the long run, not really."
One audience member asked whether, had Percy not returned to his family and Fred's death hadn't occurred, Percy would have "continued on his path to becoming another Umbridge", to which Chris replied:
"No. Because prior to Fred dying he's already realised where he's gone wrong. Where does he write that letter to Ron? Book 5, right? That's the peak of going in the wrong direction for me, and after that he's just on this path and he's got no idea how to get off it.
"He writes that letter and it's around that time that he's like, "Oh crap, I've done this wrong. Ah, now I'm stuck here, ahhhhh." He spends a book and a half just going *incoherent confused/distressed noises*, and fortunately just at the right moment he takes a deep breath and goes for it."
We loved hearing more from the cast in these panels, and can't wait to see what they're working on next, and if they'll join us again at a future LeakyCon! Stay posted for more panel coverage, coming soon…
To find out more about LeakyCon 2019 head to the official website to book tickets to Dallas (August 9-11 2019 – now available), and Boston (October 11-13 – available September 4).