Theater Round-Up: 'Cursed Child' Casts and 'Harry Potter' Alum Tom Felton Head "Back to Hogwarts" and More!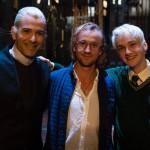 Sep 03, 2018
This week's theater news found the casts of Cursed Child London and New York, as well as Harry Potter's Tom Felton, celebrating "Back to Hogwarts" while Anthony Boyle participated in a charity event, Jack Thorne's King Kong released a promotional music video and Hulu and Channel 4 commissioned a new drama from the writer, Warwick Davis' Eugenius! opened its second run, Jim Broadbent's A Very Very Very Dark Matter began rehearsals and Imogen Heap collaborated with TheWaveVR to present a holographic concert.
In other perfectly-timed news, the cast of Cursed Child Melbourne was announced, bringing a whole new group of incredible actors and actresses to the hallowed halls of Hogwarts as well.
Read here for more details on the magical Australian production, and read on for more on our other Potter-related theater news!
Cursed Child London and NYC Head Back to School

Potter fans around the world celebrated going "Back to Hogwarts" on Sept. 1. It is the day students board the Hogwarts Express to return to the School of Witchcraft and Wizardry, and it is the day Harry Potter first became an official member of the wizarding world and the day he would later send his own children off to school.
To commemorate the magical day, the cast of Harry Potter and the Cursed Child London shared how their individual journeys to Hogwarts came about.
Today's the day that Hogwarts students head back to school. Here the #CursedChildLDN cast tell us about their journey to Hogwarts and how they got to where they are today. #BackToHogwartspic.twitter.com/NoBcDRH8l9

— Cursed Child Play (@HPPlayLDN) September 1, 2018
Bringing another perspective to the celebration, the Broadway cast reminisced about their own first days of school. (Though, admittedly, they were probably less exciting–and harrowing–than heading off to wizarding school…)
All aboard the Hogwarts Express! #CursedChildNYC cast share memories of their first day of school. #BacktoHogwartspic.twitter.com/9SEW40t1F4

— Cursed Child NYC (@HPPlayNYC) September 1, 2018
The cast also brought attention to the needs of homeless New York children returning to school, lending their support to Operation Backpack, which helps children in shelters be "confident and prepared" for the start of the school year. What an incredible cause well worthy of recognition!
Finally, the New York cast reminded fans that the "Back to Hogwarts" week would be capped with a special announcement on Sept. 6, so mark your calendars and set your alarms young wizards–don't miss the exciting news to come!
As the Hogwarts Express pulls into Hogsmeade and a new term begins for our young wizards and witches, set an alarm for September 6th when we'll have some exciting news… #BackToHogwarts#CursedChildNYCpic.twitter.com/H9kkC3B0pF — Cursed Child NYC (@HPPlayNYC) September 1, 2018
Tom Felton Goes "Back to Hogwarts" Too
And while actors on both sides of the pond took to the stage to return to Hogwarts, Harry Potter alum Tom Felton, the original Draco Malfoy, finally took to the audience, going "Back to Hogwarts" as a viewer in London.
He called the play "bloody brilliant," and current Draco Malfoy, James Howard, returned the compliment, calling Felton "the loveliest guy" and saying he was "chuffed" over Felton's attendance.
I was nervous, I was excited, I was proud, but more than anything @TomFelton is THE loveliest guy and I'm so chuffed he came to see us @HPPlayLDN ?????? https://t.co/CZOE8k19ch

— James Howard (@JHowardActor) August 23, 2018
It was no doubt an exciting encounter for all!
Anthony Boyle Joins The Actors Fund "Celebrity Paddle Battle"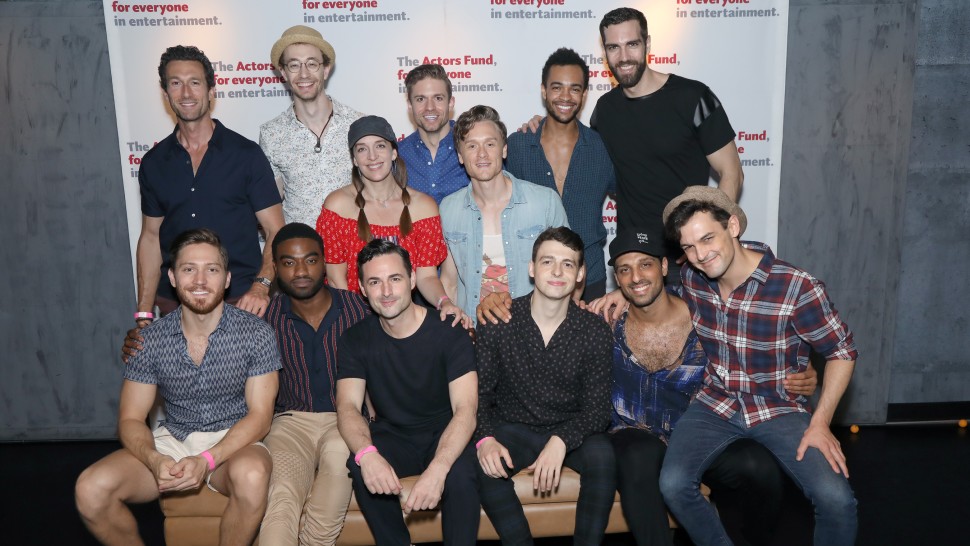 On Aug. 27, Anthony Boyle, who plays Scorpius Malfoy in the Cursed Child NYC production, participated in The Actors Fund charity event "Celebrity Paddle Battle" alongside stars from Frozen, SpongeBob SquarePants, Dear Evan Hansen and more to raise money for their Young Professionals Division.
Guests mingled and played with the celebrity participants, and the evening closed with the Broadway stars engaging in some friendly competition with a mini-tournament. According to Playbill, raffle winners also scored prizes such as Broadway tickets and vacation packages, wrapping up an entertaining night for all!
Jack Thorne's King Kong Gets a New Promo, New TV Drama Commissioned
Jack Thorne's upcoming musical, King Kong, begins preview performances Oct. 5 before officially debuting on Broadway Nov. 8. Now Theater Mania shared a promotional music video of stage star Christiani Pitts' rendition of the song "Queen of New York." Watch her strong, energetic performance below!
In other news, Jack Thorne, writer of Harry Potter and the Cursed Child, has been tapped to pen another drama for Channel 4 and Hulu. The four-part series, called The Light, is described by Variety as follows:
"'The Light' will focus on the repercussions of a catastrophic disaster that befalls a community in a small town in Wales, claiming many lives and threatening to tear the community apart as grief gives way to anger and blame. The series forms a loose trilogy with the writer's previous four-part dramas for Channel 4 and Hulu, 'National Treasure' and 'Kiri.' "
Channel 4s head of drama, Beth Willis, commented on Thorne's unique propensity for the genre and what makes the newest installment so exciting, saying:
"[Thorne has] a singular ability to explore some of the most complex and challenging topics facing modern Britain today with warmth and empathy, and also with sharp insight and fearless scrutiny…[the new show] promises to be another powerful examination of guilt, blame, responsibility and culpability."
The series is set to begin production in 2019.
Warwick Davis Anticipates Second Run of Eugenius!
Warwick Davis released a series of tweets last week sharing his excitement over the second opening of his musical Eugenius! He enthused over the quality of the sound during tech week and encouraged fans to grab advance tickets.
Just popped into @TheOtherPalace where #EugeniusTheMusical is into its tech week before opening this Saturday for its second run. The show is looking and sounding fantastic… grab your tickets soon before word gets out! #GoEugeniushttps://t.co/AP9WXmMf9Dhttps://t.co/Ns4M5MlRwm — Warwick Davis (@WarwickADavis) August 28, 2018
A special promotional event held before the premiere also gave fans the chance to meet the cast and hear songs from the show, including a new song from the revised script!
A special event at @TheOtherPalace tonight gave superfans and bloggers a chance to meet new members of the #EugeniusTheMusical cast and hear an acoustic set of 4 songs from the show. They sounded great! #GoEugenius https://t.co/Az0EOt3SJC pic.twitter.com/O7ZBetJjqe — Warwick Davis (@WarwickADavis) August 28, 2018
The talented @benadamsuk and @nelsonchris82, creators of #EugeniusTheMusical talk about its genesis and the new song and script revisions for its second run at @TheOtherPalace from Sept 1st. #GoEugeniuspic.twitter.com/UoJILJwLAA

— Warwick Davis (@WarwickADavis) August 28, 2018
The new run kicked off on Sept. 1, and Davis fans can also catch him on Tenable on ITV at 3 p.m. on weekdays from Sept. 3.
You lucky, lucky people!

I have such fun making the show. I've got some fun out-takes to share soon too. #Tenablehttps://t.co/6BS7fE9Sbd

— Warwick Davis (@WarwickADavis) August 31, 2018
Jim Broadbent's A Very Very Very Dark Matter Begins Rehearsals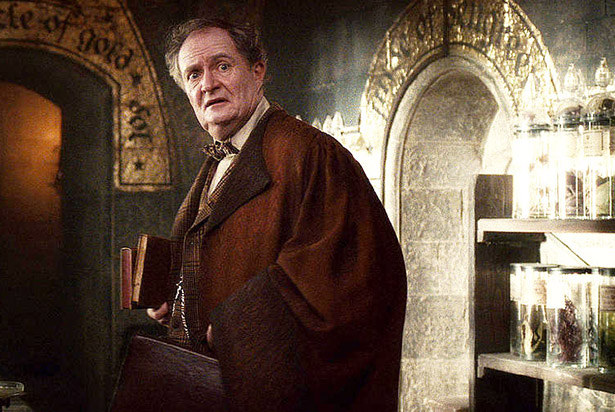 Jim Broadbent stars as Hans Christians Anderson in the upcoming London Theatre Company production A Very Very Very Dark Matter. The play from Martin McDonagh is described by Broadway World as follows:
"In a townhouse in Copenhagen works Hans Christian Andersen, a teller of exquisite and fantastic children's tales beloved by millions. But the true source of his stories dwells in his attic upstairs, her existence a dark secret kept from the outside world."
Broadbent, known to Potter fans for his portrayal of Professor Horace Slughorn, worked with McDonagh previously, appearing in the acclaimed The Pillowman. Dark Matter has now begun rehearsals in preparation for previews beginning Oct. 12, which will be followed by an Oct. 24 opening and 12-week run.
Imogen Heap Collaborates With TheWaveVR for Holographic Concert
My collaboration with @TheWaveVR to create an intimate performance starts tonight (31 Aug) at 7pm BST with a second meet up at 7pm PST. Available on @htcvive and @OculusRift and downloadable for free on @SteamVR and The Oculus store. This will be special. Lots of Love xx Imogen pic.twitter.com/hHPyHiQwlU

— Imogen Heap (@imogenheap) August 31, 2018
Friday, Aug. 31, Imogen Heap, the innovator behind the Cursed Child soundtrack, collaborated with TheWaveVR, which presents virtual reality musical experiences, to perform a holographic concert showcasing her sensor-enabled gloves and a variety of songs, including an unreleased Frou Frou track and a previously-unheard mix of Hide and Seek.
In a statement released to FocusVR, Heap said:
"From my first talks with TheWaveVR, that as it happened were in VR, I knew I wanted to get involved in this project. With my three year old daughter's future in mind, it excites me how, through virtual reality, we are already able to connect in a more human way, even when time and place would have it otherwise…Having my fans experience a musical performance from within the welcoming walls of my family home, in addition to a song that Guy Sigsworth and I have not yet released, brings a whole new dimension to connecting and communicating for me. For those who are unable to be there in person during my world tour, it's also a trio of songs and their arrangements that can be enjoyed in a completely unique way and hopefully, as emotionally engaging. The team has created something both beautiful and inspiring and I hope that this is just the beginning of what is to come from our adventures."
Heap launches her Mycelia tour at Music Tech Fest in Stockholm today.