Game updates: LEGO Harry Potter Remastered Collection Coming Soon, & Hogwarts Mystery adds Year 5!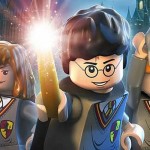 Sep 09, 2018
Fans of the LEGO Harry Potter games will be pleased to know that new, remastered editions of the games are on the way, coming to Xbox One and Nintendo Switch with enhanced graphics, new visual effects and downloadable content (DLC) packs. Pottermore reports that previously released DLC packs include add-on LEGO firgure playable characters, such as the Hogwarts founders, Luna with her Gryffindor-supporting lion hat, and Harry and Hermione in their Yule Ball garb. The new games will be based on the previously released Harry Potter: Years 1-4 and LEGO Harry Potter Years 1-5.
Jonathan Smith, Head of Production and Strategic Director at TT Games, who are working with LEGO and Warner Bros to produce the new versions, discussed the re-release on new consoles:
'The LEGO Harry Potter: Collection for Nintendo Switch and Xbox One grants access for a new generation of players to experience Harry Potter's magical journey through the imaginative lens of LEGO®,' he said in a statement. 'Fans of all ages can embark on a light-hearted and interactive journey inspired by beloved characters and iconic locations from the Harry Potter films.'
The games will release on October 30th. Read more at Pottermore, and see the trailer here, and also take a look at some new Crimes of Grindelwald LEGO Brickheads arriving in stores soon below!
#LEGOBrickHeadz – @FantasticBeasts. Coming soon! ✨#FantasticBeasts #LEGOFantasticBeasts #WizardingWorld #BrickHeadz pic.twitter.com/ACnxT3jEj4

— LEGO (@LEGO_Group) September 6, 2018
In other Potter gaming news, Hogwarts Mystery recently added Year 5 to the playable levels in the mobile role-play game, as well as new options for customisable pets. After adding the ability to become a prefect in Year 4, the responsibilities of this new role will become apparent in your fifth year, as well as full access to the Prefect's bathroom, seen in Goblet of Fire! If you're anything like Hermione, you'll also be delighted to hear that Year 5 will also include the biggest test yet: taking your Ordinary Wizarding Levels (O.W.L.) exams! Jam City shares further updates:
"As Year 5 unfolds, players will head into new territory – and mischief – exploring decidedly dodgy areas like Knockturn Alley. Back on school grounds, players will learn from new professors like the lauded, but legendarily long-winded History of Magic Professor, Cuthbert Binns and the identity of the new Defense Against the Dark Arts professor will be revealed. O
utside of classes, players will cross paths with more members of the Weasley clan and other familiar characters from the Wizarding World."
Prepare to go back to Hogwarts, and be sure to brush up on your spells ready to take your O.W.Ls! Find out more about downloading the game
here
, and see a trailer below: