EXCLUSIVE: Kano's First-of-its-Kind Wand and 'Harry Potter' Coding Kit!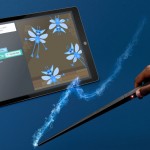 Sep 14, 2018
As previously announced by Leaky, Kano Computing will release a Harry Potter coding kit next month, teaching users code whilst also allowing them to live out their dreams of learning how to cast spells with a fully immersive wand, powered by tech! We were lucky enough to talk to the team behind the kit at Kano HQ, test out the wand and a few of the coding features, and find out more about this unique experience for Potter fans. Read on to find out more about the graphics, levels, technology and lessons offered in the Harry Potter Kano Coding Kit!
The sheer amount of research and preparation put into this project was outstanding to see – huge amounts of care and attention has been dedicated to ensuring this is the most enjoyable and educational experience for all users, all fans, and all ages. After correspondence with Warner Bros, the Neil Blair Partnership and even MinaLima, Kano have created something truly unique: the very first Harry Potter STEM Kit. The spells, music and graphics are officially approved and you'll see that they take a huge amount of inspiration from the films, but the simple and colorful graphic style adds a unique, quirky touch to Potter:
"We wanted people to also know that this is Kano, and really make something unique to us, whilst also making it familiar to fans"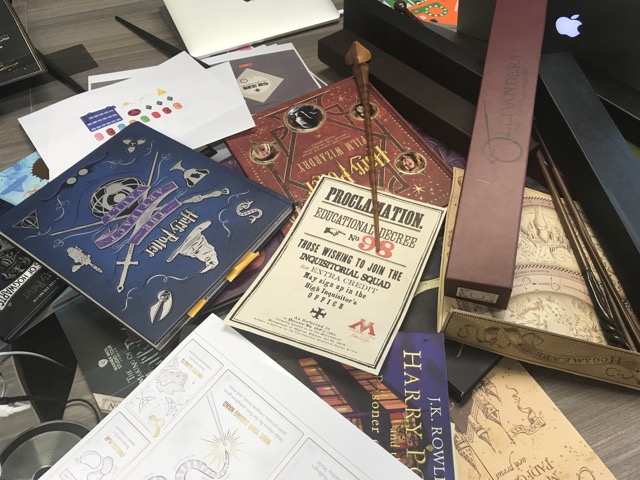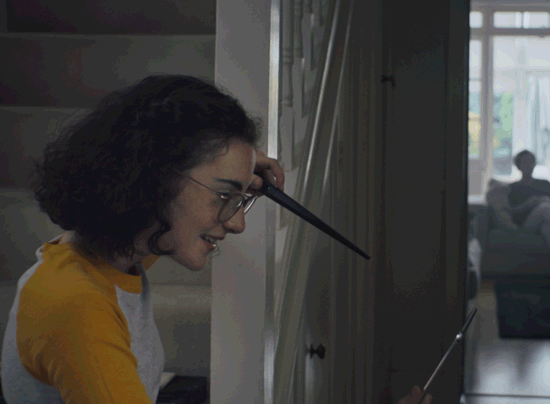 First up: the wands. I was greeted by an array of prototypes for the final wand in the kit, which felt like something straight out of the Warner Bros Studio Tour! The team at Kano obsessed over minute details and countless wand concept designs, until they found a simple style which enabled a fluid, fully immersive motion in the coding environment. It was also important to Kano that the wand wasn't too detailed, and didn't look too much like any particular character wand, ensuring that the wand will feel personal to each user:
"We went to the LA tour, the Studio tour and probably looked at every Harry Potter wand ever – even those ones they have for extras!"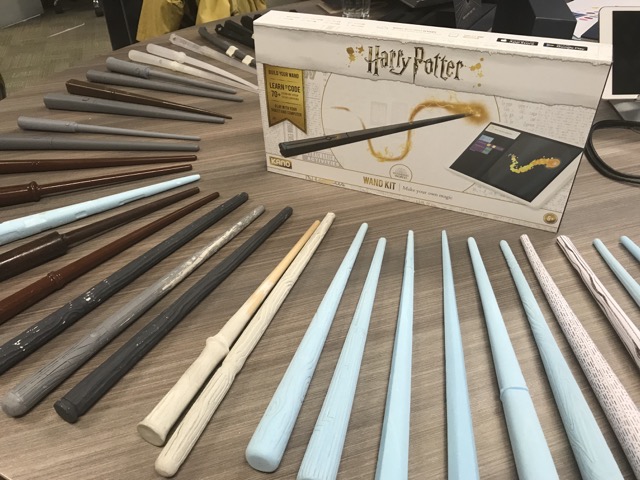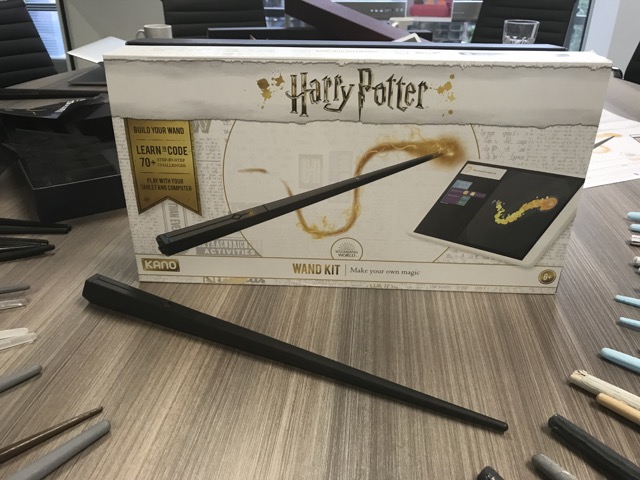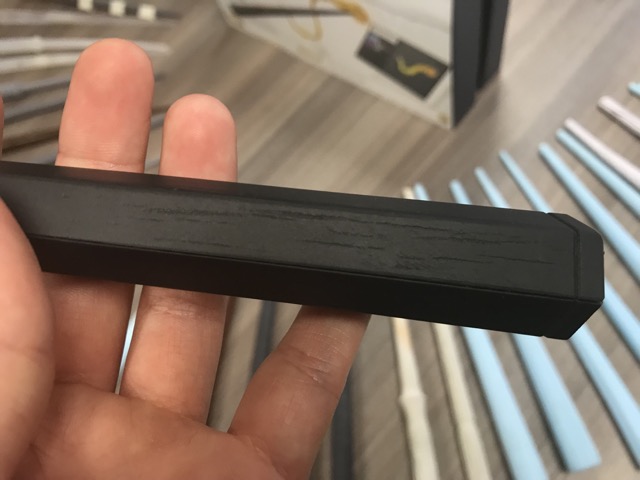 The wand they eventually settled on (pictured above) is sleek, but fits the tech in the handle to enable the wand to pick up movement. It's made of a simple black plastic material with a small amount of detailing, which ensures the wand is easy to construct, and parts are also easy to replace through Customer Care if necessary. It takes around 10 minutes to go through the little LEGO-style construction booklet (which you can find here) – longer if you inevitably obsess over the Potter-inspired colors and fonts, or if you're a Ravenclaw and get distracted researching all the different elements of the Printed Circuit Board (PCB)…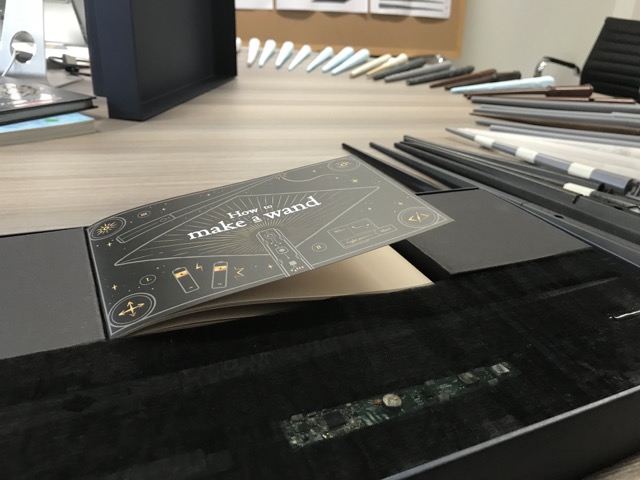 Inside your wand you'll find the PCB (illustrated below, from the Kano construction manual) attached to a gyroscope, accelerometer, and magnetometer, which enable the wand to interact with your screen, meaning the movements it tracks will help you cast spells. Rather than an LED sensor, the motion sensor uses gravity and 'talks' to your device, meaning it'll be able to tell if you're moving the wand up down, sideways, fast, slow, forwards or backwards. It also rumbles, giving the wand that extra 'real magic' feel.
It's the first of it's kind, and I'm willing to say that it's the closest I've ever felt to using a real wand!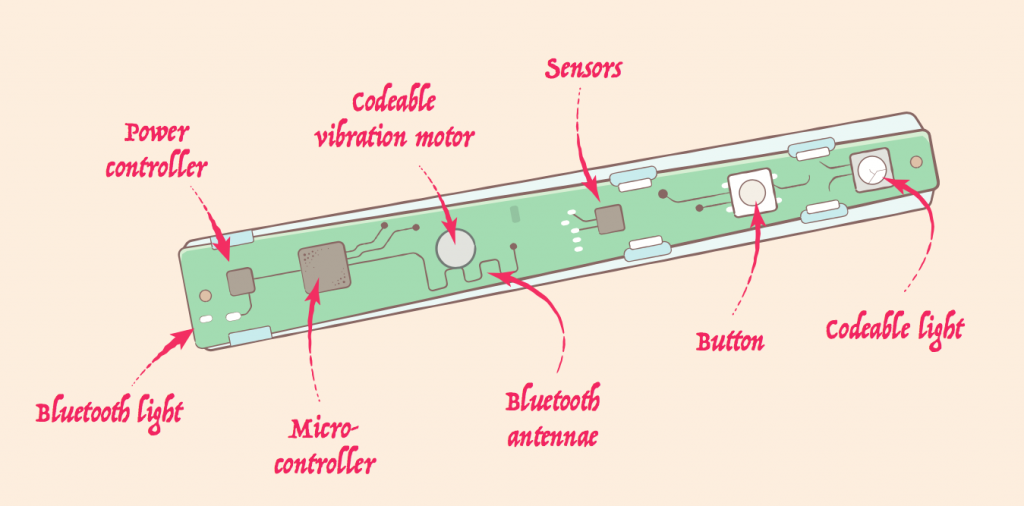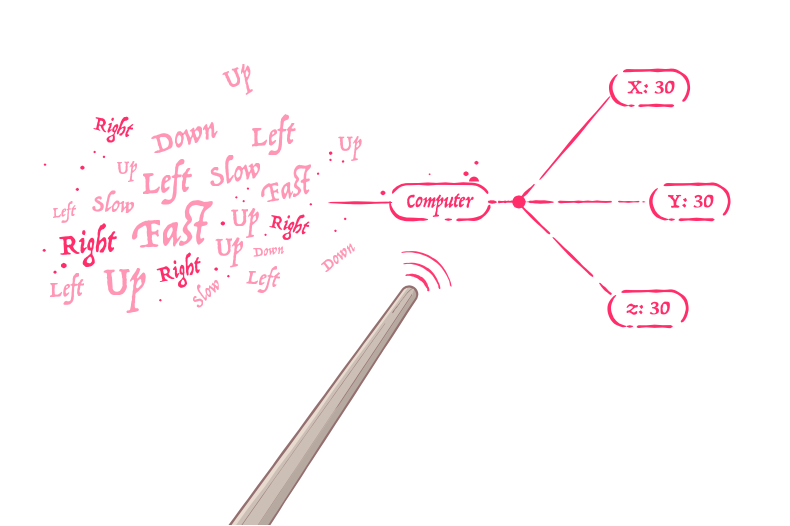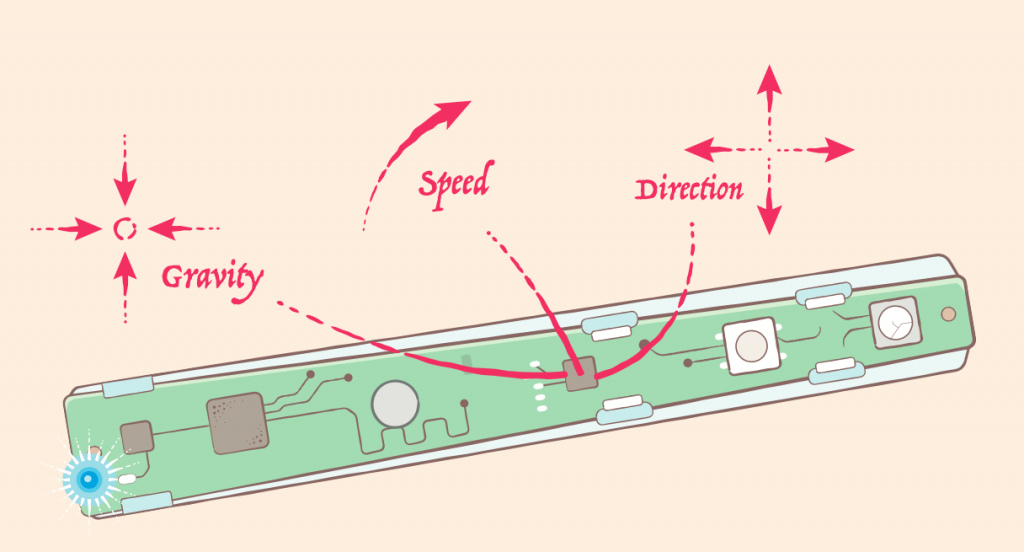 The kit also comes with a handy guide to the motions spells available (there are a HUGE range), which were all specially approved by Warner Bros and the teams behind Potter. Kano were particularly inspired by the Wizarding World of Harry Potter interactive wands experiences, so if you enjoyed running around Hogsmeade and Diagon Alley and feeling like you were finally a wizard, there's plenty more where that came from: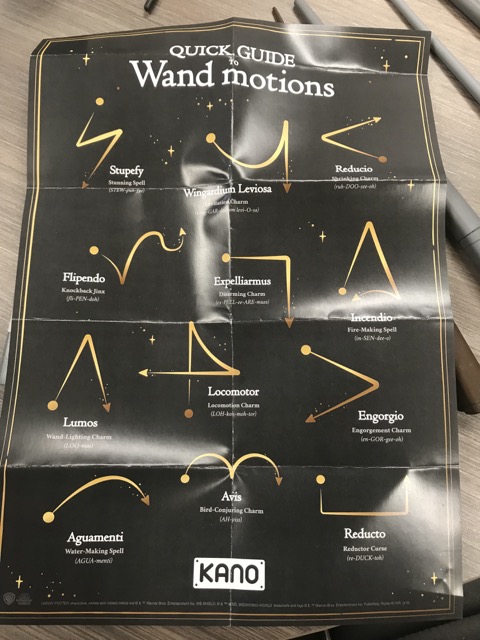 The beauty of this kit is that it enables you to enjoy the magic of the Potter series and learn code pretty much anywhere. Find details on devices compatible with Kano here, but you could practice at home on your Mac or PC, or anywhere you can take your wand and Android or iOS tablet – all you need is access to the Kano app! The simple step-by-step instruction guides are beautifully designed, and made so that anybody can understand and use the kit, increasing the accessibility of code: "The way we see it, these are tools, not toys."
Rather than focusing on a narrative-based 'game', the Harry Potter Coding Kit offers playable levels teaching valuable, step-by-step lessons covering everything from problem solving, coding logic and variables to reading and writing Javascript and discovering loops. Levels are set on a map which covers a huge amount of the wizarding world; from the Hogwarts and its grounds to Hogsmeade and Diagon Alley, the kit will take you through 70+ coding lessons on unique backgrounds inspired by the Harry Potter stories, beginning at The Leaky Cauldron! The map also takes you to the streets of London with the Knight Bus, there are levels inspired by the Quidditch Pitch, the Black Lake and the Forbidden Forest, and you'll also find levels dotted around inside Hogwarts: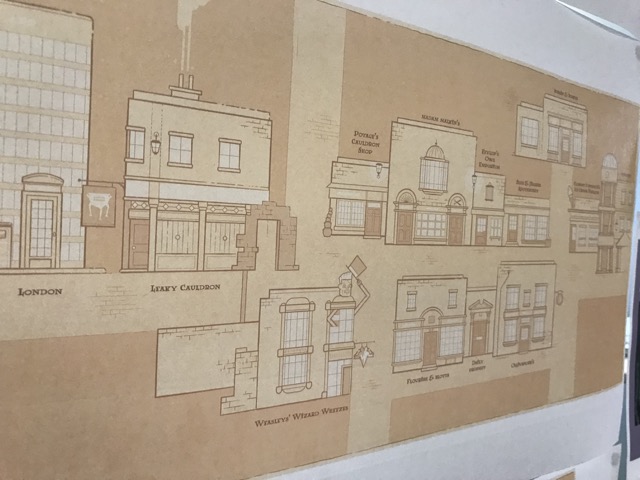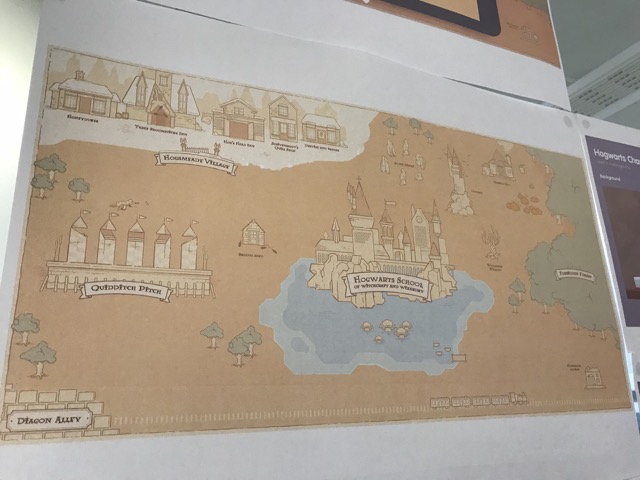 From learning Wingardium Leviosa and levitating a feather in Flitwick's classroom, to casting Engorgio on some Bertie Botts in Honeydukes, your wand is your key to understanding and appreciating the importance of code, all whist learning how to cast spells and navigating areas of the wizarding world! Below you can see an example of what to expect in the early stages of the game, followed by endless possibilities in the unique coding environment powered by Kano:

As you progress through levels, you'll find little Easter Eggs for Potter fans, containing a few familiar faces from the Potter films. You'll also collect medals, XP, and accessories for your fully customisable Avatar, such as SpectraSpecs, the Invisibility Cloak, creatures and pets (including Crookshanks, Trevor, Hedwig and Scabbers!), scarves, hats, a huge range of hairstyles, costumes and more: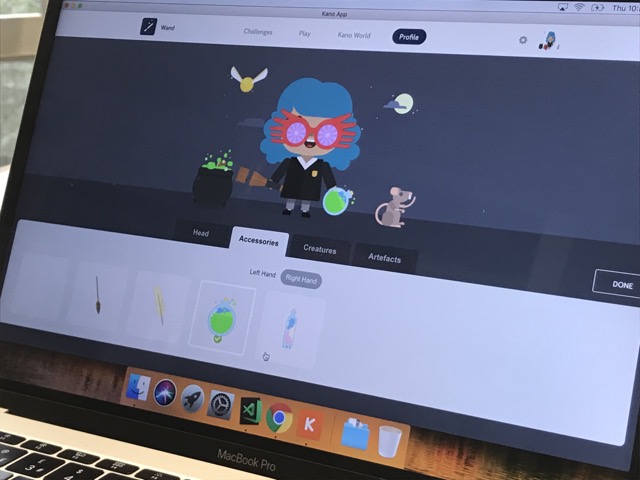 Users will also be able to access the Playground to test out coding skills in a free-play environment containing ALL spells, ALL graphics, sounds, effects, and more! You can tweak codes to create interactive art, music, games, or even just create a code which enables you to use your wand to 'Accio' multicolored Pygmy Puffs accompanied by a cute sound effect until your heart's content. Believe us, it's oddly addictive.
Kano World, a free online environment, enables users to upload their creations, games, codes and more with an online community spanning 86 countries (as well as on social media), and others can then use or tweak their code, meaning creations can become a community project – perfect for the ever-enthusiastic Potter fandom! Your Avatar will also be able to be shared with users, and beyond.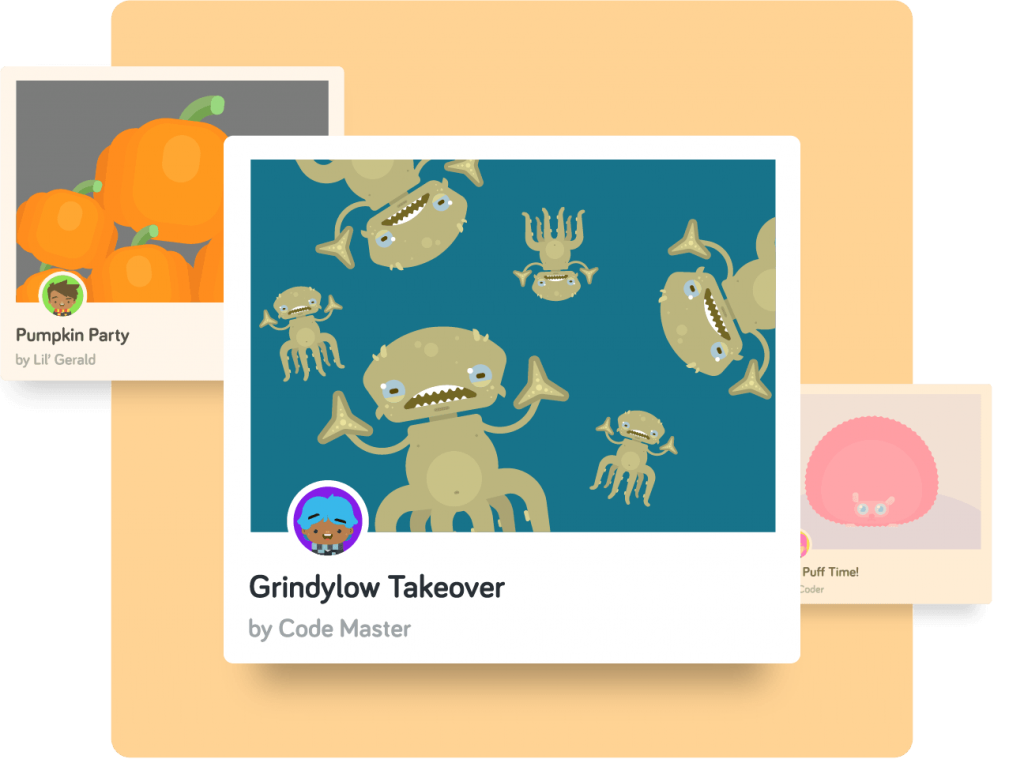 Kano believe that coding is a tool to empower people to harness their creativity, and that coding opens a door to that creativity. In a previous press release, Kano announced their mission to educate a new audience with the Harry Potter Kano Coding Kit:
"We're surrounded by technology in our homes, workplaces, and pockets, yet only a small percent of people, less than 1% of 1%, understand the happenings behind the screen," said Alex Klein, Co-Founder and CEO of Kano. "We are thrilled to partner with Warner Bros Consumer Products to inspire people of all ages, all over the world, to make their own code, and see how easy it can be to understand, play, and create with it."
The importance of coding in schools has been recognised with initiatives by the U.K. government in recent years, as well as the need for diversity and inclusion in the coding environment (represented, for example, by the Digital Skills Innovation Fund). The team at Kano are well aware of this, given that they've previously focused on creating 'gender-neutral' orange-themed boxes, and have worked with Karlie Kloss (model and creator of Kode with Klossy – a free two week program for girls 13-18 years old). They say that Harry Potter was the perfect opportunity to open up coding to a broader audience:
"Harry Potter is pretty much genderless as a brand, we know we have around a 70/30 split of males to females, but for us what mattered when making this was not marketing, but opening up coding to a bigger audience" 
The kit is enjoyable for all ages, and though it caters to a beginners audience, the kit can also accommodate advanced code, especially seeing as the Playground feature encourages users to get creative and use their skills to conjure incredible wizarding world inspired creations and experiences, and then share them with other users!
If that's not enough, the kit also comes with stickers of some of the fun designs seen in this kit, so if you fancy sticking a Cornish Pixie, Aragog or even a Troll on the back of your tablet, that will be perfectly within your power!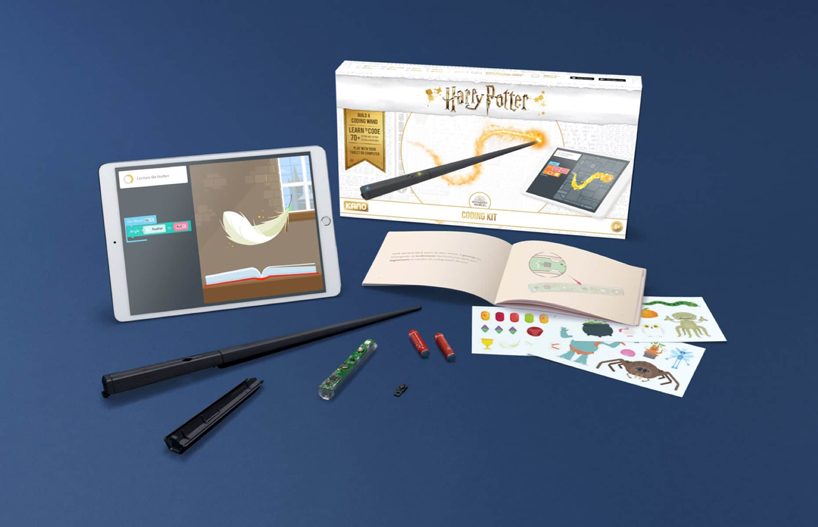 Kano also received some help from James and Oliver Phelps (the Weasley twins) recently, which we spotted on their Instagram page, and Stephen Fry (U.K. Harry Potter audiobook reader) also said he was intrigued by the kit:
Rather tempted by this Harry Potter Kano Coding Kit – proving that maths, logic, concentration and practice are the real magic. https://t.co/UdSuLvMMNN

— Stephen Fry (@stephenfry) September 14, 2018
The kit releases on October 1st, and is currently available for pre-order for $99.99 / £99.99 here. Watch a trailer for the kit below, read our previous coverage here, and stay posted for more updates!
Many thanks to Kano and Warner Bros for offering The Leaky Cauldron a first look at the Harry Potter Kano Coding Kit!