EXCLUSIVE: Universal Orlando Reveals New Wizarding World Ride Sneak-Peak!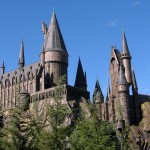 Oct 01, 2018
Universal Orlando Resort exclusively revealed a new image of the upcoming ride coming to Hogsmeade in 2019 today, and we cannot wait to hear your theories!
We've seen glimpses at construction and theorised about the theme of the ride (from the Forbidden Forest to Hagrid's hut, or a Snape-themed ride), and reported on rumors that Universal are planning to open a fourth park, possibly including a Fantastic Beasts themed "world". After announcing that A Celebration of Harry Potter wouldn't be taking place in 2019, Universal revealed that they'd been building a new ride in Hogsmeade (set in Islands of Adventure), and today we received more information!
EXCLUSIVE: Here's a first look at the new thrill ride coming to @UniversalORL's #WizardingWorld of #HarryPotter next year!⚡️ What are your thoughts on the theme? Stay posted for an exact date of opening! https://t.co/a8Q7HHvUOr pic.twitter.com/H8WDPQ5kha

— The Leaky Cauldron (@leaky) October 1, 2018
We have no further information to report, except that the ride will launch sometime in 2019, with an exact date yet to be announced.  The exclusive artwork hints at the theme, with what looks like apart of Hogwarts in the background (there are no turrets we can see, but it looks like the architecture… any ideas?), and Cornish Pixies floating around! It's a mystery!! We also see a part of the track, and as we know this ride will be a thrill coaster (take a look at the drop here), we're excited to know what riders have in store! Here's the announcement directly from Universal:
"Opening in 2019 at Universal's Islands of Adventure theme park, the new experience will become Universal's most highly-themed coaster yet – immersing guests in an all-new adventure that is the next installment of the Wizarding World brought to life at Universal Orlando Resort"
Stay posted for further updates, and let us know your thoughts!