Cursed Child Joins BroadwayCon Lineup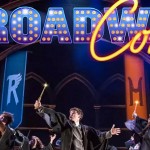 Oct 31, 2018
It's a magical day for Harry Potter and Broadway fans alike! The cast of the Tony award-winning play Harry Potter and the Cursed Child will be apparating from their Lyric Theatre home to the BroadwayCon mainstage early next year.
We are THRILLED that @HPPlayNYC has joined the BroadwayCon 2019 MainStage lineup! What better way to celebrate the end of #DarkArtsMonth?! ? pic.twitter.com/OoPaaYeA1Q

— BroadwayCon (@bwaycon) October 31, 2018
BroadwayCon, theater's answer to comic con, for both fans and industry professionals, will be host to the Cursed Child cast along with talent and creative from current Broadway shows such as Mean Girls, Torch Song, Come From Away and Pretty Woman, just to name a few.
BroadwayCon is produced by Mischief Management, whose founder and CEO Melissa Anelli, is Leaky's very own webmistress and bestselling author of Harry, A History, the story of the Harry Potter phenomenon and fandom with a foreword by J.K. Rowling. Can you imagine anyone better to moderate a panel with Harry, Ron and Hermione, except maybe Rowling herself?
BroadwayCon is scheduled for January 11-13, 2019 at the New York Hilton Midtown. More information on the Harry Potter panel and other BroadwayCon announcements are forthcoming. Details, including ticket information, can be found at BroadwayCon.com