Deck The Halls With 'Harry Potter: Hogwarts Mystery'!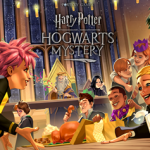 Dec 07, 2018
In another festive celebration, mobile game Harry Potter: Hogwarts Mystery invites players to participate in Flitwick's personal favorite activity: decking the halls of Hogwarts for Christmas!  
Hogwarts Mystery first invited players to explore the Dark Arts over Halloween, and users of the game can vote on their favorite ornament, out of an owl, a cat, the whomping willow, and a snow-wizard!
Voting is open from December 6 through 12. To vote, visit the Harry Potter: Hogwarts Mystery Facebook, Twitter or Instagram and follow instructions to vote for your favorite. The most popular selection will be featured on each of the House Christmas trees unveiled in-game on December 13, followed by an interactive real-life game, helping to recreate the winning ornament for your own Christmas tree:
"Bringing the excitement of Christmas at Hogwarts to the Muggle world, a video will be
released on the Harry Potter: Hogwarts Mystery social channels in tandem with the
in-game tree reveal, spotlighting all of the holiday decor and theming in-game this
December. The video will also tease a time-limited sidequest featuring the Wizarding
World's beloved clan, the Weasleys. Taking a cue from the family's history with
handmade gifts, the video will also give fans do-it-yourself instructions to create a
real-world replica of the winning tree ornament featured in this festive, in-game activity."
What a way to celebrate Weasley family spirit! Download the game here to get started, and if you're decorating your own house Hogwarts-style this year, be sure to share photos with us via Facebook, Twitter and tagging us on Instagram!