Brazil 'Better Brace Itself' For Newt Scamander: J.K. Rowling Finishes 'Fantastic Beasts 3'!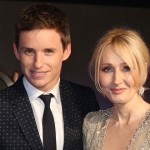 Dec 10, 2018
J.K. Rowling has been making hints at the location of the next Fantastic Beasts film for months, and today she's all-but-confirmed that Newt Scamander will head to Rio De Janiero, Brazil, in his next wizarding world adventure!
David Heyman refused to disclose any location-based secrets in our roundtable interview with the producer and Callum Turner (Theseus Scamander), but J.K. Rowling took to Twitter to tell the world she finished writing the third film TODAY, and sent out a message that Rio De Janiero had 'better brace itself' for Newt Scamander!
.@ElisabethNeveux That's a very lovely thing to hear on the day I finish writing the next one. Thank you! https://t.co/kx08val0Tm

— J.K. Rowling (@jk_rowling) December 10, 2018
Rio de Janeiro had better brace itself 😉 https://t.co/l9yy6v7HEJ

— J.K. Rowling (@jk_rowling) December 10, 2018
She also promises that 'answers are given' in the next instalment, so we're hoping that means all of our 25 questions will be answered?
'Answers are given.' https://t.co/kQqMcjUgcQ

— J.K. Rowling (@jk_rowling) December 10, 2018
We know there's a wizarding school in Brazil, and we're betting there are plenty of magical creatures and wizarding communities in and around the Amazon Rainforest! Are you excited about the 'reveal'? How do you think Newt might end up in Brazil?