"Crimes of Grindelwald" DVD available for Pre-Order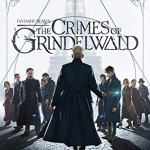 Jan 02, 2019
Wizards and Muggles alike can now pre-order the DVD (or Blu-Ray) for Fantastic Beasts: The Crimes of Grindelwald.  It's available from Amazon in the U.S. for $17.99 and from Amazon in the UK for £9.99 (as of 1/1/19).
But don't let your Nifflers pop those champagne corks yet:  We don't have a release date.  There are February rumours flying around the Internet like pesky Pixies, but nothing verifiable at this point.  We will be sure to let you know as soon as a release date is announced.
How many times did you see Crimes in the cinema?  Are you pre-ordering it to watch again?  What questions do you still have about the various plot lines and cliffhangers?  Tell us in the comments.