Special Astronomy class to be held February 23 & 24, sign up now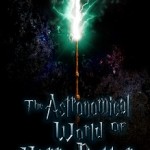 Jan 07, 2019
Need a little extra OWL or NEWT prep in Astronomy?  If you can make it to the Robert J. Novins Planetarian at Ocean County College in New Jersey, you can learn about The Astronomical World of Harry Potter and ace those exams.
"Learn about all the ways the characters and events in Harry Potter take their origins from the stars and constellations in our special Harry Potter themed Startalk. From the bright star Sirius, in the constellation Canis Major, also known as the Big Dog, to the stars Regulus and Bellatrix, the night sky is filled with some of your favorite, and least favorite, Harry Potter characters! You can also find dragons, centaurs, werewolves and more, all in the night sky. Welcome to Astronomy Class, Professor Sinistra requires all students to be on time."
Beginner Astronomy is offered to young witches and wizards 6 and up who are not yet worried about revising for exams and just want to have some fun learning about the universe.
Advanced Astronomy will take a more in-depth look at the astronomical origins of character names.
Tickets are $20 and may be purchased online.  Their Facebook event page will have updated information on availability and scheduling.
If you are able to attend this special Astronomy class, help your fellow students out and tell us what you learned in the comments section.