Pre-Order Your 20th Anniversary Edition of 'Prisoner of Azkaban' and Recieve a House Pin Badge!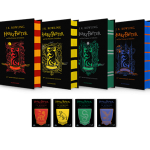 Jan 25, 2019
It is hard to believe it has been almost 20 years since J.K. Rowling's Harry Potter and the Prisoner of Azkaban hit store shelves and, shortly thereafter, won over fans' imaginations with a darker storyline (was that possible?), the Marauders, time travel, more intriguing backstory and a teenage boy wizard. That means that in addition to reminiscing about how quickly you tore through the pages and where you were when you first discovered the identity of Scabbers, fans can look forward to the release of the 20th Anniversary House Editions to mark the occasion.
Bloomsbury announced that the latest anniversary edition, resplendent in all four house colors, is now available for pre-order–and for UK and ROI residents who order their hardback copy before the offer ends at midnight (GMT) on June 12, 2019, an exclusive house pin badge will be included with their purchase!
Like the previous editions released to celebrate the publishing anniversaries of Harry Potter and the Philosopher's Stone and Harry Potter and the Chamber of Secrets, the hardback versions feature sleek black covers with detailing in house colors. Gryffindor comes in bold red and gold. Hufflepuff features yellow and black. Slytherin is the telltale green and silver-gray. And Ravenclaw is the traditional blue and bronze.
Each house pin badge is emblazoned with the mascot of the house as well as the appropriate house colors. Fans who simply cannot choose (or who favor no house over another!), can purchase all four hardback house editions as a set–and receive all four house pin badges as part of the same pre-order offer!
In addition to the house-themed cover art and page detailing, each book also includes illustrations by Levi Pinfold, the two-time winner of the Kate Greenaway Medal.
The anniversary editions are also available in companion paperback. These versions boast a bold house-themed cover in place of the black and do not feature accent detailing on the edging of the pages.
Just as collectible, the paperback editions are a wonderful option for fans and an unmistakable way to show house pride! Please note, however, the exclusive house pin badge offer does not extend to paperback orders. The special offer only applies to hardback pre-orders and only to residents of the UK and ROI.
To pre-order your copy, visit the official Harry Potter page at Bloomsbury Publishing here. Residents of Australia and New Zealand should order here as they are subject to local shipping rates.