Harry Potter movie marathon returns to the Prince Charles Cinema in London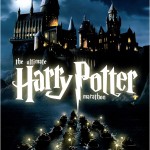 Jan 30, 2019
The Prince Charles Cinema at Leicester Place in London has made movie marathons a signature offering. They have a wide variety but the longest, at 720 minutes, is the Ultimate Harry Potter Movie Marathon, which begins at 8:30pm on Sunday, April 21, and ends at 5:35pm the next day. That's 21 hours of Potter. They'll be showing the first 8 films, not the two Fantastic Beasts movies.  Whilst that may seem disappointing, imagine trying to prop your eyelids open for another two films after nearly a full day in the cinema!
The all-night movie marathons have a few special rules and tips for comfort (and staying awake).  The cinema does have a bar, but it will not be open all night.  They have a concession stand, but you are allowed to bring in outside food and (non-alcoholic) drink.
Tickets are £32.50 each and can be booked online.
Are you going?  Have you attended/hosted a Harry Potter movie marathon?  Tell us about it in the comments!