REVIEW: Icon Heroes Severus Snape Statue–and Giveaway for a Lucky Leaky Fan!
Mar 08, 2019
Icon Heroes specializes in making high quality collectible statues from your favorite franchises, including DC Comics, The Karate Kid, Robotech, Star Trek and, of course, Harry Potter, and Leaky was lucky enough to receive a statue from Icon Heroes to review their polystone version of the "iconic" character Severus Snape, which drew on Alan Rickman's performance in Harry Potter and the Half-Blood Prince.
*We're also giving away either a Newt Scamander or Harry Potter Quidditch statue – read to the end for details!*
Delivery of the package was timely, and the statue came encased in a fan-pleasing box which was safely buffered with packing peanuts.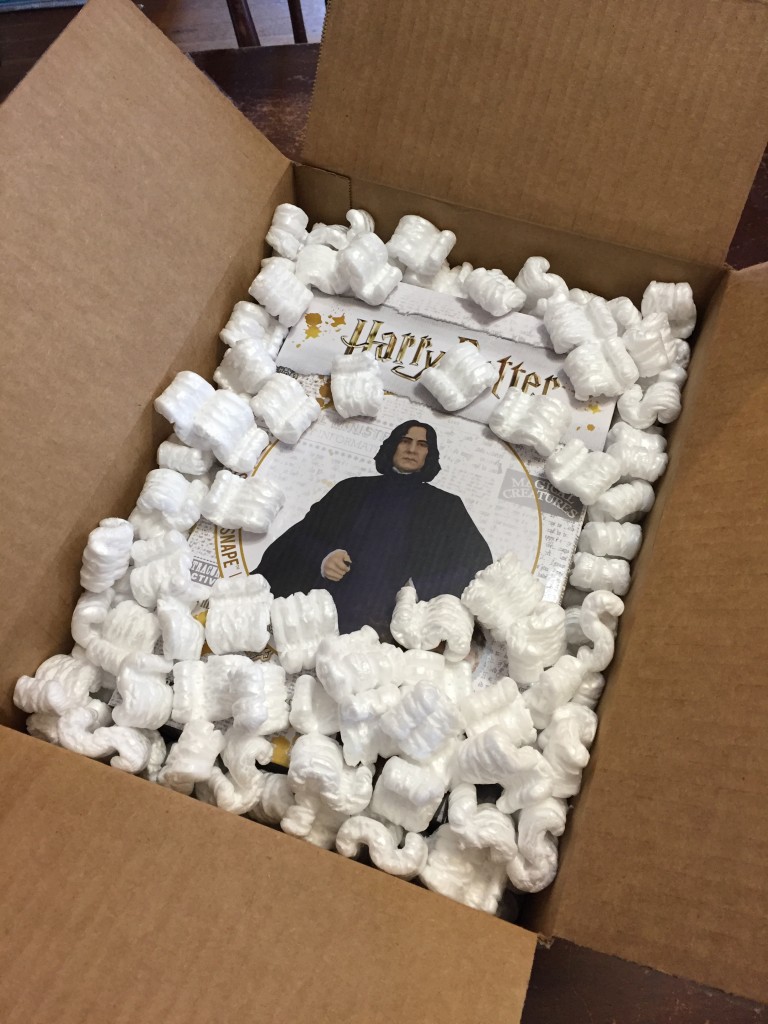 Once removed from the outer package, it was easy to see the lengths Icon Heroes took to make the statue's box a magical part of the wizarding fun. Every detail on the box serves to build the excitement of devoted fans, from the inclusion of Harry's image (Snape's nemesis) to newspaper headlines, newsprint and an advertisement for the Nimbus 2000.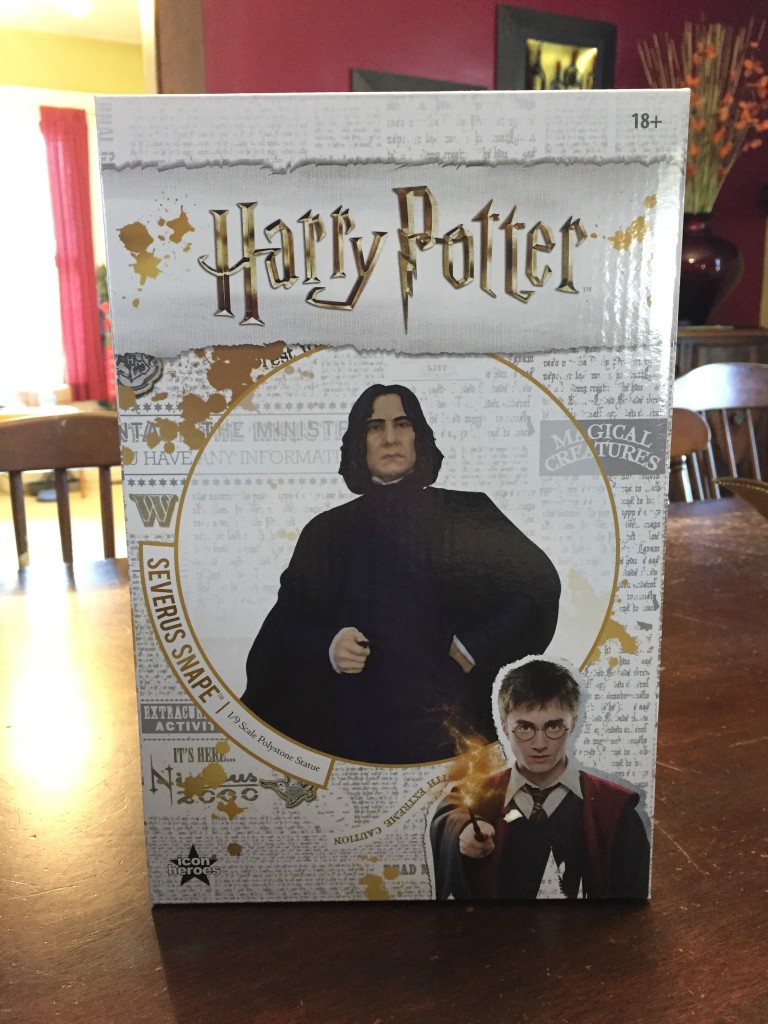 The side panels of the box showed the statue of choice from different angles. In this case, we received a 1/9 scale statue of Severus Snape holding his wand at the ready. (And given Snape's arc as Death Eater turned Potions professor turned righthand man and Double Agent, it's quite fitting that the headline to the left should play up the stakes of Rowling's epic story with the words: "You-Know-Who Stronger Than Ever." That's some thoughtful product design work!)
The back panel featured two other products offered by Icon Heroes–a chilling rendition of Lord Voldemort, which is not yet available, and a magical replica of Harry in Quidditch apparel capturing the snitch mid-flight.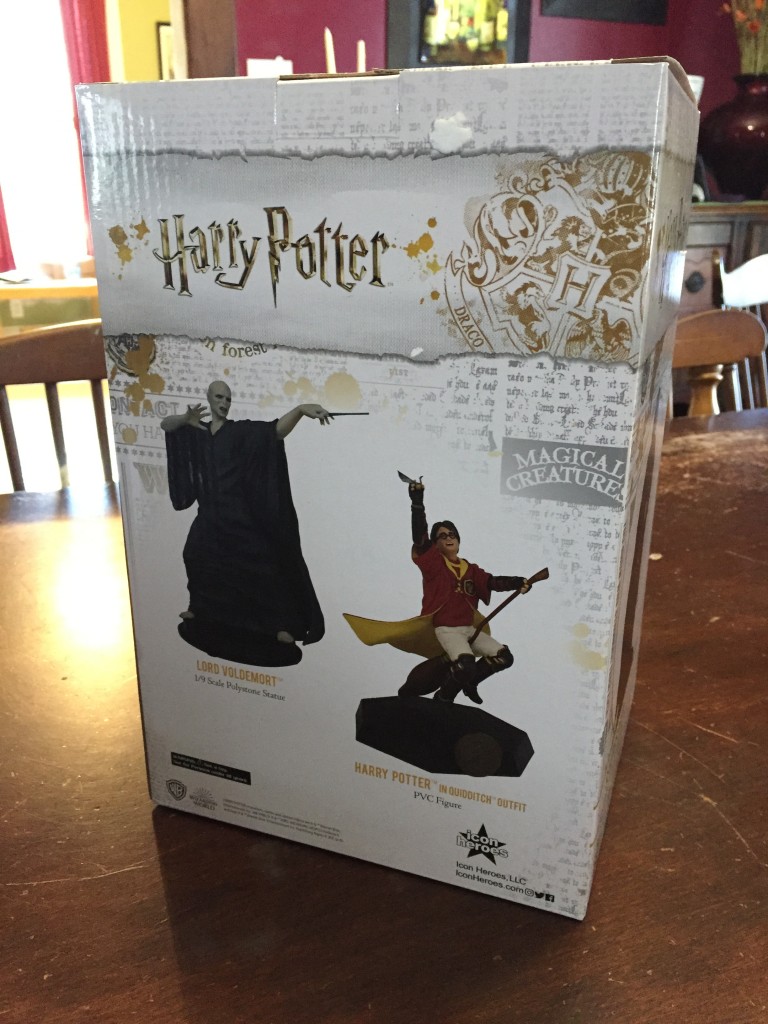 Now that we were properly excited, it was time to open the box and get to the statue itself–and we were pleasantly surprised to note that the collectible statue came with a Certificate of Authenticity, identifying the limited edition replica as number 284 out of 1,000.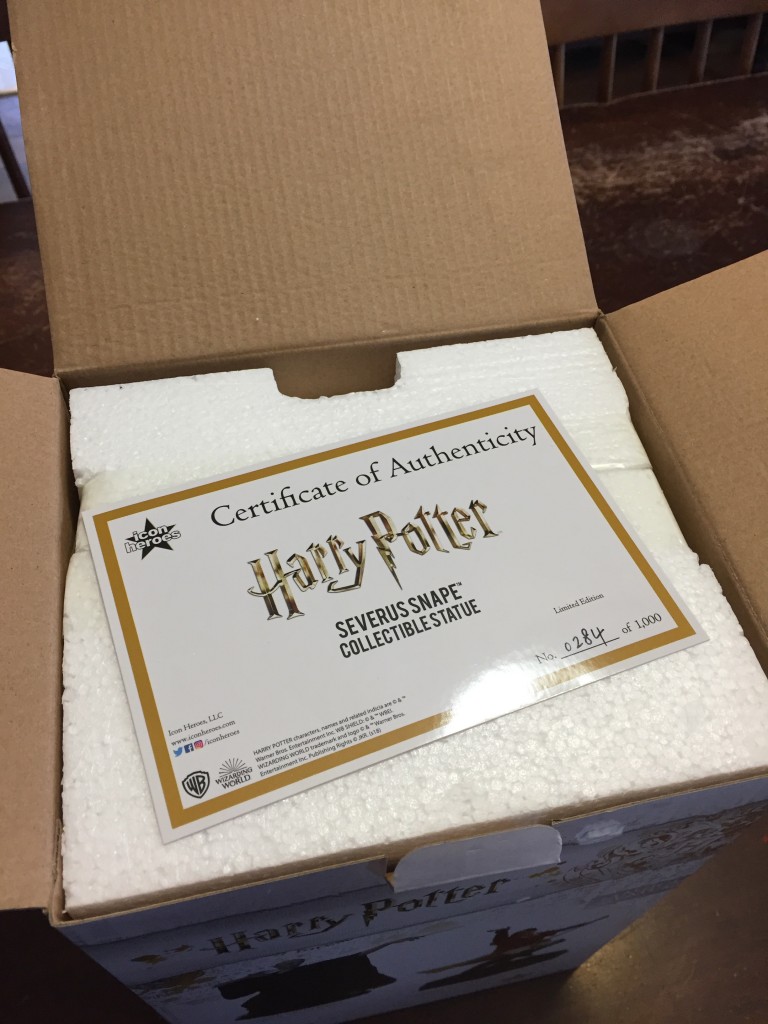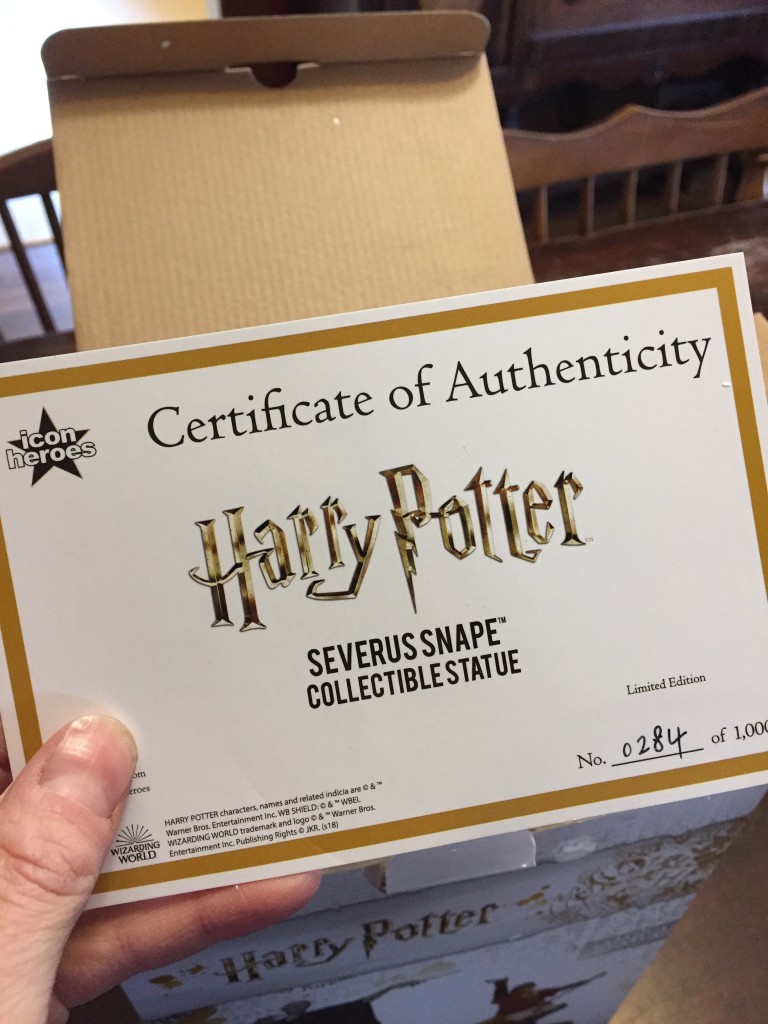 Setting that aside for safe-keeping, it was time to see Severus Snape in all his glory!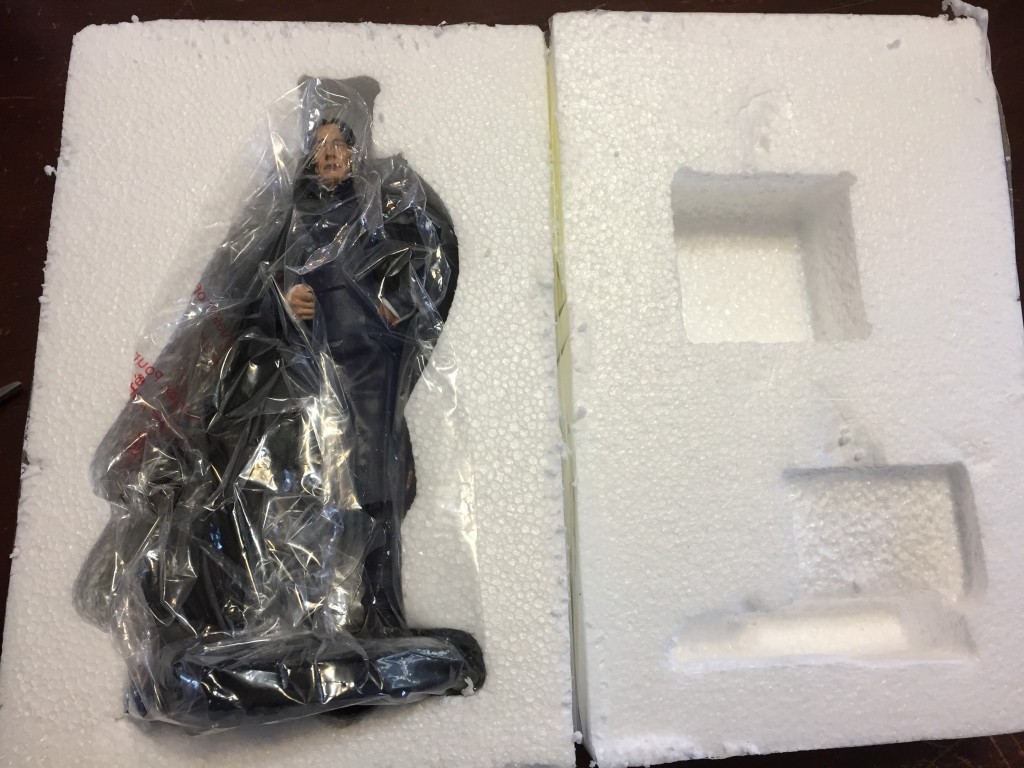 (Once we freed him from the Styrofoam, that is, which we appreciated, as there was not a chip or crack to be found on him.)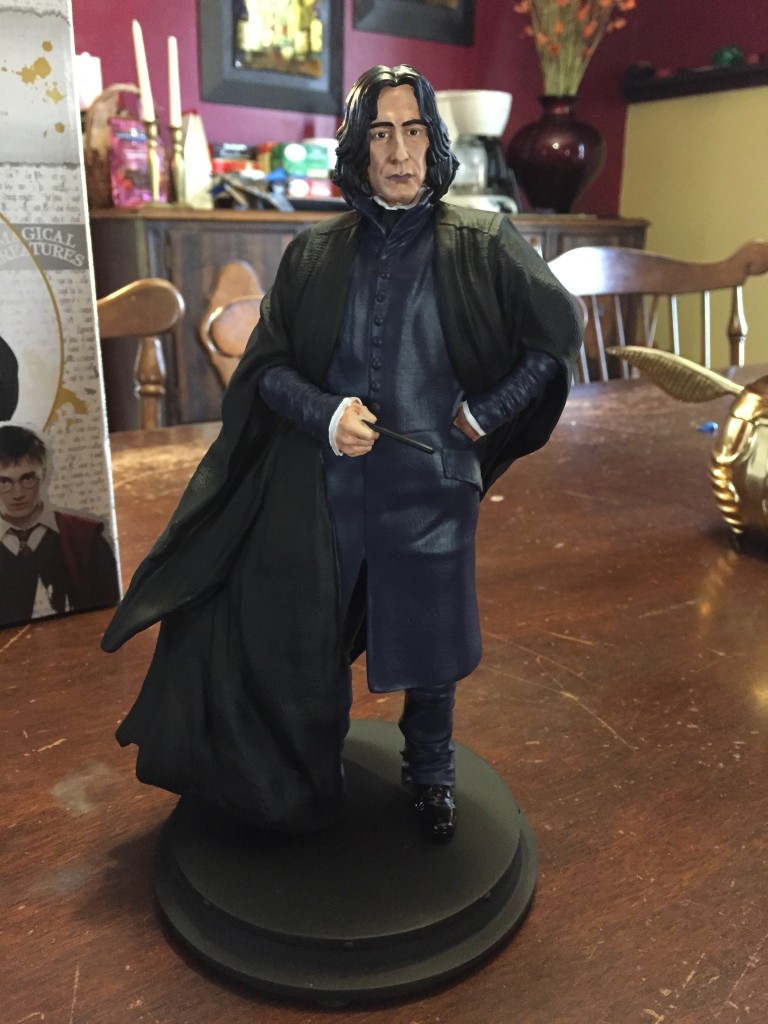 Finally able to view the statue up close, we couldn't help but be impressed by the level of detailing immediately apparent. From Snape's stoic facial expression, to the subtle texture of fabric on his deep black cloak and navy tunic, the folds of his pants and the shiny gloss of his black shoes, it was clearly excellent workmanship.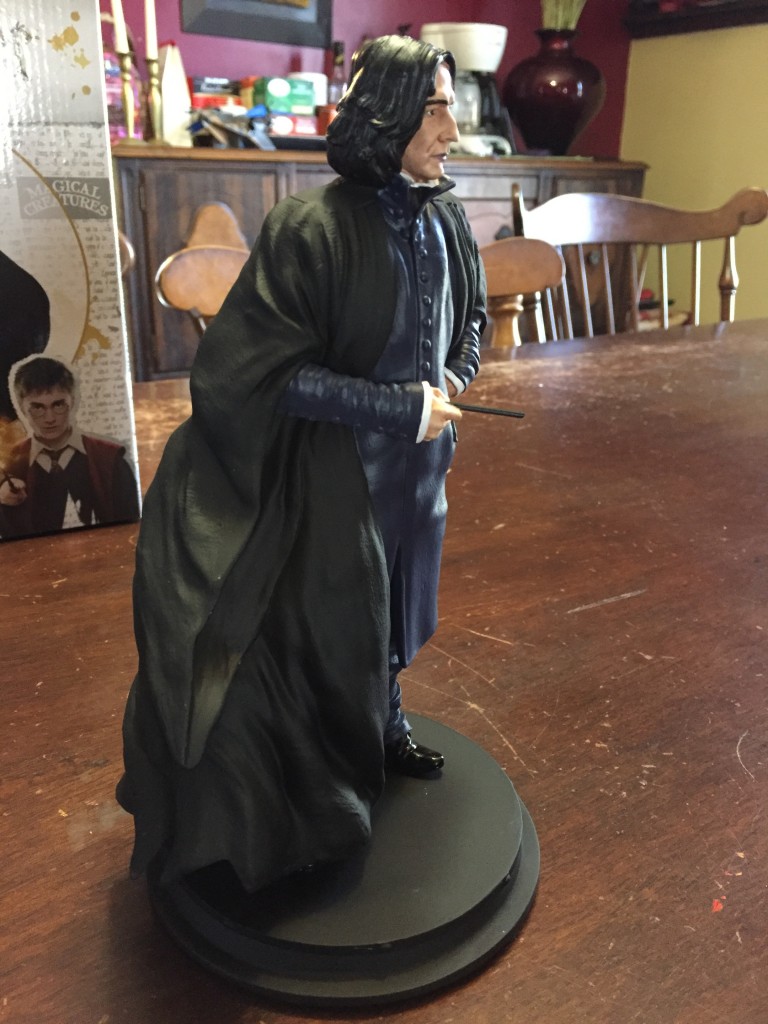 From the side, you could fully appreciate the hook of his nose, the heavy brow and the sweep of his cloak, which somehow exuded weight and movement.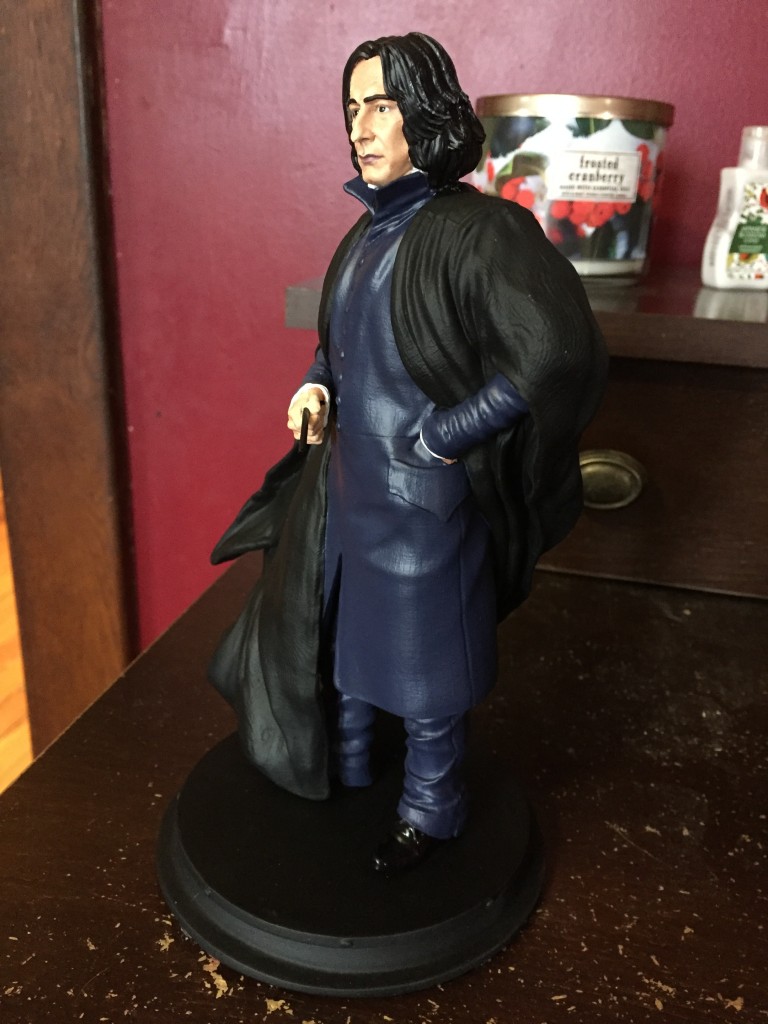 From the other profile, you could see the detailing in his clothes, as well as note Snape's imposing stature as he takes up an intimidating stance.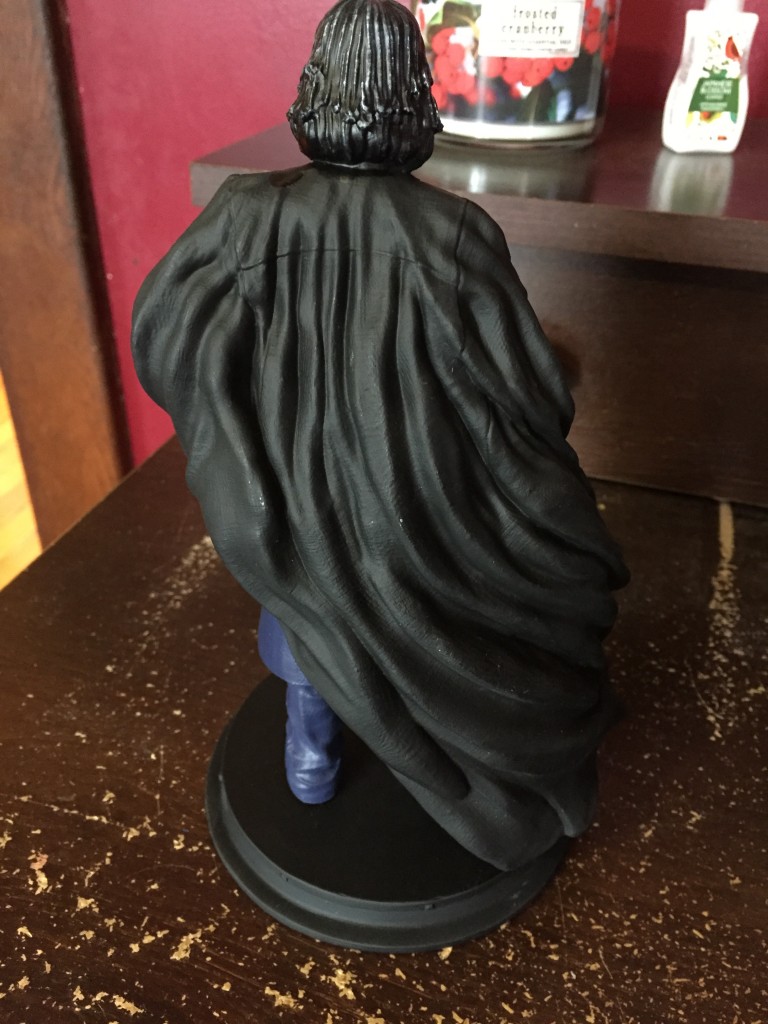 From the back, the photo did not do the statue justice as the lighting obscured just how rich the color of the cloak was and how authentically heavy it appeared on Snape's shoulders.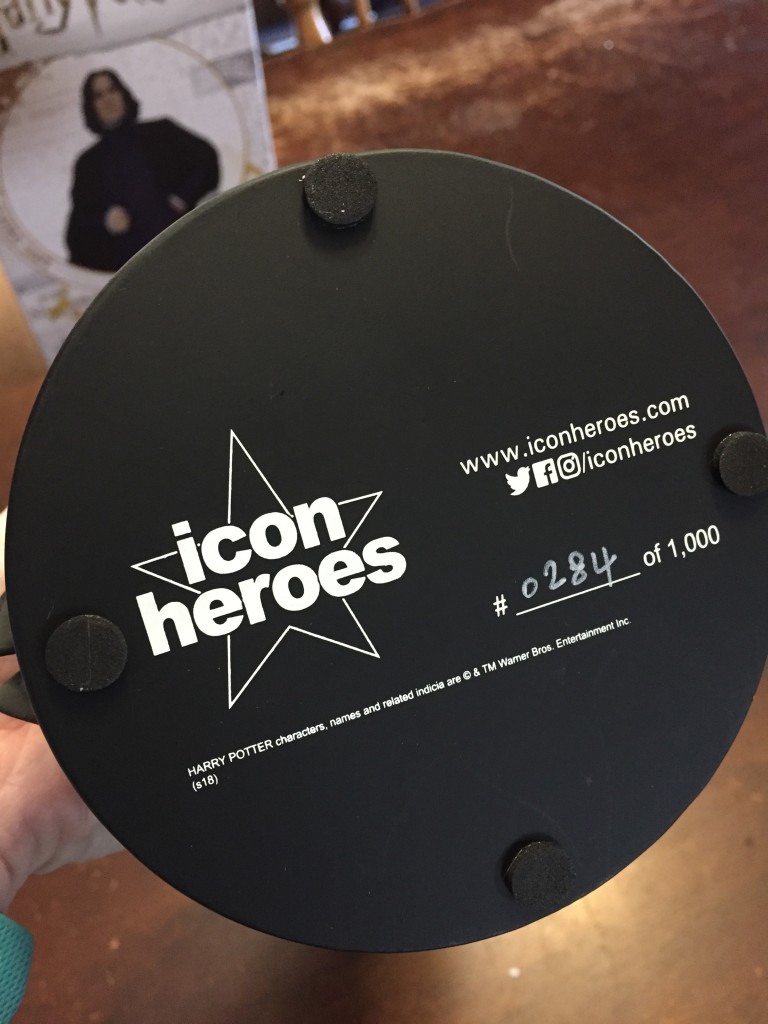 Speaking of heavy, when picking up the statue, you'll be impressed with the weight of it. Icon Heroes lists its approximate weight at 1.5 lbs, and it felt every ounce of that.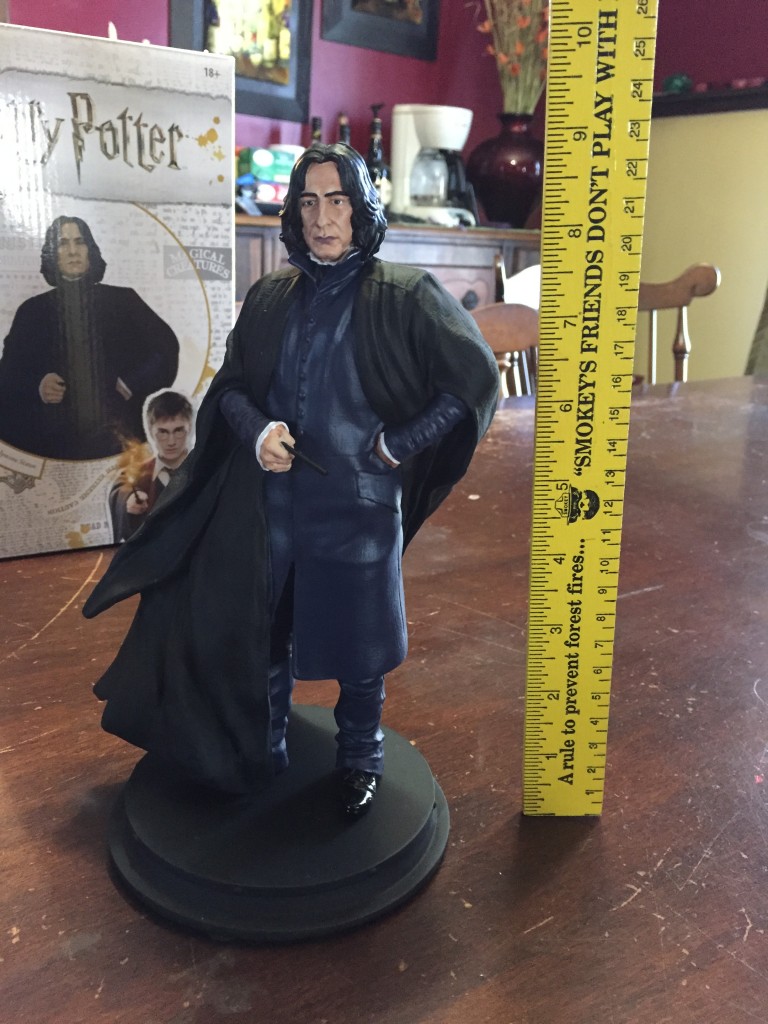 The site also lists the statue at 8.2 inches, which must not include the base, because the photo with ruler (above) confirmed that Snape stands well over the 8-inch mark. All specs were as advertised!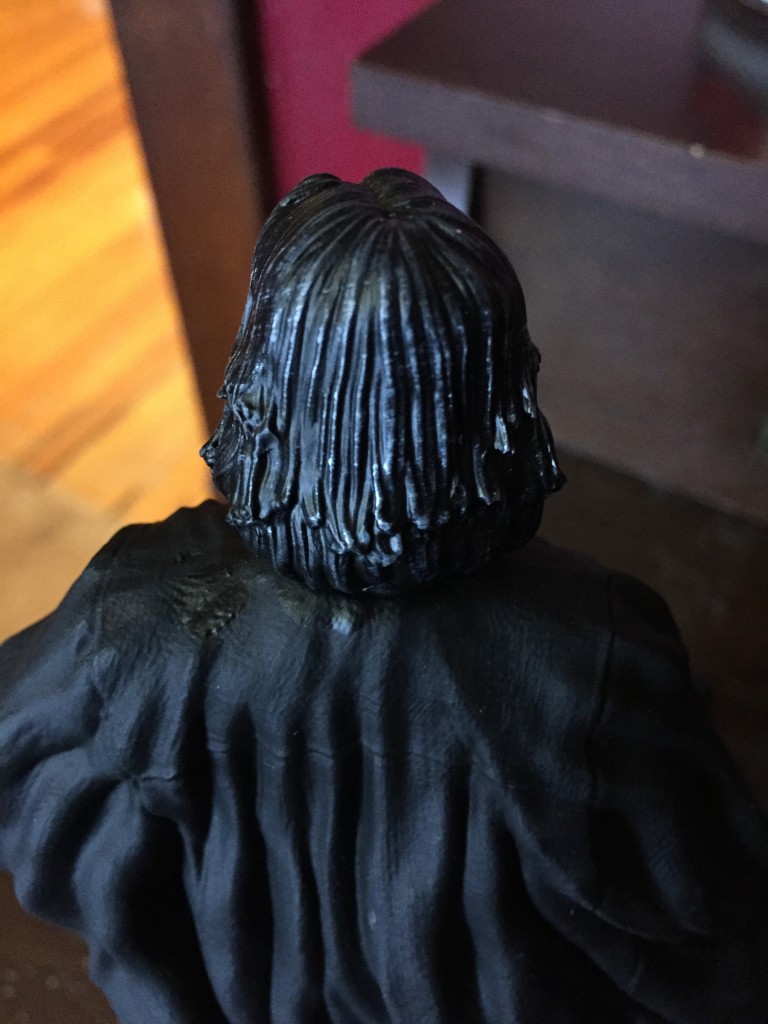 There are two negatives worth noting. First, the hair was not consistently black. We suspect some of the coloring was unintentionally rubbed off during processing and packaging. It is only noticeable from the back and doesn't detract from the overall appearance of the statue from the front. Second, there is a small amount of errant glaze on the left shoulder and around the hairline. The sheen can be seen under direct light from the back, but it is also not visible from the front. This is a relatively minor defect and may be specific to this statue.
Each statue is hand-crafted, so even the smallest imperfections add to its uniqueness as a one-of-a-kind collector's item. Overall, this model of Severus Snape is very visually appealing and should delight any Harry Potter fan.
Icon Heroes offers another version of Severus Snape holding a potion book, which is exclusive to Books-A-Million. Also available on their site is a Platform 9 3/4 mousepad, a statue of the aforementioned Quidditch-playing Harry Potter and a statue of Newt Scamander with his Niffler and magical case. The statue of Lord Voldemort, as well as a statue of Hermione Granger, is coming soon!
And in an exclusive special offer for Leaky readers, Icon Heroes is giving away a collectible statue! The lucky winner will get to choose between Harry Potter or Newt Scamander, shown below!
The Severus Snape statue reviewed here may be purchased for $79.99 through Icon Heroes.
Thanks to Icon Heroes for providing a statue to review!
---
GIVEAWAY DETAILS
We're giving one lucky winner the chance to get their hands on either a Newt or Harry statue pictured above thanks to Icon Heroes!
– Follow Leaky (Facebook, Instagram & Twitter) and Icon Heroes (Facebook, Instagram & Twitter)
ENTERING VIA FACEBOOK / INSTAGRAM:
– Comment which statue out of Newt and Harry you'd want to win on our posts, below.
– Tag three friends in the comments!
ENTERING VIA TWITTER
– Tag @Leaky and @IconHeroes on Twitter and tell us which statue you'd like to win (Newt or Harry) by using the hashtag #TLCIconHeroesGiveaway.
– Retweet our post, below.
🌟GIVEAWAY: Thanks to Icon Heroes, we're giving away either a #HarryPotter or a #NewtScamander character replica statue! 🌟 To enter:
⚡️Follow @leaky and @iconheroes
⚡️ Retweet this post
⚡️Tell us which statue you'd like to win!
Read our review here: https://t.co/yiTXCM5i2G pic.twitter.com/bTYzjOlxpI

— The Leaky Cauldron (@leaky) March 8, 2019
That's THREE ways to enter! Sadly this giveaway is only open to North America due to shipping restrictions. Entries are being accepted until March 31st.
Good luck, Potterheads!