Universal Orlando Reveal Details of New 'Harry Potter' Ride, With The Help of Special Guests!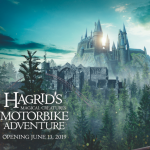 Mar 12, 2019
Universal Orlando held a special event in London last night, hosting special guests from the Potter series to help announce new details about Hagrid's Magical Creature Motorbike Adventure, the new ride coming June 13th 2019!
According to a press release from Universal Orlando Resort, the ride will  combine "a new level of storytelling and innovative coaster technology with rich environments and sets".
Tom Felton and Art Director Alan Gilmore share more about the ride in a new video:
Being described as a new ride technology, 'storycoaster', the ride will see guests  (starting at 48" tall) take part in Hagrid's Care of Magical Creatures class. Riders will board motorbikes (that's right – actual bikes, so get ready for a ride experience like no other!) or an adjacent sidecar, and seek out some of the Wizarding World's rarest magical creatures – including a magical creature not before seen in the Harry Potter or Fantastic Beasts films.  According to Universal Orlando, riders can expect the following:
Experience a freewheeling coaster flight where they'll twist, turn and rush forward – and backward – at speeds up to 50 mph into the dark forest 

Encounter some of the wizarding world's rarest magical creatures, such as a majestic Centaur, a swarm of mischievous Cornish Pixies, Fluffy, the three-headed dog – and even a creature that's never been seen in the films

Hurl past challenging obstacles, become entangled in a thicket of Devil's Snare and so much more …while encountering a few surprises along the way.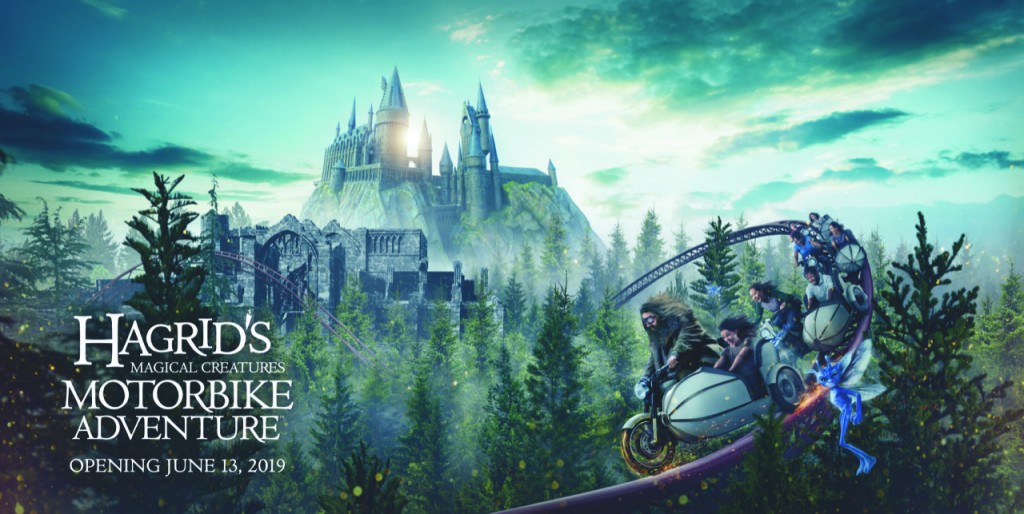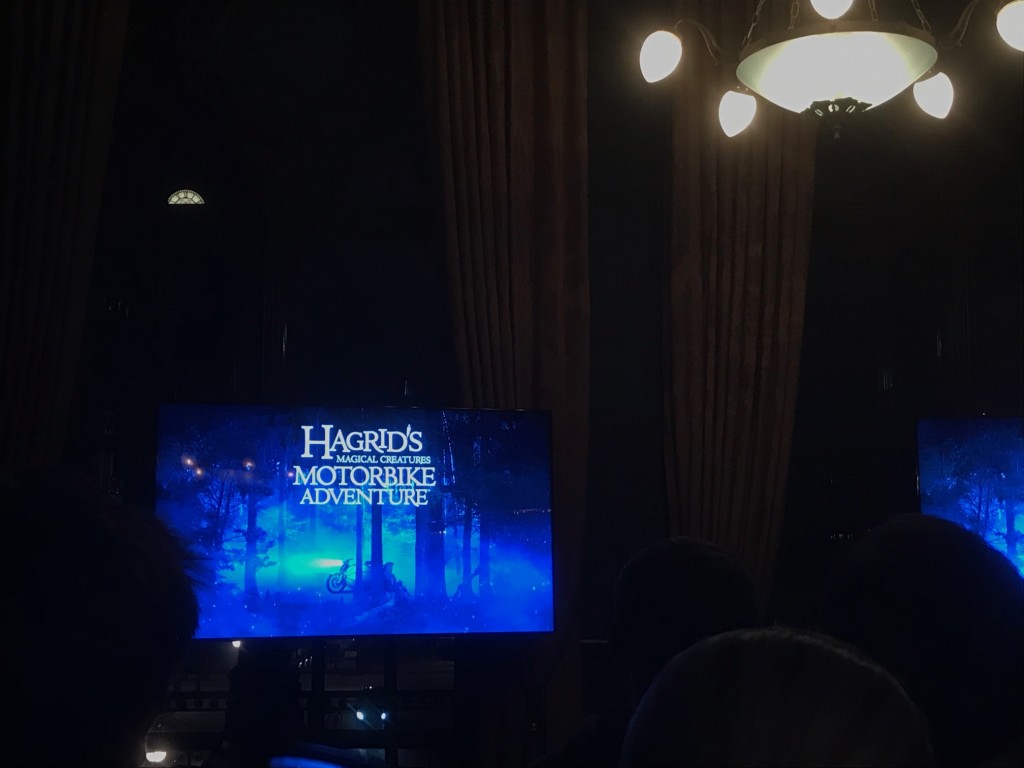 We heard directly from Harry Potter Art Director Alan Gilmore at a launch event yesterday. Alan has been involved in designing the ride, so knows the journey we'll go on this Summer inside out!  He began by noting "You can't have an adventure set in the Forbidden Forest without a forest!", and told us that the ride has an actual forest surrounding the tracks, with a confounding 1,200 live trees helping to immerse riders in the story.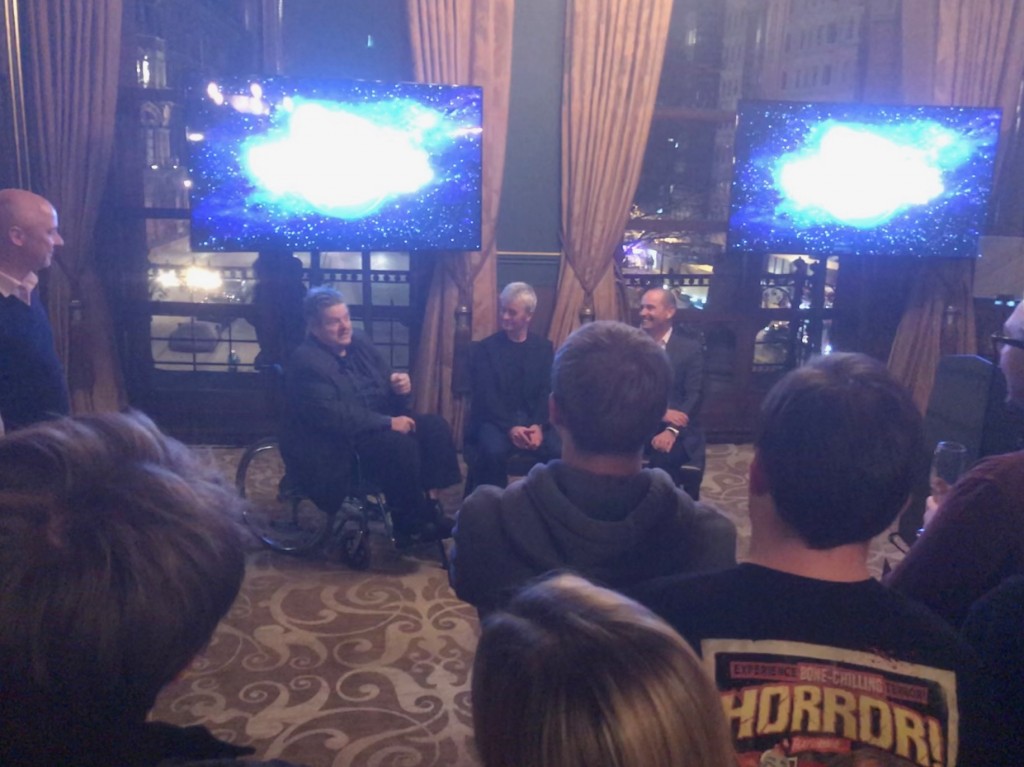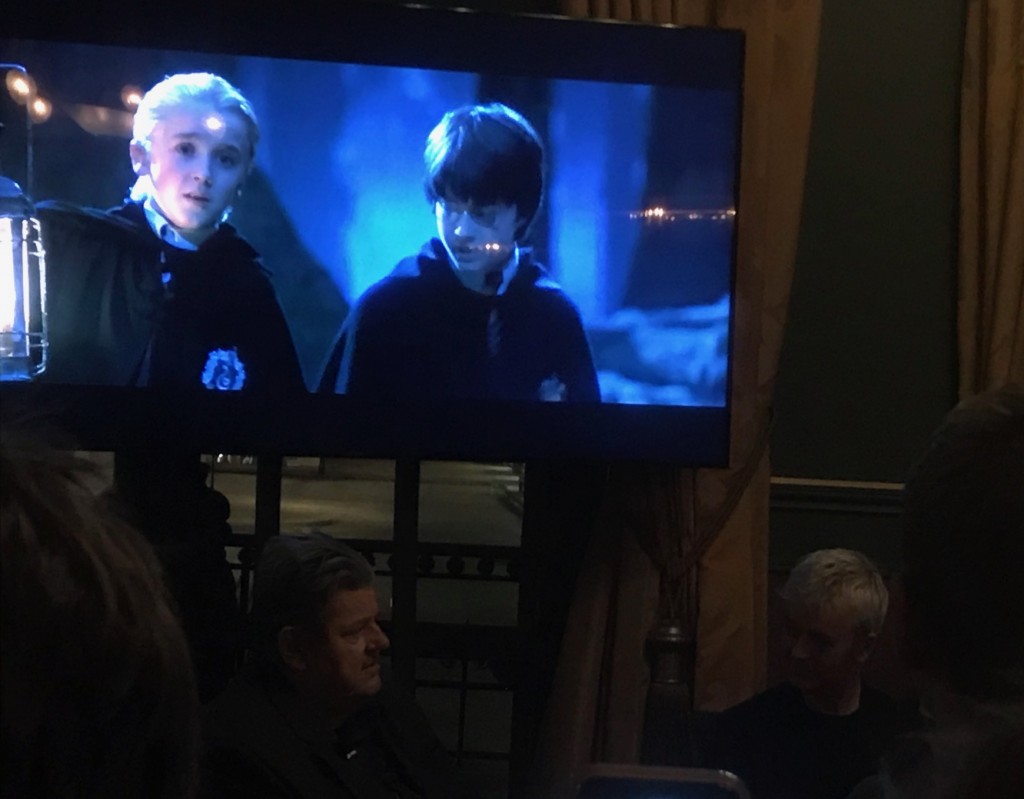 We were then introduced to the man himself, who portrayed Rubeus Hagrid in the Potter movies, Robbie Coltrane! Arriving in a wheelchair (he says he's 'due a new knee', but following the operation he'll be 'leaping around like an Elf'!), we were excited to get some inside thoughts from one of the series's most beloved characters.
Coltrane was hugely excited to see a ride centred on his character, and said that the ingenuity of the ride design surpassed his expectations:
"I was thinking about it today, and I was just thinking – "Hagrid would have really loved it … Because Hagrid's such a nice guy, just the idea of going on an adventure with Hagrid, they would all feel happy – they'd think "Yeah, Hagrid's cool – he ain't Snape!"."
"It's a staggeringly original idea, a ride with a motorcycle on a sidecar – how do the people riding it not just fall off? [To Alan Gilmore] You're a very, very clever man." 
Commenting on the ride being set in the Forbidden Forest, Coltrane said that Hagrid is the perfect character to navigate the forest:
"So many weird things happen there – hideous things, huge spiders … The kids at Hogwarts don't go there – the only time they go there is with Hagrid, because he knew how to play the spiders," he laughs, "Also, there's an element of things going wrong, which is hilarious. It's so funny and so clever. How they will engineer it I simply don't know, but I shall find out in June, I hope!"
Let's hope that means we'll see Robbie at the launch event this Summer!
Revealing a few more surprises (he echoes Hagrid's 'I shouldn't have said that', to laughs), Coltrane closes by praising how clever the story is, and how riders are kept wondering where they're heading next. Much like #KeepTheSecrets, it's clear Universal are hoping that riders will be able to go into the experience without being spoiled – it's the best part about the ride, according to Robbie!
"Is it going to be scary, is it going to be scary?" […] Keep the mystery going, that's what I say."
The ride replaces the Triwizard Dragon Challenge coaster at The Wizarding World of Harry Potter – Hogsmeade at Universal Orlando's Islands of Adventure.
Hagrid's Magical Creatures Motorbike Adventure will open June 13th, 2019. Stay posted for updates on the launch, and find out more at Universal's official website, here.