Team Starkid Celebrate 10 Years With Homecoming Reunion Event!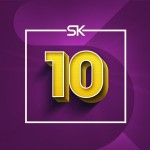 Apr 04, 2019
There's a special place in the Harry Potter fandom for those who are also fans of Team Starkid's work. Many will be familiar with the A Very Potter musical series, which parodied the books in a brilliantly unique, musical performance that started  as a free show in a tiny theater at the University of Michigan on April 9th, 2009.
Since then, we've seen Starkid go on to produce, write and perform other brilliant musicals (e.g. The Guy Who Didn't Like Musicals, Holy Musical B@man, Firebringer), alongside their Harry Potter classics – A Very Potter Musical, A Very Potter Sequel and A Very Potter Senior Year. They've performed at LeakyCon and other live shows, and have worked tirelessly to bring fans unique, delightful shows.
In honor of Starkid's 10th anniversary, fans are offered the opportunity to help back their newest ventures; their 10niversary celebration event (with their biggest reunion yet!), Starkid Homecoming, and their new horror-comedy musical, Black Friday. 
Watch the video – featuring a performance by Darren Criss and familiar faces that'll get the nostalgia-tears flowing – below:
That's right, they're going back to the place where their story began, FINDing a way to bring together original cast members from all Starkid shows (that's right, Darren Criss and Bonnie Socha are BACK), to pay tribute to A Very Potter Musical.
The once-in-a-life-time event, Starkid Homecoming, will take place at the Theatre at the Ace in Downtown Los Angeles, on July 25th 2019.
The list of currently participating Starkid members are as follows: Nico Ager, Julia Albain, Clark Baxtresser, Jaime Lyn Beatty, Jeff Blim, Tyler Brunsman, Richard Campbell, Britney Coleman, Brant Cox, Darren Criss, Denise Donovan, Corey Dorris, Elona Finlay, Brian Holden, AJ Holmes, Angela Kiessel, Matt Lang, Nick Lang, Lauren Lopez, Corey Lubowich, Devin Lytle, Lily Marks, Alle-Faye Monka, Joe Moses, Sarah Petty, Amy Plouff, Jim Povolo, Joey Richter, Brian Rosenthal, June Saito, Dylan Saunders, Pierce Siebers, Bonnie Socha (née Gruesen), Meredith Stepien, & Joe Walker.

But that's not all! Starkid will also deliver a brand new musical this year, written by Nick and Matt Lang (as usual), with music and lyrics by Jeff Blim (The Guy Who Didn't Like Musicals) and starring Jaime Lyn Beatty, Jeff Blim, Corey Dorris, Mariah Rose Faith, Lauren Lopez, Robert Manion, Jon Matteson, Joey Richter and more. Black Friday is a horror-comedy based on the holiday from hell and telling the story set in the American Midwest:
"At the crossroads of nightmare and imagination, there is a tiny town where the veil of reality wears thin and eldritch forces threaten to unravel the fabric of the universe…"
The show will be performed from October 31st (that's right, Halloween!) until December 8th at the Hudson MainStage Theatre in Los Angeles. A filmed version will also be available via YouTube in late 2019/early 2020. Read more here.
Who's excited?! Support the projects and help Starkid celebrate their 10niversary via Kickstarter here (there are some great perks available!) and let us know if you're hoping to attend Homecoming! Congratulations to Team Starkid on ten years of magical musicals and more!