EXCLUSIVE: Dark Arts at Hogwarts Castle Premiere Event at Universal Studios Hollywood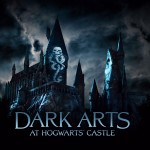 Apr 17, 2019
This weekend, Universal Studios Hollywood debuted their new "Dark Arts at Hogwarts Castle" light show. We were lucky to be given tickets to attend the premiere event and be among the first to see this spectacular new addition to the Hollywood Wizarding World of Harry Potter. Through the use of incredible technology and artistry, Hogwarts Castle became enveloped by a spectacular tribute to the darkest moments in Potter. We had the opportunity to speak to Stephen Siercks, Senior Director of Entertainment Production, about what he's most excited for our readers to see in this new piece of Potter content.
Keep reading to find out more!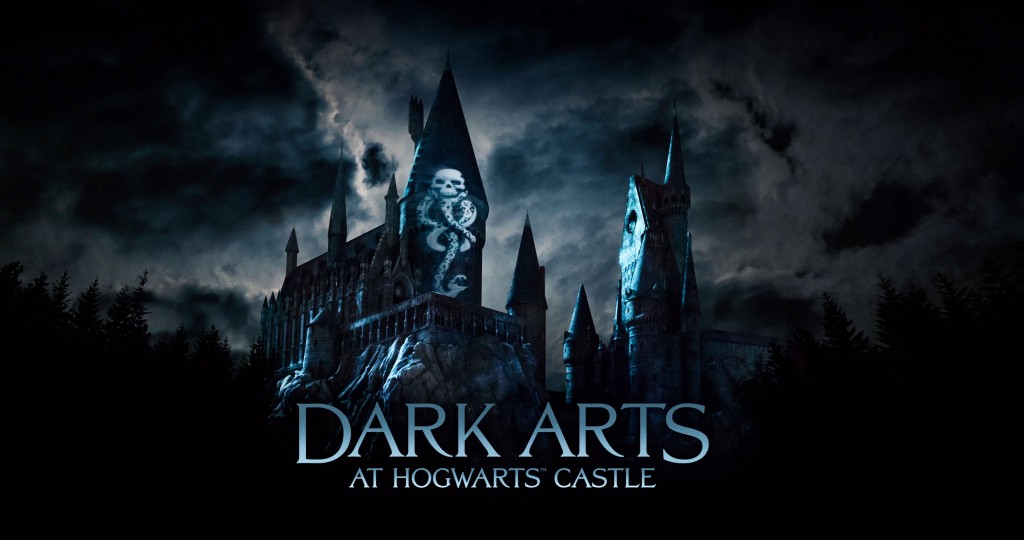 We had an absolutely incredible time at this event. Much butterbeer was consumed, tears were shed upon sight of the castle, the usual antics were had. While waiting to see the show, Leaky's reporters were pushed in tightly with other news outlets trying to get the best angle possible for our livestream of the event. We were chatting excitedly with readers on Facebook, the air was crackling with anticipation, and then the lights all around Hogsmeade began to dim.
hey everyone! i went to the premiere of the new dark arts at hogwarts castle show @UniStudios and now all i wanna do is paint in green! pic.twitter.com/tKMpV2cZHU

— Sydney Dean (@sydsketch) April 14, 2019
It begins tonight! Preview the new Dark Arts at Hogwarts Castle as it lights up the sky! pic.twitter.com/LmldsgJXTv

— Universal Studios Hollywood (@UniStudios) April 13, 2019
Thick fog flowed onto the grounds of the park, a chilled hush fell over the crowd, and whispers of Parseltongue began to surround us. Bit by bit the lights in Hogwarts castle began to drain and melt away. Complete darkness enveloped the park, and then a familiar voice.
"I knew then it was a different kind of magic. Very dark, very powerful. But until tonight, I had no idea just how powerful."
Dumbledore's gravitas leaves us with this foreboding message and the uncomfortable silhouette of a dark and lifeless Hogwarts- and then the show begins.
John Williams's scores from the Potter movies swirled and connected into an intense and epic tale of Dark vs. Light. Parts of the castle seemed to be moving, growing, shrinking — impossibly large death eater masks seemed to be pushing themselves through the brick. Aragog and his family webbed and skittered and genuinely spooked your very own grown up reporter as they seemed to be crawling down the castle walls. Dementors, trolls, inferi. All leading up to a most haunting crescendo: Voldemort's eyes, unmistakable, and looming over us and Hogsmeade. Ripples of light make the castle appear as if his presence is genuinely melting and wielding the shape of Hogwarts itself.
"I'm going to destroy you. After tonight, no one will ever again question my power."
A familiar green curse begins to weave itself around the castle, and Tom Riddle theme builds.
"Avada Kedavra!"
What happened next left the crowd speechless. Sharp intakes of breath, chills, shocked silence at the heartbreaking image in front of them. Then, completely awed shouts and triumphant whoops as the conclusion revealed itself to them.
If you don't mind spoilers, check out Leaky's footage of this moment in our livestream below! But if you have the ability to go experience this in person, maybe save the incredible surprise for yourself.
We had the lovely chance to chat with Stephen Siercks, Senior Director of Entertainment Production, about all the magic that went into this show. The first thing we wanted to know, was why turn to the darker side of Potter for this new show?
A: "After first debuting the nighttime lights at Hogwarts Castle which celebrated the four houses, and then Magic of Christmas at Hogwarts Castle which celebrated the Holiday season, we were looking for another story to tell. We uncovered the darker undertones of the Wizarding World and that brought us to Dark Arts at Hogwarts Castle."
Q: How long has this been in the works for?
A: "It's taken a team of incredible creative directors and designers and technicians over two years to fully concieve, produce, and realize everything that our guests are now going to get to experience as part of the Dark Arts at Hogwarts Castle."
Q: We heard rumors the drones would be involved in the show- Can you speak to what sort of technology goes into a production like this?
A: "Well we can't give away the magic behind how we create what we do, but what we can say is it's a blend of technology and choreography that it takes to produce and concieve all of the visuals and the spectacle effects that were created as part of the Dark Arts at Hogwarts Castle."
More magical images from our second look at the #DarkArts at Hogwarts light projection show at @UniStudios Studios !!🤩🤩✨✨
Experience it if you can!!! pic.twitter.com/kqrhRB0LMV

— The Leaky Cauldron (@leaky) April 13, 2019
Q: What are you most excited for the fans and for our readers to see in the show?
A: "I'm really excited for our guests to be able to experience the different characters in the Dark Arts. So whether it's Aragog, or the Dementors, or the Death Eaters, or even Lord Voldemort himself, the guests are going to be able to take away something different depending on what they connect with as part of the experience of seeing the show."
The absolute biggest thank you to Universal Studios Hollywood and Stephen for providing these incredible details and exciting experiences for us!
Will you be heading to Hollywood to check out this new Dark Arts at Hogwarts Castle show? Lets us know in the comments or via our Facebook, Twitter, or Instagram!