DIY Gryffindor Common Room: Creating a 'Harry Potter' Themed Room in Your Home!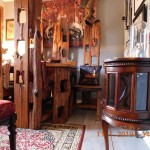 Apr 27, 2019
The Gryffindor Common room represents so much to Harry Potter fans. For Harry it was the first place he felt at home, filled with warmth and friendship. For fans who have had the pleasure of visiting Warner Bros Studio Tour in London or read about the creation of the set for the Harry Potter films, it's an intricate, impressive filmmaking feat. We'd all love to visit the common room (or our respective Hogwarts House's common room!), but how do you go about bringing that dream to life?
Claire Sims tells her story of creating a Gryffindor Common Room in this guest post, inspiring you to get started on creating your own Harry Potter room at home!
---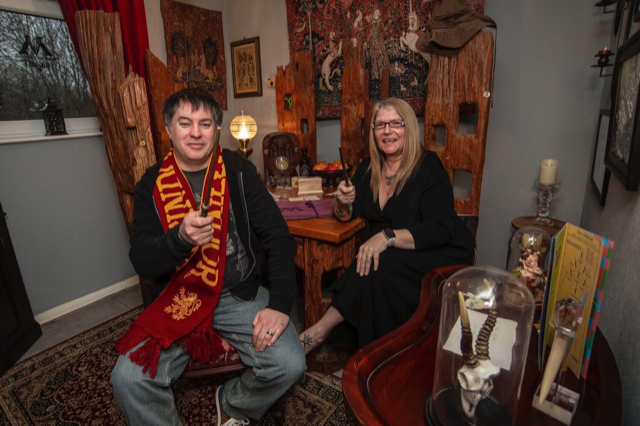 It all started when we decided we needed to do something better with the unusual table and chairs we had, and our spare bedroom. I've always liked props and had become increasingly interested in Harry Potter after my husband, Shaun, bought the box set of the movies.I joined some prop collectors sites (Movie Prop Collectors, Movie Props Group, and the Movie Prop Collector & Memorabilia sites) and bought my first Potter prop – a Hogwarts brick! –  and that was the start of what was to come.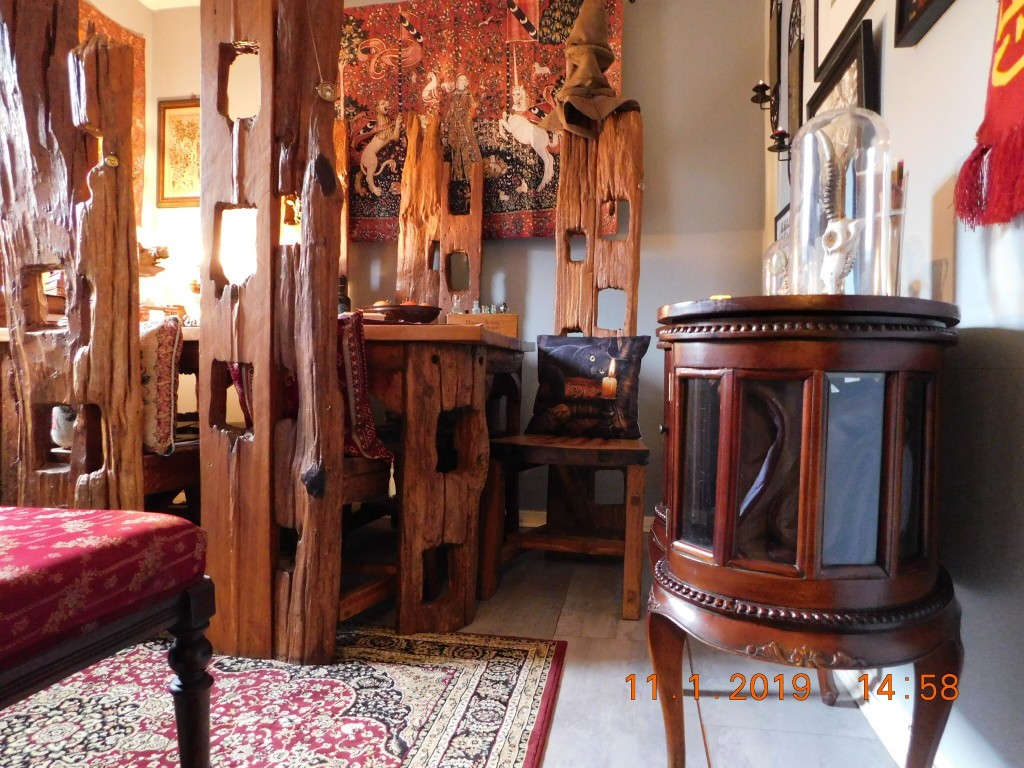 Initial Stages 
We gutted the spare room, and went to work on creating the the Gryffindor common room.We found some click-and-fit flooring that looks like stone tiles. Shaun laid the floor and we painted the room Grey to be neutral take on the appearance of stone walls. We then moved our huge table and chairs into the room, and the fun begins! I had a definite idea of how I wanted the room to look as I had visited the Warner Brother studio Tour at Leavesden several times already. I loved the Common Room for its rich colours and the fact that it looked loved, lived in and welcoming – the perfect room to put in a house. I wanted it look as authentic to the films common room as I possibly could, so I started looking online for furniture.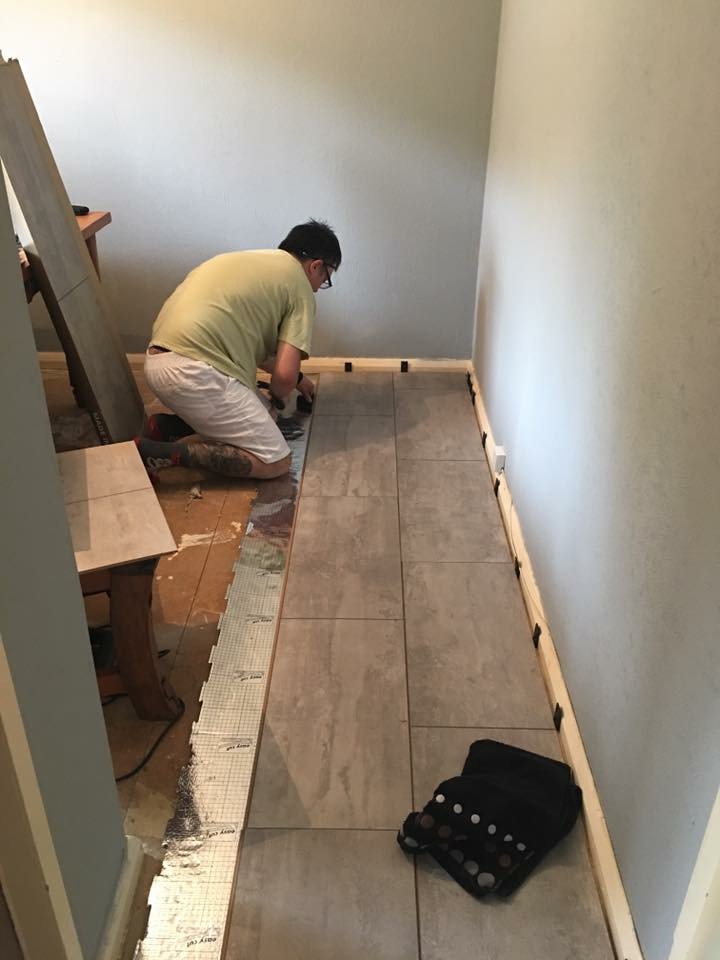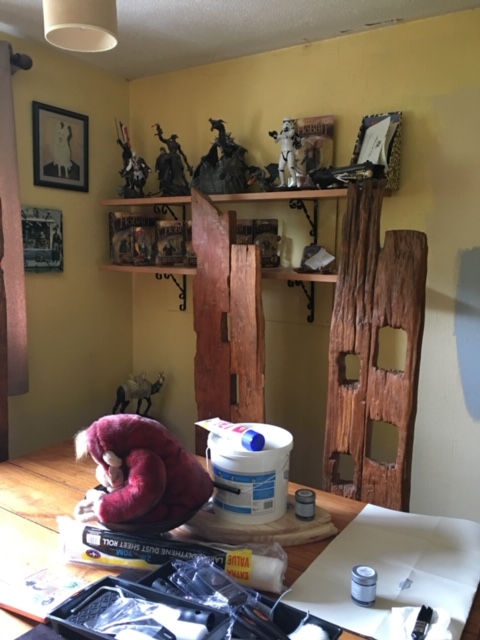 I was not in any particular rush. Although I wanted to see it finished, it had to be how I had imagined it and I knew that needed patience. I spent hours, weeks and months scouring online, searching eBay and anywhere that I could possibly find that sold furniture for exactly what I was picturing. I found a beautiful old dark wood corner cabinet with beautiful carving and an arched glass door which was perfect, bid on it and got it incredibly cheap (£25) — even better, it was close to where I live and the seller delivered it for free!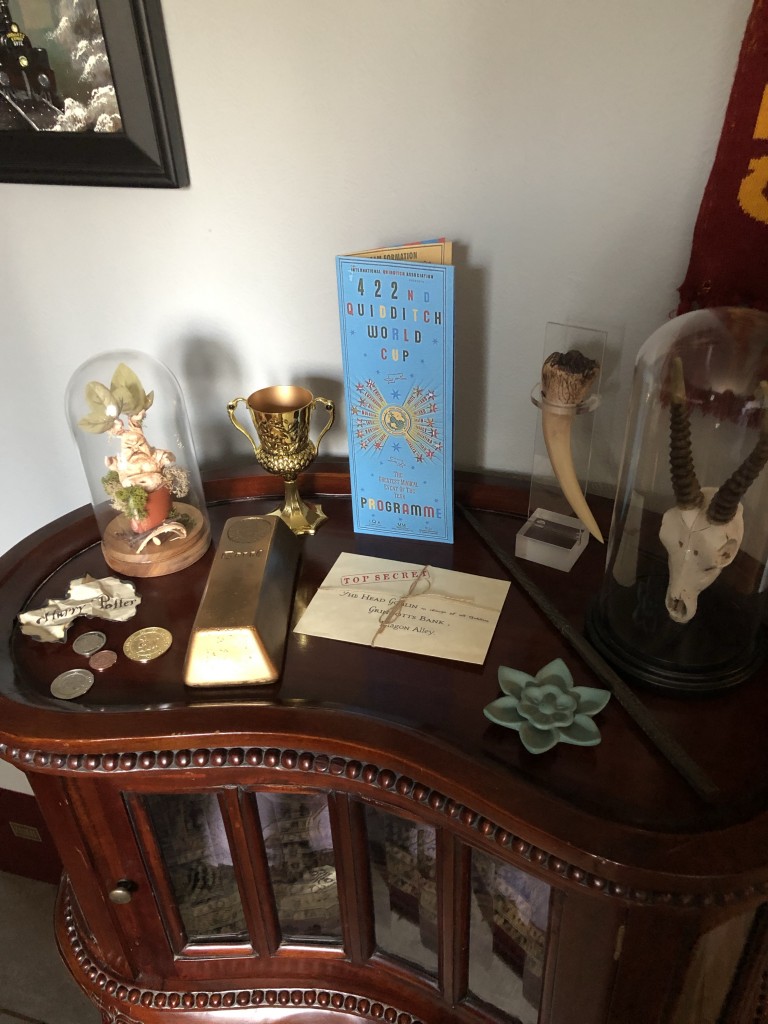 Decor: Lamps, Aniques and Potion Bottles
After the basics were sorted, we went looking for some simple room decorations, such as curtains and a ceiling lampshade — we ended up finding these in a local store (Dunelm). We chose rich Gryffindor-red curtains and a glass and copper lampshade. We also found a lovely woven dark red tie-back with a crystal drop for holding the curtains in place!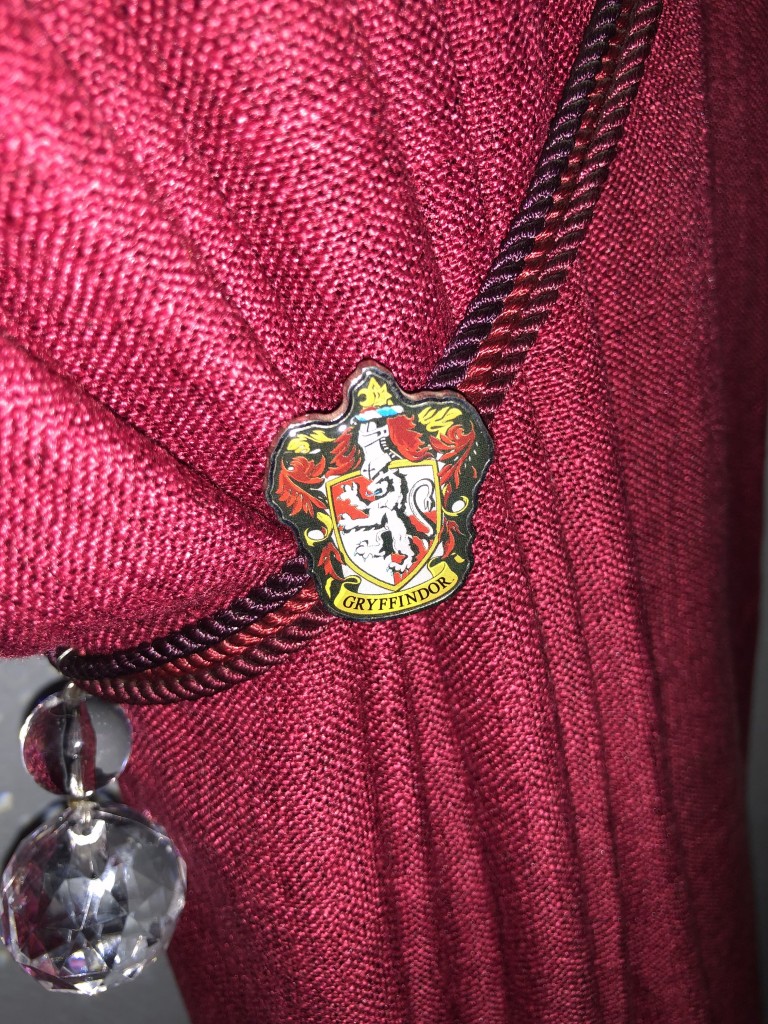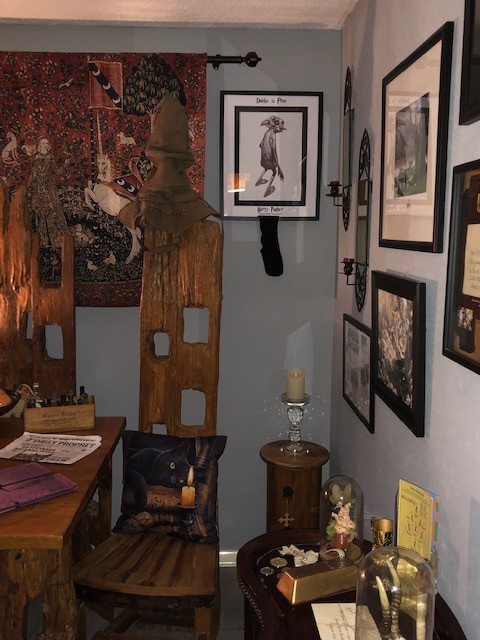 The room was finally begining to take shape — the curtains gave it an immediate warm feeling, and the lampshade adjusted the harsh light into a nice glow. I knew I wanted the table decor to be very detailed, and had something specific in mind, so I concentrated on finding the appropriate props next.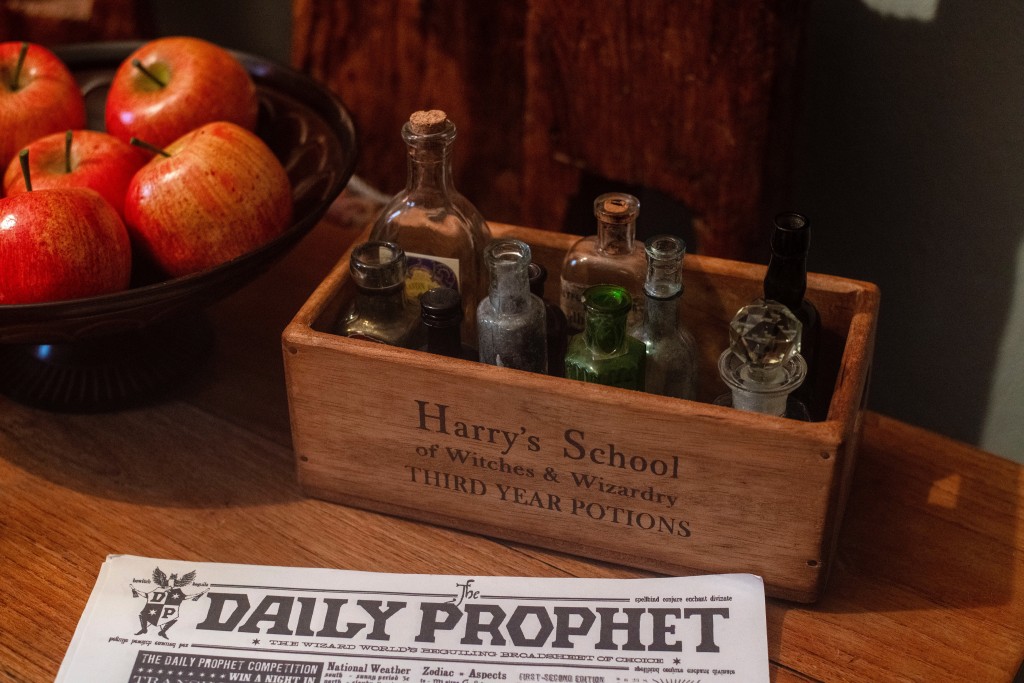 I bought a lovely crate on eBay for £10, handmade by the seller with a label on the front, Harry's School of Witches and Wizardry – Third Year Potions. This was going to be for decorating the table top, and I wanted to fill it with old medicine bottles. Knowing the intricacy of the Harry Potter film sets,  I started to visit secondhand shops, antique shops and flea markets, and ended up finding lots of cheap, small old glass bottles in an antique shop, not one costing more than £10.
Then the search for an old lamp began. It had to be like the ones in the film, but it had to be converted to electric as I did not want an actual oil burning lamp for safety reasons — thankfully the non-wizarding world allows for modern technology! After weeks of searching, we found the perfect lamp on eBay – for just £17! – and ended up travelling a 180 mile round-trip to London to get it! It was absolutely worth it. The etched glass shade was beautiful, but so fragile I was terrified it would  get broken on the way home, but it didnt – phew!
Next I wanted an old-fashioned, working radio. I ended up finding one that was over 30 years old, and had been bought and forgotten about by the owner. I managed to get it for £40, which I thought was great value for something so pristine.
I'd bought a fruit bowl on the table (Gryffindors get hungry studying, I think), so I started to look for those — surprisingly this search was incredibly difficult! I ended up finding some realistic fake apples, imported from China.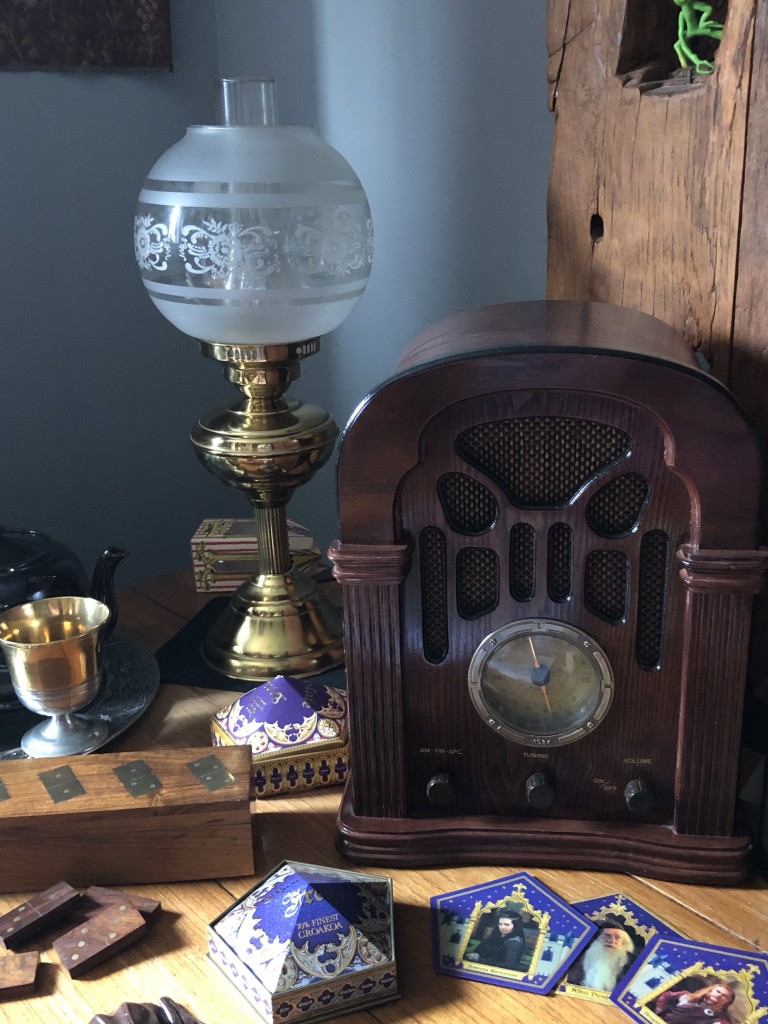 The room was really beginning to take shape with these tiny details, but I wanted to make the room feel more like Hogwarts. what better way to do this than with some tapestries and portraits? I looked into some of the authentic portraits from the film, however, they are famous tapestries that actually hang in a Paris museum, so they were extremely expensive! After a reality check, I kept on looking until I grabbed a 40 year old one at a crazy cheap price of just £10.50!
Finding that this one was slightly too small, I found a larger replica of amazing quality for £50 from China, and bought a black iron curtain pole to hang it up on the wall behind the table —  when it was up the room just popped!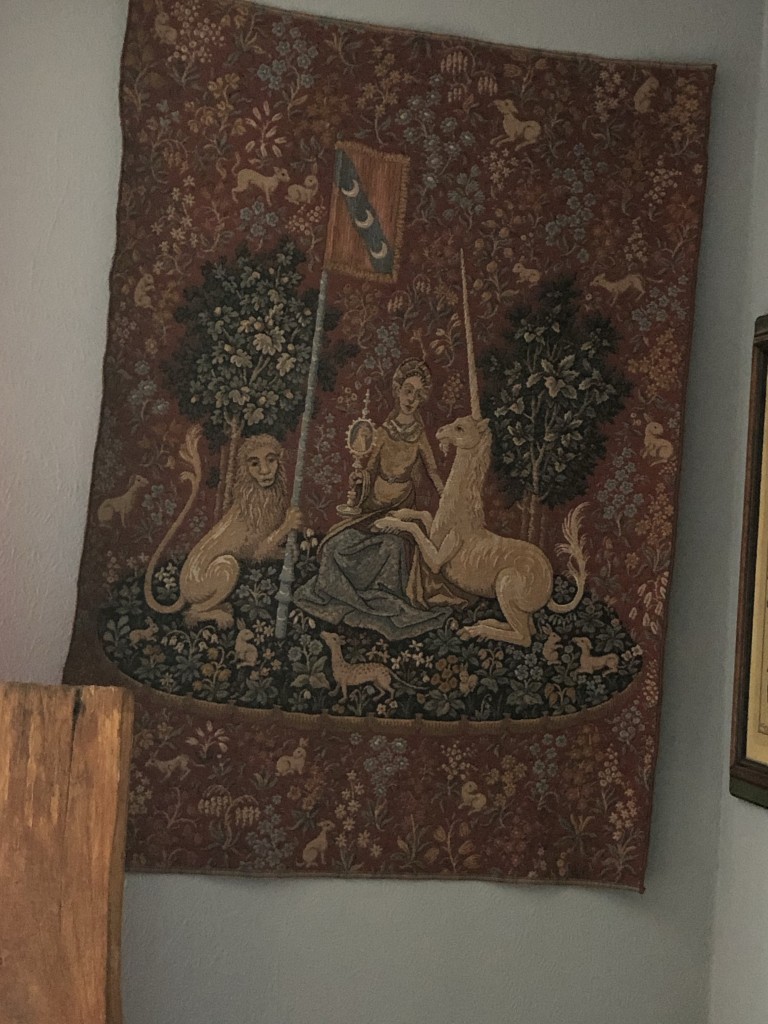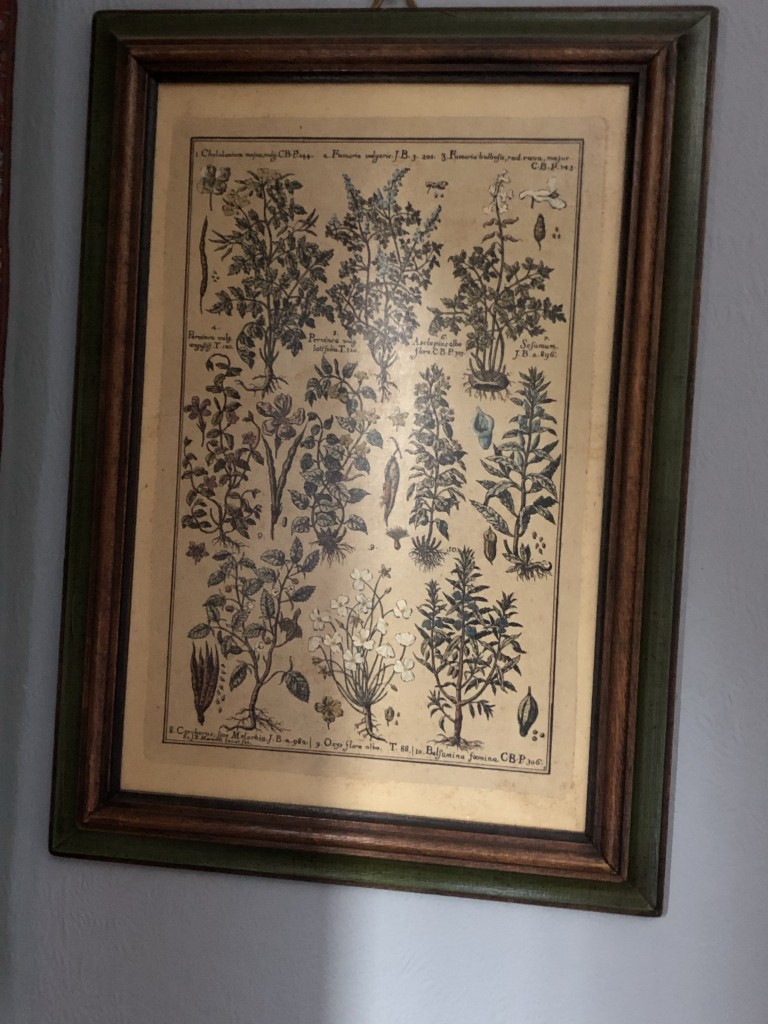 My hunting for the small details kept on like this. I bought beautiful gold and red cushions from a flea market (washed before use, of course — you never know what they might carry!). We found a beautiful walnut display/drinks cabinet with beveled glass, and a stunning painting of the Hogwarts train with the castle in the background and that came from America.
Adding an Authentic Touch: Film Props
Then it was a lovely time to add some actual film props and replicas. Of course this isn't absolutely essential to creating a Potter themed room, but was a natural progression for me once I'd sorted out the basics.
I continued table dressing with replica props, as I wanted to have things that would have been in the Gryffindor common room. Whilst scouring replica prop sites I found three Quibbler magazines, and some Daily prophet papers. We also bought some limited edition prints to go on the walls, a replica wand of Sirius Black (as I always thought Harry would have kept that as a prized possession).  I also have:
– A replica Hogs Head jug (it wasnt cheap but just added to the authentic look).

– One of the flying letters from the first film

– A page from a book used in the films

– A Ministry of Magic folder

– One of the goblets used throughout filming in the Great Hall

– A screen-used prophecy orb

– Call sheets

– Original Dobby concept art

– And lets not forget the first film prop I ever bought — the Hogwarts brick!
We've even commissioned a sword of Godric Gryffindor to be made — a real sword with real rubies in the hilt — it should be ready to see very soon!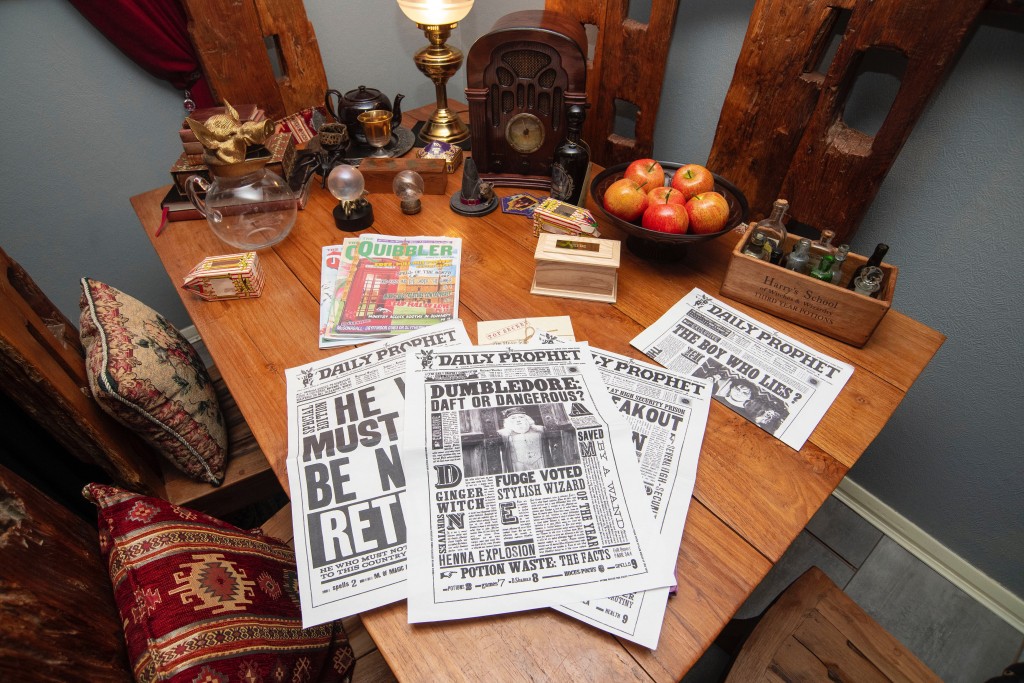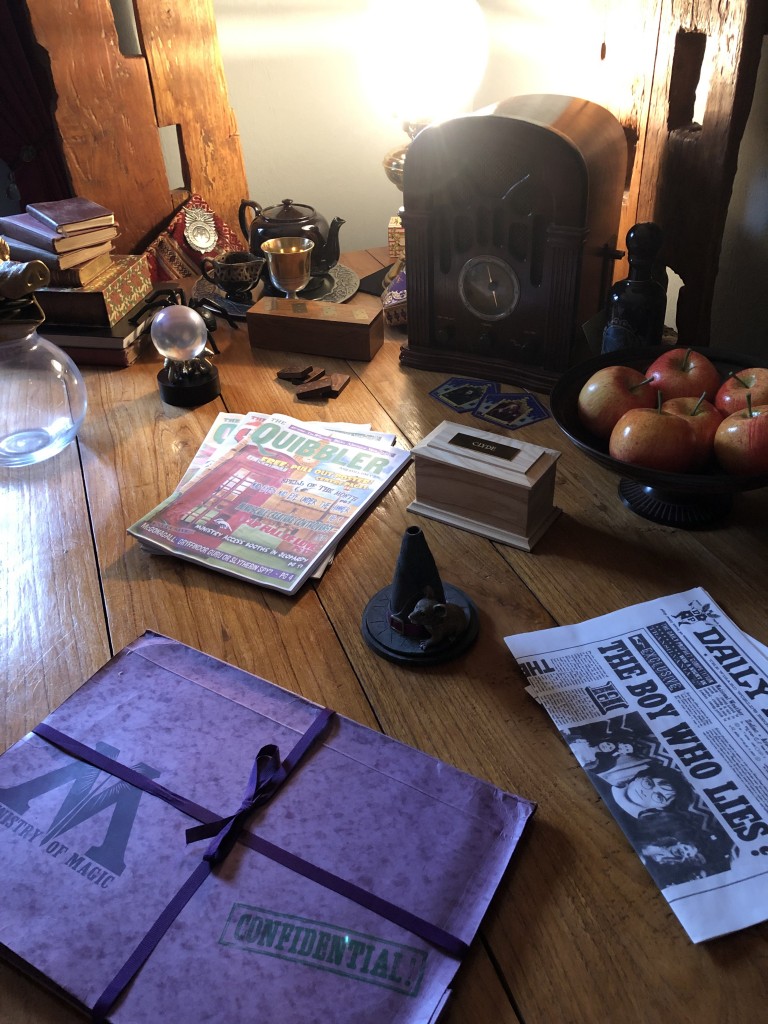 Every time we went to Warner Bros Studio Tour we'd pick up items. I bought props when I could afford them, and they are everywhere — up on the walls, on the table and in the cabinets.
Even with all these props, when I looked into the room I kept feeling that something was missing, so I went on the hunt for a rug. This had to be perfect, and for hygiene reasons I decided not to pursue an old one. I also bought an old Edwardian chair to sit on the rug, and that really made the whole room complete!
The room keeps getting tweaked. Its taken over two years, and my advice to anyone wanting to do something similar would be,
you know what you want so keep that idea — you dont have to compromise! Don't buy anything just because, what you want you will find and it definately does not have to be expensive, these things will show up.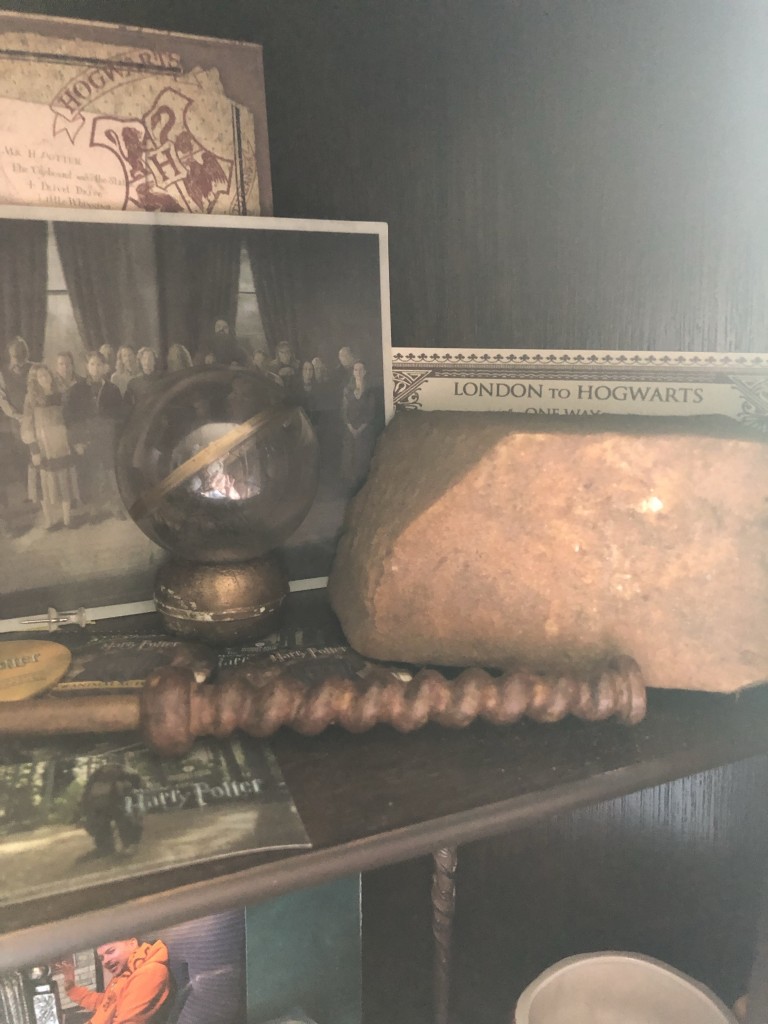 Another word of advice — if you have cats, watch out! My cat loved my Potter room table, he was always on it – sitting, rolling, sleeping and running about in the room! Sadly he's no longer with us, but his ashes are kept in a wooden box on our Potter table – his favourite place!
Making a themed room is an incredibly fun thing to do. We've had a blast putting it all together, and have kept a photo diary from the beginning, tracking our progress and showing us just how far the room had come. Have fun with what you do, it is very much a work in progress and it will take you on an adventure you won't want to end. I'm definitely not finished yet!